Wedding Reviews Craig y Nos Castle 2021
Wedding Packages > Brides Reviews
Craig y Nos Castle Wedding Venue
December 6 at 3:21 PM
Well we got married at Craig y nos on the 5th December 2021 and what an absolutely beautiful experience from start to finish. Nicola and all of the staff were outstanding on the night and leading up to it. The food was absolutely beautiful and the castle itself is insane day or night. We're so so happy we choose you for our dream day it was everything we wanted and more!
Thank you all again guys!
Many wishes the new Mr & Mrs Cosker.
Saturday (? date in Oct 2021): XXX was looking for reccomendations; Couldn't recommend a wedding anywhere else other than this venue. 10/10 scenery, 10/10 organisation, 10/10 staff, 10/10 food, 10/10 accommodation. But although you may need to take out a loan to buy a drink (
bar prices shown here - Ed
) on a serious note this place is 10/10 and would recommend to everybody!
02/10/2021: Following two postponements we finally made it down the aisle on 10th September. The venue and the setting was spectacular but it was really Emily and the wider team at Craig y Nos that really helped make our day special. From supporting us leading up to the big day, they really went above and beyond and helped take the stress away so that we could focus on our day. All our guests commented on how delicious the food was and friendly the team were at Craig y Nos. Thank you all so much and we look forward to meeting the team again soon. Jessica and Christopher.
02/10/2021: Following five postponements we finally had our big day at Craig y Nos on August the 16th. Nicola and the team were nothing but supportive during this time, patiently facilitating our ever changing dates and plans! The team clearly went above and beyond to make sure our day was as magical and perfect as it was. Massive thank you to Nicola and the team, we couldn't have chosen a better venue or people to work with xx.
28/09/2021:
We just want to thank everyone who made mine and kevs wedding absolutely beautiful yesterday so from myself and Kevin.
A big thank you to Stacey at new image (can't tag her) but my hair was absolutely what I asked for and she was so accommodating to extra people being done

❤❤
A massive thank you to Julie Holmes for my makeup it was absolutely beautiful everyone said so

❤❤
To center of attention (can't tag them) who decorated the venue and made my flowers it looked absolutely beautiful and made me want to cry even before I got married

❤❤
To cakes by Gemma (can't tag) for making the most amazing cake and it was absolutely perfect for us

❤❤.
A massive thank you to Andrew Jenkins of Jenkins Photography him and his wife were absolutely fantastic throughout the day and night

❤❤
And finally a huge huge thank you to craig-y-nos Castle Nicola and her team went above and beyond to make the day what we wanted
And finally thank you to everyone that came it meant the world to my husband and myself that you all came

❤❤❤
Much love to you all from the newly weds Mr and Mrs wilkes.
30/08/2021: If you are looking for a wedding venue, stop looking! This is the place for you! The castle and grounds are obviously amazing but what the photo's don't show is how wonderful and helpful the staff are, We got marred here July 2021. Our wedding planner was Nicola and she was so helpful, answering a million questions that I had through e-mail (as a lot of planning was done in lockdown) and as the wedding got closer, and the rules kept changing, she even gave me her personal number so I could always get in touch. All this, whilst re-planning her own wedding as well as looking after those others also getting married at the castle!
On the day itself, there was no stress. Nothing was too much trouble. There was no stuffiness and everything was very relaxed for me, even though it may have been chaos behind the scenes (on a boiling hot day with a cupcake and chocolate favours). The staff were AMAZING - they all worked so hard making sure everyone was looked after well. Everyone who attended has said how amazing the day was, so this is not just be being bias as it was my wedding! Food was delicious and we really did have just the best day. We didn't stop laughing and smiling. Thank you so much Craig y Nos. XX
28/08/2021: Sam Phillips, we had our wedding here 25th August 2021, This is an amazing venue, so beautiful. The staff here are absolutely amazing and really cannot do enough for you. Thank you to Nicola and all the wedding planners for the most wonderful day. Can I also thank everyone else for dealing with changes, the cleaning, helping to set everything up. All of our guests said how amazing the day was and how fantastic all of you guys are. We cannot wait for another stay in the future. Kind regards, Donna and Nick.
15/08/2021: Cerys Taylor,
Thankyou so much! We honestly had the best day ever. Molly you are one in a million we can't thank you enough xxx
15/08/2021:
Steven Taylor,
The Official Craig y Nos Castle Thank you so much for helping us have the most magical day ever! Molly, you especially was amazing!
15/08/2021:
Tessa-Jade Hassmann,
Every single person that made our wedding happen yesterday deserve all the medals in the world!
We honestly couldn't thank you all enough
15/08/2021:
David Billings,
Thank you for hosting such a fantastic day, we can't wait to return for a Sunday dinner or a spooky night away!
15/08/2021:
Vicki Bevan,
It was a fab day. Thank you
15/08/2021:
Top Fan,
Emma Mahoney,
We loved every moment of it. Thank you for making our day so perfect! x
15/08/2021:
Laura Wulder,
Thankyou nicola The Official Craig y Nos Castle it was an amazing day, thankyou for all the amazing planning and hard work xx
15/08/2021:
Liz Preece,
Thank you. We had the best day
15/08/2021:
Debbie Matthews,
Thank you Craig y nos for providing such a beautiful venue for our wedding. All our guests loved the castle, food and accommodation. Our day was so special and Emily was hands on every step of the way, to make sure our day went smoothly, beautifully decorated conservatory for our day/night we can't thank you all enough. Milo tried to upstage us he did his best
We are all in talks for a ghost hunt tour in the not so distant future. Thanks from Debbie and Mark Matthews. Xxx
15/08/2021:
Katka Rac Cardwell,
Thank you so much for our magical day. I am sure we will see each other in the future and probably our guests as well in your stunning castle. The setting of the room couldn't be better and thank you to Ruth Jones for an extraordinary flower decoration. Best wishes to all of you in the castle from us. Katerina & Richard Cardwell
02/08/2021:
Thank you Craig y Nos for providing such a beautiful venue for our wedding. All our guests loved the castle, food and accommodation. Our day was so special and Emily was hands on every step of the way, to make sure our day went smoothly, beautifully decorated conservatory for our day/ night. We can't thank you all enough.
01/08/2021:
Nikkiunion: We had such an amazing day! Staff are amazing. Special thank you to Nicola who is fantastic.
01/08/2021:
Rikkybru Thank you all very much for our amazing day. Can't thank the whole team at the castle enough for all their hard work and for how amazing our day was. From start to finish everything was perfect and to top it all off the food was amazing!
30/06/2021:
My husband and I finally got our dream wedding day!
What a year its been!! Nicola who has been amazing throughout COVID really made sure our special day was perfect! We had to change our date a couple of times and even held more than one date due to uncertainty of things changing so quickly! Thankfully Nicola and the team at Craig y Nos have been very supportive with all our moans and groans!
The day of the wedding was so stress free and calm! The atmosphere was lovely!! Everything down to the tiniest of details was perfect!
The food was absolutely stunning and all our guests complimented it!
A big thank you to Nicola who helped us through everything with our wedding! From 3 am texts while feeding my baby to late night WhatsApp calls! You've been the best ever!
We can't thank Craig y Nos enough! Our wedding day was perfect. We can't wait to come back for food and drinks!
All our love Mr. and Mrs. S.
12/07/2021:
What can I say! Absolutely outstanding! Our wedding was postponed due to the pandemic and you couldn't do enough for us to ease the stress! We finally had our day on the 21/06/2021 and it was absolutely perfect and more than we could of imagined! Your staff and everyone at the castle went above and beyond to make our day as special as possible and you definitely did that! Everything was stunning from the food, the venue, the service! We cannot thank you enough and will always remember how amazing our day was and that's thanks to you all at Craig y Nos Castle!
It definitely was a day to remember! Craig y Nos Castle will always hold many fantastic memories for us! We are so happy we chose you as our venue and recommend anyone looking to choose here they definitely won't be disappointed. Wish you all the best. Mr. & Mrs Joseph.
06/06/2021:
Katarine Jones recommends The Official Craig y Nos Castle.
We got married here 31.5.21 and the staff were absolutely amazing. Nicola and the team were so helpful from day one. We chose Craig y nos after a disappointing experience with another venue and we didn't look back.
We had great communication from Nicola throughout and she answered my many questions! When she wasn't sure of the answer due to the restrictions, she was always honest and realistic about what could be done and we both found this really : lpful.
All the staff were so attentive on the day and the service was exemplary, food was beautiful and came out so quickly and efficiently.
They helped to decorate the ceremony and function room and then bagged things up for us so it wasn't too difficult to sort out in the morning.
The bridal suite was gorgeous especially the extravagent bath that overlooks the castle grounds.
The grounds and castle itself are such a perfect backdrop for a wedding and we loved the theatre and golden thrones.
We just found that they genuinely love what they do and are so communicative. We had the opposite experience before and the difference was huge. All the little things they did added up and we had the perfect day. We are going back again next year for a bigger celebration.
Thank you Craig Y Nos team for a wonderful day and we look forward to visiting again soon.
Kat and Paul ❤️
23/05/2021:
Paula Rose recommends The Official Craig y Nos Castle.
Just home after a lovely weekend to celebrate my husband's birthday.
Nothing was too much trouble for the staff and the dog's enjoyed their morning sausages.
Hopefully we will be back with you again in the future.
14/03/2021:
Sarah Dillon recommends The Official Craig y Nos Castle.
We got married here 07.03.2021, the first wedding of the year at Craig Y Nos after the latest lockdown ease for wedding ceremonies. Nicola and the girls were great, very accommodating and helpful and laid out my decorations better than i imagined! Very welcoming and approachable and the venue is beautiful. I 100000%% recommend a wedding here!! As we could only have the ceremony, they've been great at allowing us to have the reception & wedding breakfast next year instead. They handled our day amazingly!
Trip Advisor Reviews 2021
there are fewer Trip Advisor reviews in 2021 mainly due to the COVID pandemic cancelling all weddings for the first half of the year, but also because more people now go on
Facebook Reviews instead.
20/12/2021:
Wedding 18/12/2021.
We had our wedding at Craig y Nos yesterday, after being forced to postpone 3 times over the course of a year due to COVID restrictions.
So it was a great relief to finally be able to have the wedding and I'm pleased to say we got the wedding of our dreams.
I cannot praise this place enough, the venue is utter perfection, the staff working there are absolutely outstanding and the wedding wedding was wonderful.
All our guests were approaching me throughout the day to say it was the best wedding they've ever been to and I had to agree myself!
I want to give special recognition to Nicola our wedding planner who helped create our special day - one thing that really impressed me about her was her honesty, she never tried to sell or force anything on us that was unnecessary and she always gave honest opinions about things - it was so refreshing to see someone in the hospitality sector do that!
I also want to mention the owner (Editor's note: actually Michael is the Business Manager!) Michael - who was regularly communicating with me via Facebook messenger, keeping me informed of the current government guidelines and possible restrictions - that is tremendous customer service.
The theatre in which we got married was wonderful, the wedding breakfast was superb and kudos to the chef - the food was an absolute triumph! It was piping hot and delicious.
The staff there were always on hand to help with anything we desired, I didn't meet a single member of staff who wasn't polite, welcoming and helpful.
The room in which we stayed the night was lovely and all our guests said the same about their rooms.
The only thing bad I have to say about the castle is that we had to leave! We wanted to stay there forever!
Well done Craig y Nos - 10/10 in all aspects
Michael responds: Thank you so much for your review Leighton and Larissa. It's great to hear the assistance I gave assured you somewhat - however, the credit to how your day went indeed also the planning in advance does have to go to Nicola and her well versed team. It is great to hear how you cannot fault the service level given, the accommodation and indeed the food. It is always great to read feedback from customers and when it is this positive it is so pleasing. Feel free to check out future DBB dates and be a friend to the Castle and staff time and time again. Best Wishes to you both and i am glad that we were there at the start of your married life. M!chael
05/12/2021:
Romantic weekend and wedding.
We went to Craig y nos Castle for a romantic escape in July21 and we liked it so much that we ended up booking our wedding in November 21.
The venue is amazing, in the middle of nature, the rooms super clean, food is great and the staff simply great. From the bar to the reception and the wedding organisers, the cleaning staff all of them super friendly and professional, they really make you feel the warmth of a Welsh welcoming.
I am very happy with our wedding, Nicola and the staff made sure everything was smooth and organised.
06/11/2021:
First stay at our wedding venue.
We stayed here back in May because we wanted to experience the castle before our wedding in October (which I will review separately as it was so amazing!). On this stay, we booked a dinner, bed and breakfast deal, and it was absolutely excellent. The dinner was delicious, so much choice and wonderful service, the staff really couldn't do enough for us! It was lovely to walk around the castle and the country park, it made us very excited for our wedding! Our room was quirky, which we loved. Breakfast was also delicious, it wasn't buffet style at this time, we could order whatever we fancied, and it was lovely. We will keep coming back because of the beautiful venue, kind and caring staff, rich history and wonderful experiences! 100% recommend.
15/10/2021:
Wedding
. Deal with Emily for wedding planner, beautiful fantastic place ,fantastic food ,friendly staff,amazing venue, everybody commented how fantastic our wedding was, would highly recommend this venue for a wedding , couldnt fault anything on the day,will definitely visit for food with the family
04/10/2021: Review from Oct 4, 2021 Family Wedding
We recently celebrated our daughter's wedding and despite all the challenges that the Covid pandemic has brought, we had a fabulous day at Craig Y Nos. The venue was excellent and Emily, who was our wedding co- ordinator, and the rest of the team were so supportive, and went that extra mile to ensure we all had a great time.
It was a great family celebration filled with lots of happy memories - a magical day.
09/10/2021:
Lee and Jodies wedding
.Oct 8th 2021. Just had to write a review to let you know just what a fabulous time we had at Craig y Nos Castle,whilst celebrating Lee and Jodie Williams's wedding on 8thOct 2021, such a special occasion, the Venue was stunning,food was delicious and plentiful,our room,room 31 was beautiful,and spotlessly clean,the staff who were all outstanding,worked hard behind the scenes,to ensure everything went smoothly on the couple's very special day,thank you one and all,for a truly wonderful day, one which we won't ever forget.
Mr and Mrs Davies rm 31.
3
0/09/2021:
Victoria Patterson
5 star 2 days ago
Absolutely amazing place! Came here for a wedding and it was perfect! The staff were also really lovely!
30/09/2021: Review from Sep 30, 2021 5 star
Wedding Perfection.
We had our Wedding here in 2021 after moving it many times and I cannot overstate how amazing the staff were. They made everything on the day and (Long) leadup as painless as it could be in this circumstances, we have heard some horror story's from other venues during this time but I can 100% say that the team at Craig Y Nos were impeccable.
In terms of the location the castle was immaculate, absolutely stunning venue that has a wide breadth of impressively dressed rooms and stunning landscapes around it, we were told by many of the guests this was by far the best wedding venue they have been too and we can only agree!
I can safely say we will be visiting time and time again, perfection!
Value 5 star
Cleanliness 5 star
Service 5 star
Management response: Thank you for the all round 5 star review – which I am sure that all the staff will appreciate. Weddings are picking up and indeed our staff have worked fingers to the grindstone (although we occasionally let them rest). Its great to read your comments about the team at the Castle which is brilliant to read.

27/09/2021:
Wedding event.
The main carpark entrance is about 100yards past the castle (Castle on the left as you pass -
edit - if coming from north
) as the carpark to the front is closed off when attending a wedding function as it lends itself beautifully for wedding photos with the Castle as a back drop. W
e stayed in room 12 as it had disability access (ramp). The room was somewhat cramped if I'm honest if you have a wheelchair, and had to take the low shower screen apart to allow accessibility to lift my partner from the chair to the toilet, but that said it was easy to do ..
Another family member had the family room next-door which had it had a ramp would have given us much more space but had no wet room.
The staff were truly fantastic, friendly and could not do enough for the guests .. nothing was a problem and all went above and beyond to ensure you have a very pleasant and relaxed break.
The food there was great (not sure if its outside caterers for weddings -
edit from castle - we do all our own catering with our own chef and kitchen team
) and again the service was well timed between courses. Breakfast is the usual buffet service of cereals, continental or traditional English which was very nice , NO dried baked beans and shriveled up mushrooms which we had experienced in the Premier in the previous morning.
Amazing grounds to walk around (although small) but a large country park is to the rear for those who love to walk off breakfast. Would I recommend 🤔 definitely yes.
Dont expect modern interior ..its a Castle, but the rooms are comfortable and clean, oh! and the beds... had a great night's sleep.
01/09/2021:
01/09/2021:
Janet Carter .
Stunning STUNNING place! The staff were faultless, the castle and grounds beautiful, the exclusive use for the wedding perfect and the food delicious... All in all, a completely joyous occasion. And given the state of my feet, back and hips the following morning, a disability-friendly bathroom was very welcome! ;-)
JanetC1175
Cockermouth, United Kingdom4 contributions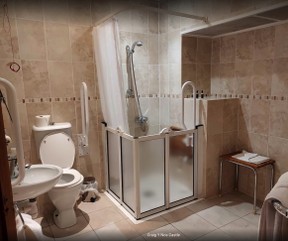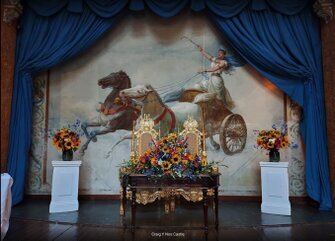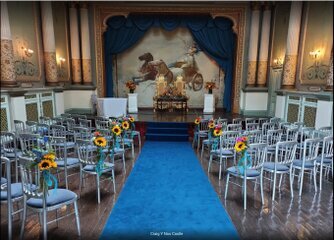 31/08/2021:
Review from Aug 31, 2021,
Perfect Wedding Venue.
I have been to many weddings but none so joyous as at Craig y Nos, and a huge percentage of the success must go to the venue itself - the castle, the adjoining park and the faultless staff. Exclusive use for the wedding made the occasion very special, like it was "our castle" for the day. The food was delicious and plentiful, the decor delightful, the photo opportunities romantic and varied (and since I was the photographer, that was important!) Nothing was too much trouble for any staff member to help with, from the cleaners at silly o'clock in the morning to the bar staff and receptionist at silly o'clock at night. And given the state of my feet, hips and back the following morning, a disability-friendly bathroom in my room with a sit-in shower and grab rails was extremely welcome!
Well done, Craig y Nos - you made a special day unique.
27/08/2021:
glennhoward60,
Cardiff, United Kingdom9 contributions
Review from Aug 21, 2021
Wedding.
Stunning property in stunning location. At long last Gaynor & myself had our wedding event, previously postponed numerous times as a result of covid. We stayed for 2 nights as did most of our friends. We had an amazing time & I have to say that the staff here are the best hospitality workers I have ever come across. Everyone of them had a smile & there was nothing that was too much trouble for them.
Michael responded: Thank you for such a great review. Naturally is appreciated that we could host your wedding after so long. Your comments about the staff, will certainly go down well with them - i certainly feel the same about the team too - without them, where would we be. Best Wishes for the future M!chael
19/08/2021: JudithD173,
Cardiff, United Kingdom 9 contributions
Review from Aug 19, 2021 T
he waitress service at the wedding was fantastic!!
We went there on the occasion of my daughter's wedding . We had a meal the night before the wedding and nothing was too much trouble for the staff . They dragged tables so we could sit together on a long table, there must have been 30 of us.
The waitress service at the wedding was fantastic! And the food was delicious.
Michael responded: Ah thats great and i am sure that the Front of House Team will love reading your comment. 32 if i recall, but we will look after our customers no matter what! Great that you found the food to be good quality too!
Letters and Cards sent in by Customers
23/12/2021:
Dear Craig Y Nos Castle Staff!
Thank you so much for everything you did to make our wedding day so special. No other venue would be as accommodating, friendly and helpful as you guys were. The castle is such a wonderfully special place, but it's you guys who run it that make it so absolutely magical. None of our guests could stop gushing about how impressed they were with the staff and their overall experience, but the Americans were especially taken. It really was a fairy tale for us coming over and staying with you and we can't wait to be back!
Love from Gaz and Lauren.
15/10/2021: Hello to both of you!
Thank you for your email, it really was better than we dreamed of and the thanks (now and on the day) are real. Thank you so much for making our day so special! All of our guests commented on how great everyone was your side too - I have no idea how you managed it with so few people but it was perfect, thank you!
We did vote for you and we hope that you guys do brilliantly in the competition, you (and the castle) deserve it!
Thanks again,
Mrs & Mr Tucker,
Sent from my iPad
27/09/2021:
Good evening Nicola,
Can I just say a big thank you to you Emily and the team for smashing our wedding! It was an amazing day and flowed so smoothly and I know that was down to you and your team! We literally couldn't have asked for anything better and it was as special as we planned it to be. The venue you have at Craig Y Nos Castle is amazing and I can't believe more people I know haven't got married there it really is stunning. So again thank you for helping make our day so special. We also hope to return to the castle one day when it is a hotel again and the effects of the pandemic have disappeared.
Just for some feedback (which you can take or leave, but just thought I would say) the vegetarian option we had which was a sweet potato salad I believe was slightly disappointing considering it was a main course, didn't affect our day as we didn't have one and all the other food was absolutely sublime and you have a very good team in the kitchen. I hope you don't mind me saying about the salad I just know that feedback like this can help to improve you :)
Many thanks, Aled and Chelsea
23/09/2021:
Hi Emily!
Just wanted to say a massive thank you to you and all your team for doing such an amazing job for our wedding. I've had nothing but compliments and praises for everything from all our guests and every one of you was absolutely brilliant.
I hope you enjoyed as much as we did and I am delighted with how everything went on the day. It was a truly magical day!
Many thanks,
Stefanie Davies Lamb x
12/09/2021, 17:14, "Emily Horlock" wrote:
Hello,
My husband and I got married at the castle on 27th august, and we both just wanted to write to say thank you so much to all the team at Craig Y Nos for making our day so amazing. It is slightly belated as we have only just returned from honeymoon!
We had the most perfect and beautiful day getting married at Craig Y Nos and we want to extend our thank to everyone on the team, especially Nicola and Emily.
Nicola has been absolutely fantastic throughout the whole planning process. Nothing is ever too much trouble for her and she was so good at putting my mind at ease or answering my many questions when I was worrying about all the little things!
Emily was absolutely amazing on the wedding day, even though she hadn't been our planner beforehand she had read through the details of our final planning meeting and knew exactly how we wanted everything for our special day. She made the whole day run so smoothly and was so reassuring, we didn't have to worry about a thing and were able to fully enjoy our day whilst Emily and the team were working so hard in the background.
We have seen first hand how hard all of the team have been working, especially with covid ongoing and with so many weddings now restrictions have lifted- we are so appreciative of your hard work and support to provide our perfect day. We were also over the moon that we were able to have our ceremony outside, it made the day absolutely magical.
We are also still awaiting professional photos and would be very grateful if Emily would be happy to share any photos she took of the day.
Please also extend our wishes to Nicola we hope that she will be better soon,
Many thanks, Matt and Emily.
02/09/2021
Hey Nicola,
We have just gotten back from our Minimoon and the whirlwind that was after the wedding.
I would just like to say again a massive thank you to you and the team for making the past few years much better than they could have been and also making our day absolutely perfect.
Everyone has said how lovely the castle and staff were and the way everything came together was excellent.
I would just like to ask you were would you like us to review you too? We could not have asked for a better wedding so want to shout about it 😊
P.S Also loving your new profile photo for Facebook haha! Amazing work by Andrew too 😃
Cheers,
Rich
27/08/2021
Craig y nos Castle and it's staff turned my daughters wedding day into a magical fairy tail occasion with her ceremony in the woodland grounds.
Thank you all at Craig y nos Castle for making my daughters wedding day so wonderful and complete.
We were all so impressed with your organisation, with the courtesy of your staff and the non stop hard working from your waitressing team / bar staff who seemed to be everywhere, all the time, including at breakfast the following morning.
The food quality was amazing the rooms were comfortable and clean and the castle in general was fascinating.
All in all we cannot recall having a nicer wedding experience and would recommend it to anyone!
Kindest regards,
Simon and Jane Horlock.
P.S. please thank Emily who I think was standing in for Nichola, she was always so kind and attentive, nothing was too much trouble for her!
19/07/2021
Thank you all so much for making our day so special and amazing. Everyone at the castle made it perfect. The food was amazing, everyone has said how good the food was. The rooms looked perfect, just how we wanted it. Thank you again so much.
Kind regards,
Samantha
21/06/2021
Dear Michael,
Please accept this card as a huge 'thank you' for allowing my daughter's wedding celebrations to go ahead as planned, to a standard that far exceeded what we were expecting due to the current Government Restrictions that were set for all weddings in Wales.
Your wonderful staff, namely Nicola, Adrianne, Molly, and ALL the team worked tirelessly throughout to allow the family and guests to enjoy a truly wonderful day. There was NOT one single complaint from any member of the family or friends regarding the quality of the food or the standard of the accommodation.
We as a family hope that the future of Craig y Nos Castle goes from strength to strength as we get back to normality. Best wishes, Laine, Neil, Jenny, David and Theo.
Michael replies:
Subject: Congratulations,
Hi Neil and Family
First off thank you for your support as a customer over the last 18 months or so – I recall to this day having to make that call and arrange for the cancellation of the wedding along with the heartache that it would have brought to you and Liane along with Jenny, David and Theo I was upset that day and the following day for what was in the words of the press "an unprecedented year" for weddings, which thankfully we are slowly starting to get back to some level of "normality".
In the first few months Nicola had lots of weddings to postpone and with no guidance as to when weddings could restart, it was something of a hope and a wing and a prayer scenario as to when weddings could re-start. We did as much as we could to ensure weddings could be achieved when and with the numbers customers required and as such, my only remit in all of this was to "tell customers, what could legally be done" along with when it could be done.
Whilst I fully appreciate your thanks to me, and I must thank you for the flowers – Tracy my wife was pleased too – I must really hold my hand up and say "other than telling people what they could do" the thanks really was down to Nicola, Adrianne and Emily on the day and the Kitchen and Front of House teams for putting on a good show – your card says it all in so far as "it was a team effort" and I hope that in years to come, putting the 'virus behind us', you and your family can look back on Craig Y Nos Castle and its staff with fond memories.
We really do, appreciate customers patience, politeness and willing to work with us over the last year or so and those that we still have to do, will get the same high level of service you and your family were offered.
I wish you all the best for the future and if you are ever in Wales, near the Castle Monday to Friday 9 – 5 (except Wednesdays) I am sure that I can afford to get a round (of course, I can make it outside these hours – as, in essence it wont be a work thing either).
Thank you for your well wishes, I am sure the staff will appreciate them too.
Customer Feedback Forms Reviews
- these are forms completed by customers who have stayed the night at Craig y Nos Castle.
AB18 26/11/2021:
I thought that the staff were all amazing so friendly and nothing was too much
trouble For them.
AB30 19/11/2021:
Friendly and professional staff. Very happy as I had my wedding at the castle
and everybody was happy ans satisfied with the castle.
AB30 13/11/2021:
Will definitely revisit & recommend to others.
Staff are so friendly and will go out of their way to help- big asset to the place.
AB14 11/11/2021: Catering:
Absolutely outstanding. Everything tasted so delicious and everyone on my table
said the food was hot which can be difficult when catering for a large crowd.
All staff were accommodating, friendly and helpful.
AB15 06/11/2021:
Steve, your chef, is fantastic!
See you on New Year's Eve!
AB28 01/11/2021:
All staff were friendly and attentive and extremely helpful well done keep up the
good work. (Accommodation)
Extremely high standard and well presented.
Wonderful and yes yes yes yes coming back snd would highly recommend you.
Keep up the good work and look forward to seeing you all soon when pennies
allows.
AB30 (Bridal) 08/10/2021:
Food was outstanding.
Staff all friendly and helpful they are like a family.
Over all experience was fantastic and we will be visiting every year for our
anniversary.
AB31 08/10/2021:
standard.of food served was first class.
Our room.(31) was spotlessly clean, general appearance of the castle, was warm
and welcoming.
Ideal for wedding functions,photo shoots in the grounds with amazing
surroundings.
Would definitely recommend the Castle, and woul love to revisit one day, our
stay was truly memorable.
From the time we arrived,on 8th October for my Nephew's wedding, every detail
was taken care of by the amazing team you have working at the Castle, which
made our stay all the more rmemorable .
AB24 29/09/2021:
The staff were all friendly and you could see hard working too. They
complimented the location and loveliness off the venue perfect.
AB11 25/09/2021:
fantastic. Nothing was too much trouble. They were so friendly and some
worked an extremely long day (and back again early the following morning) but
they always had smiles on their faces and did all they could to please. For a
mass catering event (approx 150 guests) the food was excellent (except for the
vegetarian mains option which was actually very poor).
A fantastic wedding in an amazing setting with amazing staff. Thank you for
making my son and daughter-in-lawÆs special day such an amazing one.
Manager Says: Maybe the Vegetarian choice needs improving, or possibly the choice selected was not 'right' for the guest. Vegetarian options are shown here. We can also offer alternatives - just ask chef before wedding day.
Theatre Ground Left 18/09/2021:
All the staff were incredibly friendly, helpful and welcoming.
The rooms was lovely and clean but feel very dated. The wardrobe was'nt big
enough for suit hangers. It was disappointing that the shower appears to have
lots of jets but did not work. The shower was VERY slow to drain!
I would like to say a very big thank you to Emily who was in charge of making the
wedding I was a part of run so smoothly, she was superb at her job and is a
major asset to you.
Manager says: The shower was one we bought at a Builth Wells Agricultural
Show
and was OTT, very fancy with lots of jets, even a foot massager. Sadly over the years the fancy parts stopped working and had to be disconnected and now just the basic head shower works. Ultimately we will have to bin the shoer and put in a 'normal' one. We will check the drainage, thank you for letting us know!
AB22 11/09/2021:
Would recommend, cool venue / building outdoor areas great, room was good.
AB30 (Bridal Suite) 28/08/2021:
Nothing was too much for all staff! Receptionists going out of their way to
support the Wedding Planner if not available. Waitresses were always pleasant
and polite even after working a long shift!
We had the most amazing wedding day at the Castle. Emily our wedding
planner was excellent - so organised and helpful. Staff went beyond the call of
duty and were always pleasant and helpful in the hour of need to Jen (
Receptionist) running down to measure the diameter of the tables to ensure we
had the right size bowls! The wedding reception food was exceptional - not only
for its quality but presentation too. Staff/ waitresses made guests feel personal
as they referred to their names when presenting the food. Smiles all around even
from the cleaning staff on the following morning - all prepared to engage in
conversation about the wedding before starting their early shift! The staff are a
credit to the organisation. Their warmth oozes through and makes every bride
and groom and their guests feel special on this memorable occasion. Diolch o
galon x
AB30 (Bridal Suite) 25/08/2021:
You were absolutely fantastic and couldn't do enough for us on our special day,
amazing team.
AB36 22/08/2021:
Your staff blew my mind. They were all enthusiastic, patient and happy to help.
Whatever time of day or night they were approached. Every single member of
staff who were at the wedding and at the hotel the next morning were exemplary,
I couldn't speak higher of them. Always smiling always polite.
AB30 (Bridal Suite) 19/07/2021:
Very helpful waiting staff. And wedding co ordinater Emily who was helpful &
supportive. Our guests had a wonderful day and stay overall very happy.
AB15 - 15/07/2021:
The castle was the perfect location with stunning views for our daughters
wedding.
11/07/2024:
Highly recommend Craig y Nos as a Wedding venue. My daughter got married here on 3/7/21, we all had a brilliant day and can't thank the staff enough. Everything went to plan, the food was amazing and the staff and service excellent, nothing was too much trouble. Thank you to all the staff for making lovely memories for us.
AB24 - 31/05/2021:
We could not have had a better wedding. Having postponed my daughter's
wedding twice due to Covid, there was just a brilliant atmosphere of celebration
which extended to the staff as well!
I really loved the theatre for the wedding ceremony - it added a real touch of
glamour to the occasion.
AB34 - 21/05/2021:
Beginning to end our stay at the castle was pristine. That's why we don't need to
look elsewhere for our wedding venue.
I can't even describe how much we love the grounds. Another reason we will be
holding our wedding with you.
I have recommended the castle to others and can't wait to book our wedding
there.
Chloe and Nicola are worth their weight in gold. A good venue depends entirely
on good staff and within hours I felt welcomed and special thanks to those lovely
girls.
Google Reviews.
02/01/2022:
Lauren Preston.
What an absolute fairy tale dream!! We first booked our wedding here for April of 2020. From our first interaction the staff has been sensational and the venue itself is breathtaking. By the time we had our first (delicious) meal there I was in love with this venue! They were so understanding and supportive through our multiple date changes, guest changes, and general pandemic alterations, even offering to provide the theatre for free and set up an outdoor picknic for us when we hoped to get married just prior to lockdown. I'm happy to report that we were finally successful in having the wedding of our dreams here, but even my wild imaginings couldn't have come close to how wonderful our stay was. We booked the castle for the whole weekend as we had quite a few people traveling internationally and we were concerned about guests driving after a few drinks. The value for money was absolutely mind blowing!! Every other venue we looked at (and there were quite a few) offered less than half the experience for more than twice the price! While the beauty, history, delicious food and value for money are all amazing selling points for this castle, it's true strength is in its staff! They were so lovely, warm, welcoming, accomidating and capable. I honestly felt like they were just as invested in making my guests feel valued and looked after as I was. They're the type of people that if you show them kindness, respect and gratitude, they give it back to you ten times over. We can't wait to come back and stay whenever we're in the area!
08/12/2021:
We stayed for a night. Place is full of atmosphere. Great breakfast. Beds could be improved. Overall, good experience.
08/12/2021:
Atmospheric building with lovely food in beautiful countryside.
08/12/2021:
Great location in Brecon Beacons, special view and atmosphere. Very friendly and kind staff.
15/11/2021:
Stunning venue for the amazing wedding of Sarah Jo and Rauri Kilan Big thank you to the brilliant young staff who were so pleasant and helpful especially the bar staff 😀
14/11/2021:
Went to a wedding. Staff were very helpful, food was good. Rooms were clean and tidy.
14/11/2021:
Went to a wedding. Staff were very helpful, food was good. Rooms were clean and tidy.
09/11/2021:
Wowzer. Went for a wedding. Lovely location. Lovely castle. Really good food. Really good rooms. Nice staff. Great scenery.. apparently haunted 🙂 lots of great history. Loved the Opera theatre.
06/11/2021:
Absolutely fantastic place, easy to get lost.
06/11/2021:
Excellent staff very friendly can't wait to go again
06/11/2021:
Amazing wedding venue
06/11/2021:
Can't believe it's 5 years since we had one of our visits to this beautiful part of the world.
I wonder if it's still the same owners?!
Michael Buseinss Manager replied: The Castle has been in the same hands since 2000 - so yes, we are still here - although many staff have come and gone - only 2 of us remain original - however, the current crop of staff are fantastic- why not come up for a D,B&B break? M!chael
05/11/2021:
Beautiful venue! Stunning location! Great, welcoming and knowledgeable staff. A few things could do with updating but tbh it's a very old castle so that would just be being picky! Would definitely go back!
Oct 2021:
Attended a wedding. Rooms very well appointed. Spacious, clean and with comfortable beds. The staff were helpful and patient, dealing with even the fussiest and most manic of children. The breakfast was well cooked too. Plenty of sausages and tea.
11/10/2021:
Attended a wedding, although I have been there before. Beautiful building and surroundings. The food was really good, hot and very tasty. The staff were very friendly and efficient. Well done Craig yr Nos, it won't be the last time you see me!
07/10/2021:
My wife and stayed here in 2005. It was our Honeymoon. Without a doubt ,one of the best experiences ever. We stayed in a room on the ground floor behind the opera house. We woke up to the ground being covered in snow! The staff was incredible, the food was great and conversations were endless. Some time soon we will return. If your in Wales you owe it to yourself to stay at Craig Y Nos Castle.
23/08/2021:
Splendid setting with gorgeous mountain views, makes you want to wander off and go hiking. The castle itself is very impressive, built by a famous opera singer with the theatre room really quite an extraordinary feat of construction and imagination. We were here for a wedding and it didn't disappoint. The ceremony was held in the theatre and the reception in a large orangery with floor to ceiling windows looking out over the valley to the cloud-topped mountains opposite. Probably the grandest setting for a wedding that I've been to yet. If I were being really picky, I might say that my main course was slightly too peppery (butternut risotto) and when I bought a peroni for my friend, it was nearly £6 which is very expensive, but only if I'm being really picky. All in all, an absolute belter of a venue!
17/08/2021:
Ralph Ellis:
Beautiful wedding location, also seems like an awesome place for a ghost hunt. Visited for our friends wedding, brilliant setup and use of the rooms to accommodate weddings. Guest rooms were great, had everything we needed, plenty of space in the Castle and grounds to explore. Sorry we didn't get many photos, too busy having a great time. Well worth a visit, we will be back to explore some more!
16/08/2021:
Gary Mcmahon:
We visited for a weekend on 23rd July which was part of the Castle's weekend deals that they have on. We got married here back in January 2019 so this place is very special for us and we wanted to come back and show our support as everywhere starts to reopen. We were greeted very warmly at reception and headed to our room - we then played a game of who stayed in this room for our wedding, a beautiful little double room that was clean and just what we needed. We then saw Molly, who was our wedding planner. Was lovely that she remembered us... she probably didn't remember our names lol but was lovely that she instantly recognised us and had a little chat. We also saw Chloe who was running the bar, and also ran the bar at our wedding. Again remembering who we were and when we got married (as it is near her birthday :-)) It is these warm little touches that make you fall in love with the place all over again.
These people deal with so many people and yet take the time to remember the small little details. The food was incredible and the service from Chloe and her team exceptional. It was also nice to finally have a breakfast buffet again. Places like this are special, and with the pandemic I was genuinely concerned that the castle that is so special to us may not have survived. However all the same staff are there, and they have not only survived but they appear to be thriving and with exceptional food, incredible staff and a unique venue it is clear why this is the case. This is a wonderful place to stay for a few nights and an even more incredible wedding venue. If you do get married here make sure you take the opportunity for pictures up on the roof for some incredible scenery as a backdrop I'd like to thank you for another wonderful stay and cannot wait to visit you again. :-). It is great that you are back up and running.
Michael replies: Cheers for another great review and your comments on how you enjoyed the Castle, its location and staff are excellent.
The staff were over the moon when I showed them and certainly we look forward to more visits from you both in the future.