Chocolate Fountains
Wedding Planning > Our Suppliers > Decorating the venue
Welsh Chocolate Fountains

Magnificent illuminated chocolate fondue fountains for hire. Choose from a selection of fresh dipping fruits and foods. A great centre piece for any occassion. Champagne fountains are also available for hire.

Tel: Andrew Bowen, 01554 778 516
Mob: 07969 224 009

Website: http://www.welshchocolatefountains.com


CHOCOLATE FOUNTAIN PACKAGES

Welsh Chocolate Fountains have many different sized chocolate fountains available for hire and realise that no two events are the same so we have come up with different hire & rental packages: Standard Package, Deluxe Package and the Tailored Package.

Planning a wedding, birthday party, school prom or corporate event in Wales then let Welsh Chocolate Fountains take the stress away by hiring one of our chocolate fountain packages.

If you would like to discuss one of our fountain hire/rental packages at anytime then please just get in-touch with us and we will endeavour to find the chocolate package which best suites your needs. The most popular package for any event in the Llanelli, Swansea and Carmartheshire area is the standard package which includes: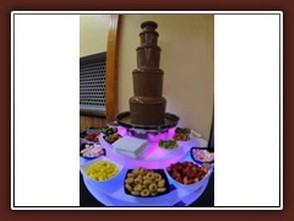 STANDARD HIRE PACKAGE
Hire of our large 5 tiered Chocolate Fountain
Use of the illuminated base and surround
Delivery to your venue
Setup of the fountain
Collection and cleaning
Skewers, napkins & paper plates
15 kg's of the finest couverture Belgian chocolate made by Barry Callebaut
Two uniformed operators to ensure the smooth running of your fountain who serve your guests.
Your choice of different dipping foods (6 is ample but there is no problem if you need more choice)
Compare Standard Hire Package with the Deluxe Package - Switch to Deluxe or book now

Hire a chocolate fountain from Welsh Chocolate Fountains of Llanelli to round off your perfect wedding day in Wales. With all the guests congregating at the fountain discussing the days events whilst sampling mouth watering fresh fruits covered with melted Belgian chocolate, perrrfect!!!!

A majority of wedding couples choose to have one of our chocolate fountain rental packages at the evening reception as this ensures that all the wedding guests will get to enjoy the chocolate fountain and not just the day guests. We can have the fountain flowing for around three hours. The reason for this time period is to comply with current food hygiene legislation for buffet food being out at room temperature.

Contact Andrew or Samantha

In November 2011, Welsh Chocolate Fountains won an award for The Best Wedding Service in West Wales at The Welsh National Wedding Awards.

We are very proud to receive this award and would like to thank everyone who voted for us.

Andrew Bowen - Managing Director - Welsh Chocolate Fountains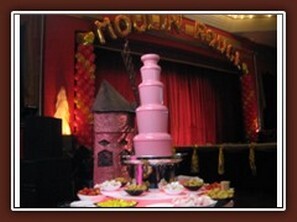 Welsh Chocolate Fountains are a professional family run chocolate fountain hire company based in Llanelli, Carmarthenshire near Swansea in Wales. Providing you with the ultimate all inclusive chocolate fountain rental package for any occasion. Our fountain hire packages come with two trained attendants who actually serve your guests to maintain high food safety standards. We have found that you the customer actualy prefer this method because it is more hygienic and less messy than letting people do it for themselves.

Welsh Chocolate Fountains specialise in chocolate fountain hire for weddings, engagements, birthday parties, christenings, school proms, corporate events and civil ceremonies. We have supplied chocolate fountains at the weddings of three famous rugby players from Wales: Dwayne Peel(former Llanelli Scarlets now with Sale Sharks), Richard Hibbard(Opspreys) and most recently Gavin Evans of The Cardiff Blues. Some other well known customers include; Sarra & Simon Easterby, Shane Williams, Barratt Homes and Orange.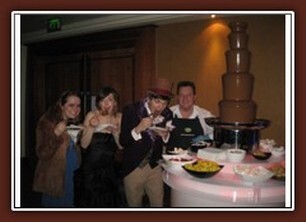 Champagne fountains, genuine hand carved ice sculptures and vodka luges can also be supplied. You can also rent a chocolate fountain from us and run it yourself.

Our various sized chocolate fountains are presented on beautiful illuminated surrounds and bases which means that there is no need for a table. This creates a stunning stand alone centerpiece flowing with melted chocolate. Allowing your guests to feast on delicious fresh strawberries, marshmallows, donuts, profiteroles and other delights which are smothered in delicious Belgian chocolate. We always use a couverture chocolate designed for the fountains as it contains a high percentage of cocoa butter solids(typically higher than 32%).

If you are thinking of hiring a chocolate fountain for any occasion in Wales then give Welsh Chocolate Fountains a call today to discuss your chocolate fountain needs. Don't worry if the credit crunch has put you on a budget, there should be a chocolate fountain package to suite your budget. You can even start a payment plan to spread the cost so that you are not left with a big balance as your wedding day approaches. If you have been quoted a price by another fountain hire company it is always worth mentioning it to see if we can find a hire package to match or better the price you have been quoted.


Giant Chocolate Fountain


Telephone: 01443 660335 and Mobile: 07763 285078


Email: info@giantchocolatefountain.com
Website: www.giantchocolatefountain.com
Also Second Website: www.chocolatefountainmagic.co.uk

There is no better way to bring fun and excitement to your wedding than to hire one of our Giant Chocolate Fountains for your guests. Our chocolate fountain stands over 4 feet tall and will captivate and entertain your guests.

Giant Chocolate Fountain is a family run chocolate fountain company based in South Wales that is dedicated to providing a friendly, professional, enjoyable and quality service.

We supply only the finest Belgian Chocolate and is presented to the highest standard and managed by our attentive staff. We pride ourselves on our reputation and attention to the finest details.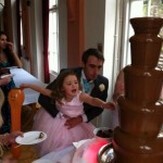 Bronze Package (Up to 100 guests)
Giant 4ft, 4 tier Chocolate Fountain complete with Multi-Coloured Light Base.
6 Dips of your choice.
Fully trained and suitably attired attendant.
UNLIMITED Belgian Milk/Dark or White Chocolate.
Skewers, Plates and Napkins.
3 Hours of Dipping.

Gold Package (Up to 250 guests)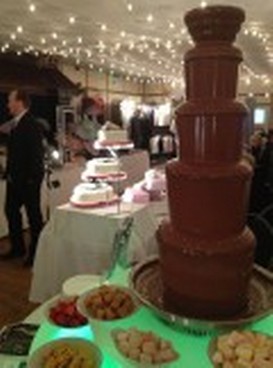 Giant 4ft, 4 tier Chocolate Fountain complete with Multi-Coloured Light Base.
10 Dips of your choice.
Fully trained and suitably attired attendant.
UNLIMITED Belgian Milk/Dark or White Chocolate.
Skewers, Plates and Napkins.
3 Hours of Dipping.

The Ultimate Package (250-500 guests)
Giant 4ft, 4 tier Chocolate Fountain and Multi-Coloured Light Base.
12 Dips of your choice.
2 Fully trained and suitably attired attendants.
UNLIMITED Belgian Milk/Dark or White Chocolate.
Skewers, Plates and Napkins.
4 Hours of Dipping.

The most popular dips are Strawberries, Fudge, Profiteroles, Mini Donuts, Seedless Grapes, Bananas, Meringues, Marshmallows, Jelly Babies, Shortbread, Turkish Delight, Flapjacks and Mini Muffins, Mini Brownies and Nougat.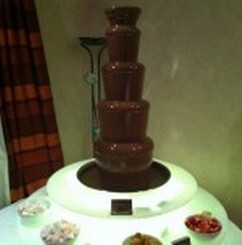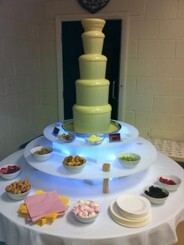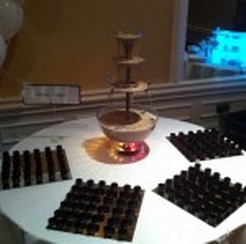 We cover all areas from West Wales to the South West of England and the price we quote is the price you pay with absolutely NO hidden charges.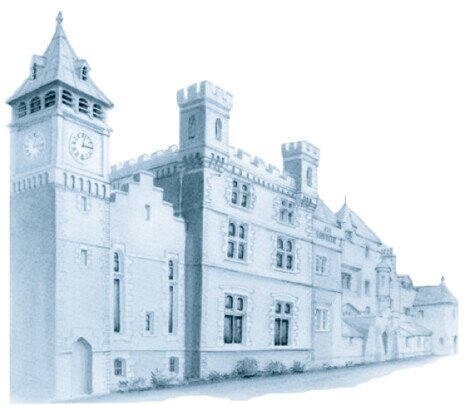 Enjoy a Homely Welcome and Friendly Service at Craig y Nos Castle