Magician at Craig y Nos Castle Weddings
Wedding Planning > Our Suppliers > Entertainment in Day
Dorian Wedding Magician

DORIAN - Magician
Tel: (01792) 541 524
Mob: 07812 592 391
Email: dorian@dorianmagic.com
Dorian is a time-served, genuine full-time, seasoned professional magician. He has earned his living solely by performing magic for paying audiences for well over fifteen years. Before turning professional in 2002 he also worked at a semi-professional level for a further three years, learning his trade, sharpening his skills and building a good solid foundation before taking the plunge into being a full-time magic entertainer.
With a world class act that has been developed and refined over the best part of two decades, the result is a striking performance of polished magical entertainment. Dorian's act is perfect for all kinds of Corporate Events, Private Parties and of course WEDDINGS (see Wedding Magician info below).
Although he is local to the area, he travels extensively throughout the United Kingdom. Dorian also works at an international level having worked in many countries including Switzerland, Monaco, Brazil, France, Germany, Austria and Spain.
He has performed for TV and movie celebrity in addition to entertaining at several Royal events.
Dorian backs up his work with a 100% money-back guarantee. He will pull out all the stops to deliver an absolute sterling performance that you and your guests will be truly delighted and amazed. To date Dorian has NEVER been late or a no-show for a booking.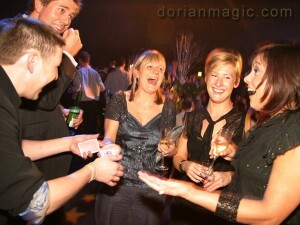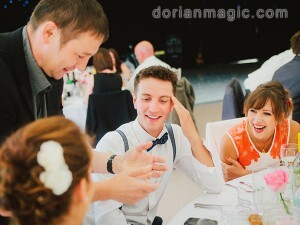 DORIAN - WEDDING MAGICIAN
Dorian entertains extensively throughout the country as a wedding entertainer. He is guaranteed to be the icing on the cake at any wedding, civil partnership, wedding engagement or anniversary.
DORIAN can be used in many ways, below are some typical examples:
*
During the photo session
:
During the drinks reception and photos is an ideal time to start entertaining with mix and mingle style magic. The entertainment begins a little after everyone arrives from the service. While the photographer does his thing, Dorian can entertain groups of your invited company with amazing magic designed to break the ice and put them at ease.
*
During the meal
:
The entertainment begins during the meal as he visits each table working in between courses. He will amaze you and your wedding company with his close-up magic until the start of speeches or coffee.
*
The period after the meal and speeches:
Close-up magic is a good way to help keep the momentum going after the meal and speeches have ended. During the lull as the day turns to evening can be kept up-tempo and filled with magic entertainment. Quite often the room that the meal was served is also the same room for the evening function. As the room is "turned around" this is a perfect time to provide entertainment for the guests and everyone chill's out. As more guests arrive for the evening function he is able to mingle and perform for all.
*
The evening function:
Dorian can mingle with your guests as they gather for the evening events. He can entertain guests at the tables and keep them entertained as they await the buffet. The amazement and fun carry on until it's the turn of the disco or band to take over.
As one of the UK's top wedding entertainers his goal is to make your big day the one that all your guests will talk about for a very long time after the event and for all the right reasons. You can rest assured that you and your guests will remember the magical moments that he provided with his close-up magic, helping to ensure that yours is a truly fabulous and special day. The last thing your guests will be able to say is that your big day was boring.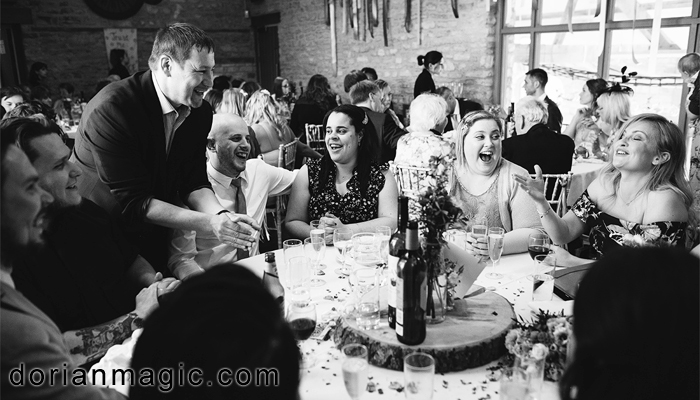 A few wedding testimonials for DORIAN:
"My wife and I booked Dorian for our wedding day and he was absolutely top class!! Firstly, contact with Dorian from booking him to the actual day was great. He assured us that if we found his performance wasn't 110%, he would give us a full refund. Even offered us a preview of his work beforehand to reassure us! But there was absolutely no need for that. He blew the entire crowd away from the minute he walked in, to the time he left. Almost 100 guests were gob-smacked and left in awe at Dorian's tricks. A fantastic entertainer and all-round genuinely friendly person. People wouldn't stop talking about him, and the fun and laughter he brought to the tables. He even got a mention in the speeches, and an applause!! We always thought having a magician at our wedding was something different, but you were something else entirely. We are recommending you to everyone :-) Thank you so much Dorian!!!"
Ritchie Care. (Swansea)
"Dorian was an absolute star. The magic was gob smacking and he charmed our guests non stop. Highly professional and yet friendly and warm, we lost count of the times our guests (and staff) sang his praises. A few weeks after our big day we went to another wedding, where a magician was performing, and whilst he was ok, he lacked the WOW factor that Dorian definitely has. His fee was, without doubt, the best value for money we spent that day."
Angharad and Sean Massie. (Brecon)
"I just wanted to say a massive thank you for entertaining our guests at our wedding in Cardiff City Football Club. According to my guests it was the best they have ever been to. All our guests were very keen to sing your praises in there words 'absolutely fantastic.' I certainly wouldn't think twice about booking you again and I will defiantly be recommending you to friends and colleagues. I certainly hope we have reason to book you again, Kind regards and again, many thanks."
Yasmin and James (Cardiff)
"I wanted to send you a quick email to thank you for performing at our wedding. The guests are still talking about your performance and trying to work out how any of it is done!! My father was extremely flummoxed by what you did. I cannot express enough how happy we were to have you at our special day and I will happily pass your details to any friends/family who wish to use you in future. In fact.... I'm considering getting married again just as an excuse to see you perform... I'm not sure the other half would be too happy with me though!!"
Nikki (Hampshire)
DORIAN - A rock-solid, dependable, professional magician entertainer.
Demonstrations can be arranged by appointment. Please get in touch to find out more.
Close-up magician Dorian Michael is based in the UK and has been specialising in the performance of magic for almost a decade. His success has been founded on performing strong original magic and unique modern sleight of hand. His individual style is enthusiastic, energetic and is guaranteed to be a truly memorable part of your event. http://www.dorainmagic.com Top class international close-up magician available to entertain at your table or mingle with guests at your party, function, wedding or event. . If you are looking for a unique and special wedding entertainment idea, magician Dorian is guaranteed to leave a lasting impression on your guests.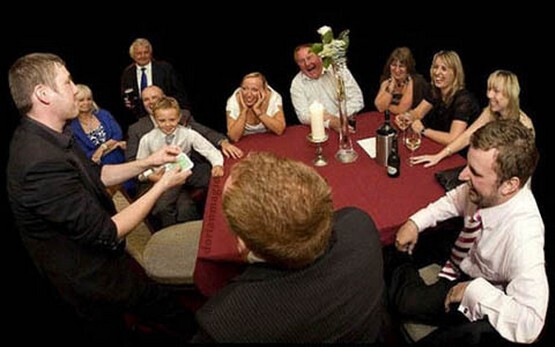 Helping to make your special day truly magical:
As a wedding magician and one of the UK's top wedding entertainers his goal is to make your big day the one that all your guests will talk about for a very long time after the event. You can rest assured that you and your invited company will remember the magical moments that he provided with his close-up magic, helping to ensure that yours is a truly fabulous and special day.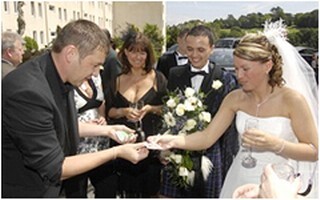 "A belated thank you for your fantastic contribution to our partnership party on 1st July. We loved the way that you worked the room and everyone got a chance to see your magician skills up close. We were all very impressed and delighted, if somewhat baffled, with your magician skills! Best wishes."
Paul & Stuart (London)

DORIAN the close-up magician and table magician has been specialising in the performance of magic for well over a decade. His success is founded on performing polished, strong, modern, original magic and unique sleight of hand.




Luke Gravett Wedding Magician

Email: lukecloseupmagician@gmail.com
Website: www.lukecloseupmagician.com

Recent feedback received;

"Never have I, my wife or my bedazzled party guests been so amazed by sheer genius. Absolutely fantastic display, thank you Luke, you made my wife's party." - Paul Williams, Refurbishment & Regeneration.

"Absolutely amazing I'm still blown away…WOW, fantastic!!" - Catherine Davies

"You were a massive hit at our wedding, whenever the wedding is mentioned everyone just keeps raving about you !!" - Jo & Jean-Paul Thomas

"Everyone loved you, we are just going to have hire you again! A Seriously fantastic magician who is needed at every occasion! Thank you so much." - Lyndsey Thompson

"Thanks for being utterly amazing, people were totally gob smacked for days, and still haven't stopped speaking about you. I'm still convinced you're an actual wizard x" - Ami Zienkiewicz

"Thank you so much for brilliant performances both in the day and evening on Saturday…You have had rave reviews from our guests…your entertainment perfectly struck the right note ….your show was fabulously entertaining .

Luke, I most certainly would not hesitate to recommend you". - Helen Richards, UNILEVER

"You were fantastic and wowed everyone – we had the most perfect day!" - Mr. & Mrs Hill

"You were absolutely incredible…..unbelievable. Great showmanship and very entertaining. Hope to see you perform again..." - James Lees



Stuart Watkins Close Up Magician


Website: http://www.stuartwatkins.co.uk/index.php/wedding-magician.html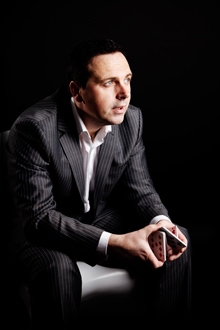 Telephone: 07763 285 078
Contact: Stuart Watkins
Emails: info@livemagic.co.uk


Stuart performs his Award-Winning Magic at over 100 weddings every year! He has vast experience performing at any stage of your BIG DAY. With his wealth of experience he is normally the first choice of entertainment at every Wedding, Civil Partnership or Renewal of Vows across the UK.

Stuart was the winning bride`s Magician on Living TV`s Four Weddings.

Welcome Drinks: This time works well as guests are normally sitting or standing around. While you and your fiancé are being photographed Stuart will break the ice and help guests enjoy the time - the photo session normally lasts between 90 minutes and 2 hours.

Wedding Breakfast: Enjoy a few miracles during courses for the guests and let the guests join in, or hire Stuart as a surprise guest to entertain each table. Just sit back and listen to the laughter, applause and the occasional scream!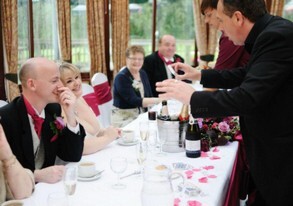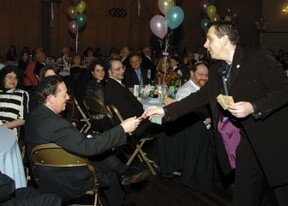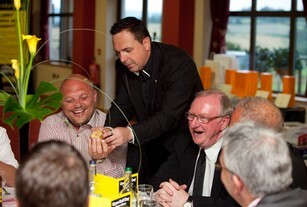 Early Evening: While the room is re-arranged for the evening pleasures and your guests have another gap of an hour or two - after meeting the rest of the family, there's less happening, enter the Magician! Stuart will mingle amongst your guests and keep the momentum going.


Jason Thomas
Award Winning & Professional Close-up Magician & Mind Reader


Website: www.jtmagic.co.uk


Email: info@jtmagic.co.uk
Telephone: 07867 684 851
Facebook: www.facebook.com/JTmagic.seeingisbelieving


Jason specializes in Weddings so he can tailor his magic to your day making his performance totally unique just for you. Throughout the day Jason performs at various times which he knows works best for both you and your guests.

There are two main times that Jason entertains through the day. Depending on the structure of the day, Jason will fit in accordingly to what suits you best:

During The Photos
After Food & Speeches

Jason is in popular demand as a wedding magician. Jason's friendly and professional approach are why he gets so highly recommended. Jason will instantly create a great rapport with your guests, whilst setting a nice and fun atmosphere. Jason is proud to have performed for many celebrities and VIP's and has also been honoured to have actually entertained at celebrity weddings.

The reason why Jason's entertainment works perfectly at a wedding, is because it appeals to everyone of all ages, is a great talking point and an ice breaker. Throughout the day your guests will be telling you how much they enjoyed Jason, what a different and great idea he was and how much fun they had.

Jason specifically performs tricks he knows play well, getting the biggest wow factor with lots of audience interaction and engagement. When planning a wedding you are always conscious of your guests. You hope your guests, family and friends will have a great day and enjoy themselves. Jason guarantees to put a smile on everyone's face and helps you to relax by knowing your guests are having a great time, and to see them enjoying themselves.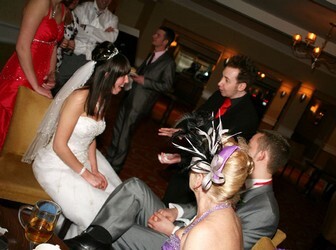 Make your wedding day a day they will always remember. Whatever your event, Jason will amaze, dazzle, amuse and enchant your guests with his award winning close-up magic. Jason has a wide range of tricks and effects in his repertoire and will customize his set for each event accordingly. He writes: "For example I often get booked to work with mobile casinos. I can incorporate my magic around a gambling and casino theme. I entertain using cards, coins, bank notes, finger rings, sponge balls, napkins, personal belongings and pure sleight of hand. Everything i perform is very strong and professional magic, but most importantly very entertaining."

Close-up magic is magic that is performed right under your nose. It is a very fun and interactive form of magic where the spectators are assisting Jason the entire time.

This type of magic is perfect for any occasion as there is no need for any special lighting, sound equipment or staging. It immediately creates a fun atmosphere. When Jason performs he carries all his tricks and props in his suit pockets so is ready to perform and entertain at any time. Jason entertains using cards, coins, sponge balls, objects borrowed from the spectators and pure slight of hand. Jason performs only the very best in close-up magic getting the biggest reactions and wow factor.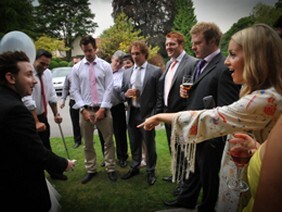 Jason has tailored his walk around (also known as 'strolling') magic to entertain your guests where ever they may be. He doesn't require any special table or surface to perform as he will use your guests to assist him. Jason likes the fact that he uses the spectators to assist him as much as possible – giving them the opportunity to be so close to the action and for them to witness everything up close.

Jason will create such a stir amongst your guests they will not be able to wait for him to approach and entertain them. His manner, persona and personality is very friendly and professional. Jason prides himself on this as this is amongst one of his biggest compliments he receives from all his clients.

Table Magic is ideal for any function, event and occasion where people would be sat around a table. Jason approaches each table and entertains either between meal courses (if there is a break between courses) or during the starters, desserts and coffees. If your event has an interval then this is also an ideal time.

Every single guest will enjoy and feel part of this special experience, as all the table magic Jason performs is tailored to be not only very visual, but to suit everyone of all ages. You may think that it is the children and teenagers that would be more intrigued, but actually it is the adults who are more fascinated and following him around!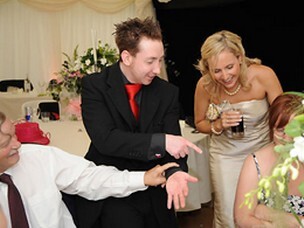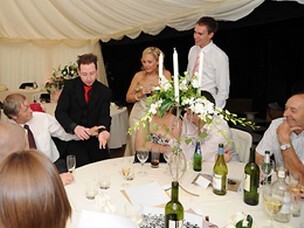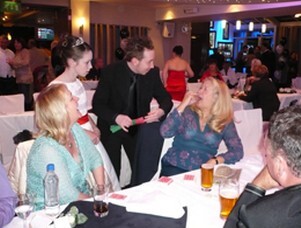 Duncan William
Duncan William
- Magician - is a full time close up magician and mind reader who performs at weddings, parties and corporate events around the country. His act can be performed close up - which is perfect for weddings, drink receptions and private parties. Not only that, but he also performs a really interactive mind reading act and digital stage show too. Both can be customized to your event, wedding or private party. With over 15 years of experience, give Duncan a call to find out more.
Duncan William;
Call: 07934 856 696 or visit his website https://magicduncan.co.uk
I'm a close up wedding magician who performs all over the UK. I have performed at Craig Y Nos several times -
Duncan William -
Master Magician & Mind reader,
Close-up, Mix and Mingle & After-Dinner Cabaret.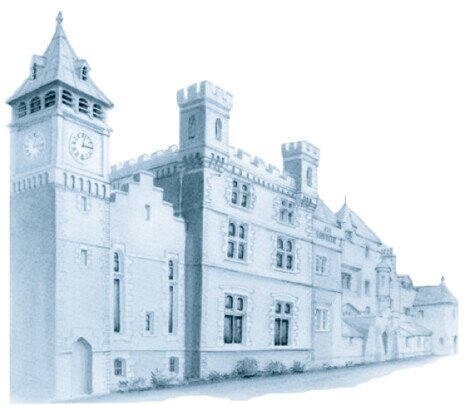 Enjoy a Homely Welcome and Friendly Service at Craig y Nos Castle