Guest List and Menu Planning - Wedding Breakfast Choices
Wedding Planning > Plan your Wedding Day
Menu Planning for Guests at the Wedding Breakfast
You can choose menu items from either, but a surcharge is levied for items from the Superior Menu (which you can upgrade to in its entirety, if you wish).
Menus are subject to change, so it is advisable to leave the menu choice to closer to the date of your wedding. The timing advised is 6-12 weeks before the date of the wedding, but you will need to make your menu choices before sending out your RSVP's. This is because you will need to send the menu out with your formal Wedding Invites / RSVP's, so your guests can make their choioces.
You will need to choose two mains (plus a Veggie option) and two starters (plus a Veggie option). You will need to choose two items from the Pudding section.
You will be sending out your formal Wedding Invitations around two months or longer, before your wedding.
See Your Invitations in the Wedding Planner Guide for information on sending out your RSVP's. As above, you will need to send out your menu choices at the same time as your formal RSVP invites, to let your guests choose what they want to eat.
Kindly note you do not merely send your guests a link to the Standard Wedding Breakfast and ask them to choose. You will need to have pre-selected

two choice

s of starter and mains from the Standard or Superior Wedding Breakfast above (noting that there is an upgrade fee for the Superior Wedding Breakfast items) and then pre-print or email these choices to your guests, to send out with your formal Wedding Invites.
If you feel leaving your Wedding Invites to 8 weeks or so before your wedding is cutting it a bit fine, this recommendation is from the Wedding Planner guide on our site and is regarded as the standard time frame. However this does pre-suppose you have, a year or so earlier, sent out your 'save the date'
cards!
See the following sections of the Wedding Planner guide in this respect:
Wedding Day Countdown to show you when to send out your 'save the date' cards and, subsequently, your formal RSVP invites and Wedding Breakfast Menu options for your guests to choose from. You will see the 'save the date' cards go out 12-18 months before the wedding date (i.e. over a year ahead) but your formal RSVPs go out 7 - 12 weeks before the date (by which time you should already know who is coming anyway).
See also a list of Wedding Stationers here, for printing Save the Date Cards and Formal Wedding Invites and for your printed Wedding Breakfast Menus.

Once you have your RSVPs back, it is time to prepare your table
plans.
Who to seat with who - further essential advice
Deciding who will sit with who, and which guests you must avoid sitting next to each other, considerations such as where to seat fidgety children, or couples who are separated/ divorced, will make planning who sits with who quite an art-form. To avoid missing something pretty fundamental on protocols and best practice for seating your guests at the right tables and with the right guests, see further Seating Plan Advisory notes here.
Wedding Guest Menu Choices
Below is a sample Wedding Guest Menu Choices form. You can download this (the downloadable version has more tables of course) and send it back to us once completed. This will need to be done at least a month before the wedding.
Wedding Menu and Invites Advice

Complimentary colours and themes really wow your guest. Match your stationery with your colour or Wedding theme to bring it all together!
Save The Date Cards

Send a 'Save The Date Card' ahead of the Wedding Invitations. Recommended if you're marrying in the summer, or when people might have longterm booked commitments eg. summer holidays, Christmas, Easter etc. Send these cards once your date is set but after your venue has been booked (in case you cannot get your preferred date at the wedding venue).

Wedding Day Invitations

Allow plenty of time for your guests to reply. You should send out your Wedding Invitations at least 6-12 weeks before the Wedding Day, though in practice you will probably be working months in advance in order to finalise your wedding guest list with the wedding venue.
The amount of Invitations you need to send is half of the number of guests you've invited as couples and families will get 1 invitation per family. Order some extras to allow for additional guests you may have left off your list, to cover any mistakes made writing them out, and even to add guests later should some of your original list not be able to come to your wedding.
Include hotel information and directions to the venue,
with a note of their website perhaps, plus the RSVP cards.
You can ask if there are any special dietary requirements or any food allergies
- maybe even include a sample menu.
Evening Invitations

These are for guests not attending the Wedding Breakfast, just those invited for the Evening Reception. We recommend these be sent out the same time as the Wedding Day Invitations 6-12 weeks, at least, in advance, allowing you time to know the final numbers able to attend. (Note at many weddings, a number of evening guests tend not to show up to the Wedding; sending out formal invitations professionally produced will increase the likelihood of most of your evening list attending.)
When ordering your Evening Invitations, order half the number of your guest list if all are couples with some extras as spares for any guests left off your initial list.
RSVP Cards

These go out with the Wedding Day and Evening List Invitations to speed up the responses. You may have to chase some up to reply. Early confirmations means you can finalise guest numbers and your wedding venue costs sooner.

Place Cards

For seating your guests at the Wedding Breakfast in line with your Table Plan. Order one per guest plus a few spares for mistakes or late changes in guests attending.
Table Numbers/Names

You will need one per table. It is more customary nowadays to give your tables names instead of numbers. These can compliment your wedding theme and can include place names, town names, or tree names - we've even seen some with London Underground train station names. The names depend on the theme of your wedding.

Some quick ideas for naming tables: gemstones, animals, flowers, sports teams, places in your local area / countries / towns / castles etc, dances, beaches, film characters, colours, bands and songs, names of drinks, names of sweets and chocolates, seven wonders of the world or other significant places / people etc, train and tube stations etc.

Menu

For Wedding Breakfast. Most weddings will determine what guests are eating in advance so your wedding caterers can make the required amount of each dish to order. These include all the options for each course and at Craig y Nos we need to know what guests would like to eat before the wedding day and also if there are any vegetarians / special dietary needs. You can also include the timings of the speeches and toasts.
Special dietary needs should be catered for (though not necessarily included on the main menu) eg: vegetarian, kosher, nut or other allergies, gluten intolerance, halal etc.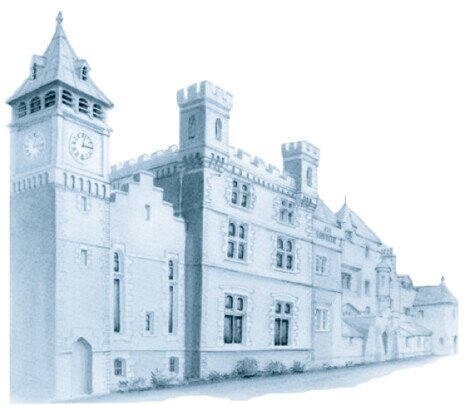 Enjoy a Homely Welcome and Friendly Service at Craig y Nos Castle