AB35: Large Double en-suite
Wedding Planning > Our Bedrooms > Double En-suites
TV, Internet & Phone Information

Large wall mounted TV with separate DVD player, 7 channels via hotel cable
system.
There is a Phone in this room but you will need a cable to connect your laptop to the computer slot on the phone for free internet use when there is no WIFI - either bring your own cable or ask for a spare one at reception.

New WIFI installed late 2018: WIFI in AB35 and AB36 intermittent, best from the bed.
Room Information
Large Double Bedroom with interesting antique wardrobe, partial views over country park (obscured by conservatory roof) and basic bathroom en-suite with white
bath.
The main benefit of this unmodernised room is its large size plus you have loads of space for folded clothes in the many drawers and cupboards of the large multi-drawered antique wardrobe cum chest. However the wardrobe section is not full height for clothes so you cannot hang long coats and dresses in it. There is also quite a nice large Victorian era dressing
table.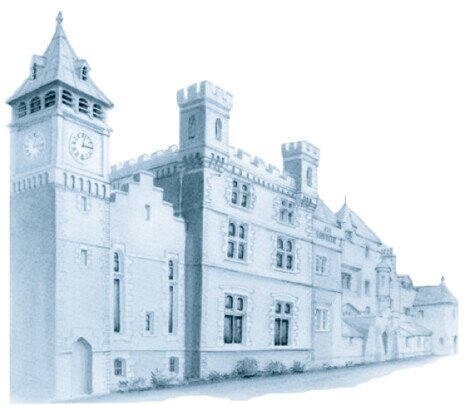 Enjoy a Homely Welcome and Friendly Service at Craig y Nos Castle