Craig Y Nos Castle Wedding Reviews in 2010
Wedding Packages > Read Brides Reviews
Craig y Nos Castle Wedding Venue
"10 stars"
Reviewed 17 July 2016 via mobile - 5 stars
A very few times in life you may stumble upon a magical place, that steals your heart and sparks your imagination. Craig y nos castle for us was that place. There is so much history crammed into this epic building. Yes its a little run down, yes its a little drafty here and there, and despite having an amazing team working relentlessly to bring it to the glory it once knew, it isnt yet the jewel of Wales it will be.
We have decided we want to get married here not only because it is such an enchanting place and we love it but also because every penny spent here will help towards the up keep and resoration of a very special place that we selfishly want too visit again and again.
So please do visit, take the history tour, walk in the grounds, revel in in its magnificence and leave with happy memories.
Oh and dont forget too use the 5(*) gym and hot tub facilitys.
Stayed July 2016, travelled as a couple
"Daughters wedding"
Reviewed 12 July 2016 - 5 stars
well what can i say about this amazing castle x we booked it over two years ago for our daughters wedding on 9th july 2016 our wedding coordinator was donna and from start to finish she was fantastic, nothing leading unto the wedding was to much trouble she was always on the end of the phone. we arrived early friday afternoon and donna was waiting there for us, she over saw every little detail to make our daughter and son in laws day go without any hiccups x the castle looked amazing, i never had to sort anything out as donna did it all and did it to a high standard, the day was amazing donna and all the staff couldn't do enough to help us all, food was fantastic service was 2nd to none, the whole day went without any problems due to the high standards there. It was a fantastic day and night, vicky and the bar staff were amazing staying there until the early hours making sure all was ok x We laughed from the moment we got there until the moment we left everyone has said how beautiful relaxed and well organised the whole day was, and we couldn't have done it without donna and all the staff there. so thank you all for the most amazing wedding you could have done for our daughter and son in law it was amazing xxxxx
we will definatly be back xxx
Room Tip: room 21 is amazing
Stayed July 2016, travelled with family
"Wedding"
Reviewed 27 June 2016 via mobile - 5 stars
We had our wedding here in this beautiful castle.
The staff couldn't do enough for us or our guests making our wedding all the more amazing!
The rooms are full of charm, clean and tidy. We received loads of comments from our guests about how much they enjoyed their stay including comments such as 'Best wedding food ever!'
Donna was our wedding planner who was always at the other end of the phone during the months before to help with any questions or concerns. On the day she worked so hard to ensure our day was enjoyed by all so we could just relax and be treated like the King and Queen of our day!
I can not thank the staff of Craig-y-Nos enough for making our day the best ever.... We are already planning our return stay. I encourage you to experience this friendly, welcoming amazing hotel.
Stayed May 2016, travelled as a couple
"Weddings - have yours here!!"
5 of 5 stars Reviewed 3 September 2010
We held our wedding at Craig Y Nos in August after having ruled out nearly everwhere else in South Wales for lack of individual service. I cannot speak highly enough of Jason and his team at Craig Y Nos. Jason answered every question promptly and made the whole process so relaxed and easy that everybody wondered why I was not stressed. All the tables were laid out exactly as I had asked, and the venue looked stunning. Our service in the theatre was magical, and EVERY member of staff that we met was polite and helpful. The food was AMAZING, and everybody commented on how delicious it was - the only complaint was that there was too much!! On the day there was a power cut due to some road works outside but Jason and his team went into overdrive meaning that dinner was only delayed by half an hour. The rooms are all quirky - if you like 5 star corporate every hotel the same style living then maybe this is not the place for you, but if you like stacks of history, rooms with different features and lots of atmosphere then book now. You will be guaranteed a warm welcome, good food and lots of interesting things to see and do.
A magical fairy tale wedding"
5 of 5 stars Reviewed 29 July 2010
I want to thank you from the bottom of our hearts for making our wedding day so spectacular. Not just because of the scenery from the top of the mountain (which I myself never imagined would be so breathtaking) but more because you made us both feel very special and took all the stress out of our "special day." In this day in age, it's almost impossible to find people who really care about their customers. So many people seem to just go to work for their paychecks, but you really put your heart into it. I could never put into words just how grateful we are that you were very much a part of making our wedding PERFECT. You are truly beautiful people. we will be sure to recommend everybody we know who look forward to getting married to do it at craig y nos castle Abercrave.
Alison, Jason (wedding planners) Rhian , melanie (reception), The cheff everyone were amazing .
Bridal suite is stunning.
"So glad we discovered Craig y Nos - a beautiful place for a wedding"
5 of 5 stars Reviewed 15 June 2010
We got married here in May 2010, and it was a really lovely day. The theatre is beautiful and really unique, and the house and grounds make a fantastic backdrop for our photos. It was great to have the ceremony, reception and accomodation all in one place.
Our reception was in the conservatory which is a really bright and airy room. The sun was shining on the day, but it really wouldn't have mattered if it hadn't been because there is plenty of space inside the house and the conservatory lets in so much light.
The meal was lovely - good-sized portions and plenty of menu options to choose from. The waiting staff were excellent, in fact one of the best things was the friendliness and helpfulness of the staff.
All our guests were really impressed with the venue and had a great time, so I would recommend Craig y Nos to anyone looking for a grand yet down-to-earth venue for their wedding
"Outstanding service, location, facilities and food."
5 of 5 stars Reviewed 15 June 2010
We held our daughter's wedding at the Castle, and from the very first meeting with Alison, our wedding planner, I have never known such helpful, supportive staff. They took all the stress out of the day, with helpful suggestions, detailed itinerary, who to contact etc. I knew that once we'd let them know our requests, they would be carried out to the letter. We were not disappointed on the day! Even the weather was glorious! My son-in-law's family were amazed by the beauty of the Castle and its surroundings, and very impressed with their first glimpse of Wales.
The food and service were excellent, even though we were running very late in the reception! There was no problem with the delays, everything taken in their stride. Well done and thanks for a memorable day!
"wonderfull place well worth a stay"
5 of 5 starsReviewed 16 June 2010
we stayed here when my cousin had her wedding here.It was amazing ,the staff were very friendly and helpfull.
our room was very comfortable with en-suite,tv and tea,coffee facilities,we had a very good breakfast with good choices from cereals,continental,toast to cooked breakfast.
the wedding was very proffesionaly organised ,the patti theatre is a ver special place to get married. the lunch was very good,the evening entertainment and buffet was also very good.
the hotel has a good website which gives the history of the building ect.It is in a really lovely area with wonderfull views and has dan-yr-ogof caves nearby,which we visited and they are spectacular.
I Would reccomend this hotel to anyone it is fantastic,we will be back soon.
"My Wedding was made perfect by Craig-Y-Nos castle and the snow.."
5 of 5 stars Reviewed 22 April 2010
We stumbled across Craig-Y-Nos castle on the internet when looking for castle wedding venues with the chance of snow, (which for my wedding day in feb i managed to get at just the right time) the website was very informative and the prices seemed very reasonable for what you got almost too good to believe which is why I called them and arranged to go and visit. it was an amazing location surrounded by lovely walks and views and loads of photo opportunities for weddingposes in and around the castle grounds, and the staff could not have done any more for us, from the start of the planning to the actual wedding day itself they all made everything so easy and stress-free. I wasn't pressured into anything and rather than add money on at the mention of the word 'WEDDING', they tried and succeeded in saving us money with little hints and tips..from the evening buffet to the free bar..
Jason and Alison are the wedding planners and they were just brilliant, nothing fazed them and Rhian looked after all the room booking which believe me was no mean feat. We had just over 100 guests at our wedding (with ages ranging from 10weeks old to 80yrs old) and all but a handful stayed at the castle so as you can see they had their work cut out. As we got married in Feb which is classed as out of season the restaurant was closed but they opened it for us the night before as that's when most of my guests arrived and put on a bar menu for us to choose from, even the drinks were reasonably priced.. Breakfast was a buffet style with both hot food, cereal, toast, pastries, fruit and plenty of juice, coffee and tea...which you were able to help yourself to.
Our wedding breakfast was a traditional roast with the choice of two meats plus a vegetarian option which was great as y new husband is one :-D Everyone commented on how fab the food was, portions were ample and the food was simple but delicious..
I really cant fault the castle at all and if i could have my wedding day all over again i would not change a single thing about it and have recommended it to all my friends who were unable to attend, as for those who did attend there's no need to explain as like me they experienced it all first hand and nobody had any complaints..
Roll on 2020 when i shall be returning to the castle to celebrate my 10th wedding anniversary...
I really can't praise ALL the staff enough, they went out of their ways to make our wedding stay and day magical and it really really was.
"We wanted a venue for our dream wedding and we found it!!"

5 of 5 stars Reviewed 31 March 2010
When we booked our wedding at Craig-y-Nos in March 2009, there were some ongoing renovation projects well underway, one of them being the theatre where we planned to hold our ceremony. We returned for a visit to finalise arrangements in November 2009 and were delighted to find that the theatre was complete and had been brought 'back to life'. It had been restored to its former glory and looked magnificent. This really was the room that sold the castle to us but please don't misunderstand me, the rest of the castle was just as fabulous. We opted to have our reception in the newly refurbished conservatory instead of the main restaurant as the views were spectacular and it seemed more open somehow - we weren't disappointed in our choice. The team at the castle made it looked absolutely beautiful and followed my instructions and wishes down to the letter. Along with the conservatory our guests also had a choice of two adjoining sitting rooms for those wishing to 'escape' the disco. However, as our party had all of the rooms in the hotel the entire complex was pretty much at our disposal. This made it feel much more personal and almost like the castle was ours for the weekend.
One worry we initially did have was that we hadn't seen any accommodation on either of our visits and weren't sure as to the quality of the rooms. We needn't have worried - each room had its own distinctive charm and I had nothing but good comments from all the guests that stayed for the weekend. Some were even upgraded and were overjoyed with their allocation.
With regards to food, the wedding breakfast was delicious! - we opted for the two course carvery for - and the evening buffet was superb. One thing I will say is that we had 65 guests and catered for 50 but could have easily dropped this number by 20 and still had enough food for everyone as a lot of the food (I suspect about 40%) was not eaten.
Alison and the front of house staff really put themselves out to ensure that our day went without a hitch - which it did. All the guests were made to feel welcome by everyone. If we had the chance to do it all again, we wouldn't change a thing. It really was our dream wedding!!
"Great wedding venue"
4 of 5 stars Reviewed 25 February 2010
Stayed for 2 nights for sons wedding. Room was lovely. Very clean and warm as the weather was freezing. Fantastic large bath!!
Some areas in the corridors could do with updating, but understand this is still a work in progress. Service by all staff was excellent, always carried out with a smile!
Wedding ran very smoothly. The theatre is a beautiful place to get married in. The conservatory was decorated beautifully and the undefloor heating a bonus. The reception food was of a very high standard.
It would have been nice to have been able to obtain an evening bar meal or room service the night before the wedding as there were quite a few of us guests staying. it was not possible because of a function. I think most of us would have been willing to pre order.
"Perfect Wedding Venue"
5 of 5 stars Reviewed 30 November 2009
We chose Craig y Nos as our wedding location for a number of reasons,
1) theres no other wedding room as opulent and as grand the theatre;
2) the grounds are beautiful for photographs;
3) the castle has so much personality and is very quirky architecturally
4) there were no hidden surcharges or stipulations unlike a lot of other wedding venues in south wales
5) our wedding planner (Alison) was very down to earth, very straight forward and wasnt a smarmy sales person
6) it provides everything all under one roof
Our wedding day went perfectly, Alison kept everything ticking along like clockwork from arranging seperate breakfasts for the bride and groom parties, to calming my wife down with a prewedding brandy and she orchestrated her staff like a millitary commander. She also dealt with some of my non-english speaking inlaws with restraint and patience.
The wedding breakfast was absolutely gorgeous and exceeded everyone's expectations. It was so filling that most of the guests barely had room for the delights of the night buffet which thankfully kept up the standards set by lunchtimes culinary delights both in flavour and volume. Everyone who came left with very contented bellies.
The drinks were also reasonable priced and the bar staff were also very friendly. A special thank you has to go out to Jason who took over planning coordinating duties in the night.
The accomodation was also to a very high standard and possessed a certain charm which is deeply lacking in most modern chain hotels. The bridal suite was fantastic, the bed was plush and having a rolltop bath that overlooks a forest is a luxorious bonus. It compared rather better than the five star spa hotel we stayed in on our mini-honeymoon.
Overall, I would recommend this hotel to anyone who wants to get married in venue which is beautiful, has character, has no stealth charges, has excellent staff, provides delicious food and has unique accomodation.
"I fell so in love with the castle, and the management, have booked my wedding !!"
5 of 5 stars Reviewed 7 December 2009
What can one say about a welsh castle? one with huge historical references; and a very very interesting past.....EXCEPT THAT - I LOVED IT SO MUCH I DECIDED TO MARRY MY PARTNER OF TEN YEARS . . . Just to get wed in that beautiful opulent theatre !!
That is true, and i have just come back from wales after being there to finalise wedding details; registrar details, video camera details, and food etc., details. Went through all the protocol - and promptly forgot it - until our meeting with the wedding planner; What a lovely man ! absolutely truthrul - totally honest - no con men here - no hidden charges, services, or hidden protocols and rules; we started with a wedding group of 10 as we aresuch a small family - added a few friends [close] who went on webiste of castle, and gave us a definate yes to invite - then the wedding party seemed to grow and grow .. .. it
is still doing so - all because of this castle i feel. The reception area is just that; a place where you are received; then taken off to your rooms - the castle at present boasts about 60 en suite rooms, all totally luxurious, and a few of the rooms that are basic - formerly used by members of the last Mdme Patti - and the TB hospital that was also stationed there after MME patti;s death. It is both impressive and characteristic - the outside of the castle one could think that it is going to be a draughty cold dwelling - no way, no how, beautifully decorated, luxurious, and warm warm warm. Gorgeous bathrooms and baths holding steaming hot water - soft beds, and soft lights. Characteristic creaky corridoors - and nooks and crannies everywhere for the inquisitive. We have set the hen night aside to do a paranormal ghost tour of the castle - and its sections that are being refurbished and therefore usually out of bounds; and i have heard great things about the psycic medium that carries out these tours. Whether you are a believer or non believer - the paranormal world have setup video cameras all around the grounds - walkways, and under the big stone archways;
I was so worried about my wedding; being 55 and the first time; but i could not want for better guidance, a better venue, a better chef, and what is more a better wedding i am sure - nothing is too much trouble for these staff; And they are so approachable you feel as if you have known them for years and years. The owner walks the grounds with his dogs - the castle is pet friendly, as are the bruildings and outhouses that are let out in the grounds of brecon becons; the farmhouse is gorgeous, as is the gatehouse - albeit a little aside from the rest of the hotel/castle. FANTASTIC PLACE, PEOPLE, FOOD, SCENERY, and all - A REAL MUST - WONDERFUL XX LYNNIEP STAINES, MIDDX
This photo of
Craig-y-Nos Castle
is courtesy of TripAdvisor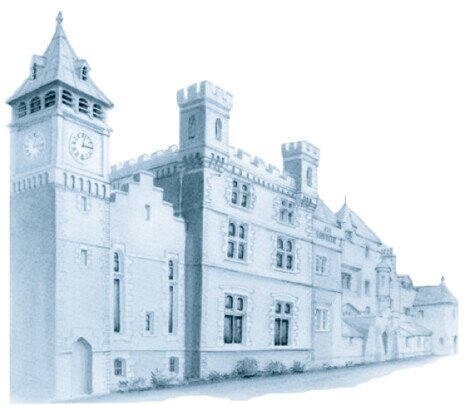 Enjoy a Homely Welcome and Friendly Service at Craig y Nos Castle