Craig Y Nos Castle Wedding Reviews in 2013
Wedding Packages > Read Brides Reviews
Craig y Nos Castle Wedding Venue
"Perfect breath-taking wedding venue"
December 2013: We had our wedding here just last week and it was the perfect venue. We are both not from South Wales but wanted to get married in a welsh castle and when we found this one on the internet we decided to visit. Straight away we knew fell in love with it and booked our wedding. We visited a few times in between booking the wedding and the wedding date and every time were made to feel so welcome by the lovely staff.
The main thing I loved with this venue is that there's no need to stress about weather because if you can get out door photos the scenery is amazing but if not it doesn't matter because there's so many big and beautiful rooms indoors. M
elissa was our wedding planner and there was no need to even think about what was happening on the day because she had it all sorted and was available to answer all of our silly last minute questions.
Having the whole castle to ourselves was great so your guests can enjoy the whole venue. There's so much I could wright so I will try and keep it short.
If you want:
- yummy food by a talented chef
- a whole beautiful castle to yourselfs and your guests
- a wedding planner so you don't need to stress
- friendly and helpful staff to run the castle and bar
- cosy bed rooms with a very nice breakfast included
- beautiful scenery
- big beautiful fire places in most of the castle
- and a very reasonably priced wedding package
- a jacuzzi room for the lady's to have a pamper the night before
Then definitely check out this venue! As long as you don't go mad with the number of guests you have and as long as 50 of your guests decide to book a room to stay in the castle overnight and most of them will because it is so beautiful that it's definitely worth it, then your wedding cost will be very reasonable!
Even though all of our guests had to travel from far and wide to get there they all commented on how great the castle was and most made a weekend out of it, as there are local waterfalls, caves and more tourist attractions not far from the castle, so the traveling no matter what distance is worth it! Thanks to all the staff for making our day perfect and we will definitely be back to visit to remind us of our big day!
craig y nos castle wedding

5 of 5 stars Reviewed November 2013
We held our daughters wedding at the castle on 9th November 2013 and it could not have been more perfect. Donna Melissa and all the staff were excellent and organised the day without a hitch. Nothing was too much trouble for them and they helped in making the day special. Many guests stayed for two nights and the food was exceptional. The rooms were both warm and comfortable and the overall atmosphere was magical. The wedding was definately one to be remembered for many years to come and we would be happy to recommend it to friends. The only regret is that we didn't have chance to explore the beautiful surroundings so that is one for the future.


They made my day...

5 of 5 stars Reviewed November 2013
I very recently had my wedding reception at Craig y Nos castle and it was absolutely amazing. I had big expectations for my day and lots of ideas in mind, my wedding planner Melissa accommodated everything that i wanted so easily, she even helped me to put up (a lot) of photos the night before as part of my display. The venue looked incredible on the day, the staff were extremely efficient and friendly and many of my guests commented on how helpful they were. We had an injury half way thought the day and the staff at the castle were amazing, they dealt with everything very sensitively and ensured that my husband and I remained relaxed. I would recommend this wedding venue to anyone, we had terrible weather wise but the venue was absolutely perfect and we had the perfect wedding reception - thank you to everyone who contributed to our day.


Our Wedding

5 of 5 stars Reviewed October 2013
We held our wedding at the Castle on 19th October 2013 and it truly was the best day of our lives. My bridesmaids and I stayed at the Castle the night before the wedding and my husband and his best man and ushers stayed at the nearby farmhouse. Other members of our families, including our parents, also stayed at the Castle the night before, so we all met on the Friday evening for a meal. The evening meal was fantastic - really tasty and plentiful - and the staff were extremely welcoming and helpful even though we did not all finally leave until after midnight!

On the day of the wedding, everything was so organised and run like clockwork. Everything was taken care of and I didn't have to think about a thing - Melissa and the staff had already dealt with it all! Throughout the day, the staff were extremely helpful, approachable and friendly which added to the relaxed atmosphere of the day. Food was again a delight and there was so much of it! Serving staff were extremely professional but yet maintained a friendly and approachable attitude to all the guests. The staff at the bar were also very professional and no-one was waiting an age for a drink as I have experienced in some wedding venues.

The following morning when we entered the function room for our breakfast, all our guests who had stayed were there and all enjoying a hearty breakfast. Staff again could not do enough to assist, even though they must have had a late night before as we didn't all leave until gone 1am. There have been some criticism of the rooms in other reviews I have read on Tripadvisor. It's true that this is not a modern hotel - the Castle doesn't profess to be and is the reason why we chose the venue for our wedding. It is quirky and unique. All our guests found the rooms to be comfortable, clean and more than ample for their needs. The bridal suite is lovely and the chilled champagne in the mini fridge was a lovely gesture. The farmhouse is also lovely, with log burner in the lounge and large bedrooms. It is surrounded by large grounds and truly is a get away from it all.

We met with Melissa (wedding planner) the day before the wedding and I discussed with her how I wanted to set up the tables; what flower decorations there would be and when the florist would be arriving; when the cake was being delivered and where I wanted to place it etc. I fully expected to have to set up the conservatory with the help of the staff, but Melissa advised she would do all of it for me and deal with the suppliers too. On the day, everything was done exactly as I wanted it - it was perfect and it was a great help to not have to deal with the suppliers so I could focus on getting ready. Melissa even pinned all the buttonholes on for the groom, bestman, ushers etc as they didn't have a clue (thanks Melissa)!! Not only did we have the best time ever, but every one of our guests commented on how relaxed and truly special the day was due to not only the amazing location but also the friendliness and most importantly the professionalism of all staff at the Castle. My husband and I really cannot begin to thank everyone at the Castle enough for all the effort they put in to make our wedding day truly memorable for each and every person that attended.


A Wedding Review

5 of 5 stars Reviewed October 17, 2013
It was a bleak, early autumn day in 2012 when my fiancée and I first went to look around Craig-y-Nos Castle, still undecided as to where to hold our wedding. Despite the low cloud and drizzle we immediately fell in love with the beautiful building and rugged scenery. Walking through the venue we saw guests sitting in the bar with their faithful friend dozing at their feet, and then sitting in the lounge my lap was visited by a friendly cat. No sales pitch was needed, the venue had been sold to us! We left with smiles on our faces only to be called back by a lovely old couple who offered us their congratulations and assured us that our wedding would be a day to remember at the castle.

The day itself dawned warm and sunny on 1st September 2013 and it went off without a single hitch. Despite the bridal party's preparations starting very early there was always someone on hand who could assist with any questions or requests in a professional and friendly manner. There had been a wedding the day before, yet the cleaning staff did a fantastic job getting some rooms ready for guests hours before the stated check in time. This really helped the flow of the day as guests had somewhere to change as friends and family banded together. The food and service was top notch. We had the lamb and the meat was a high quality and very well cooked. Both the breakfast and evening buffet were tasty and went down well, plenty of choice available for both.

I would personally recommend going for the wedding package where you get 50 guests to stay at the Castle. This gives you complete run of all the function rooms with the benefits that the wedding moves seamlessly from ceremony in the opera theatre, to wedding breakfast in the conservatory to evening reception in the hall. There is no waiting for a room to be cleared as I have experienced at other events. With full use of the bar, lounge and ample outdoor space you won't have to worry about your guests standing around with nothing to do. All of your friends and family get to stay up late, have a drink and enjoy themselves. No designated drivers needed! The rooms are sufficiently far away from the noise of the reception that anyone retiring early will be able to sleep. You also get a discounted rate per guest, which makes the wedding fantastic value.

You should be aware that there are two levels of accommodation at Craig-y-Nos, the Castle itself and the Nurse's block. I stayed in the Nurse's block the night prior to the wedding and the accommodation here, whilst clean and comfortable, is of a lower standard but this is reflected in the price. You have a wash basin in your room but toilets and showers are communal yet private (cubicles in a shared room). I saw 7 or 8 rooms in the Castle itself whilst greeting or saying goodbye to guests and I have to say I thought every single one was extremely well decorated and equipped for £75 per person for B&B. Our guests were very complimentary and a number, including my wife and I, will be visiting again. I should point out that the majority of rooms in the Castle are en-suite to my knowledge. I travel for work occasionally and often spend £60 for a bland room in a soulless national chain and get no breakfast and significantly worse decoration and equipment. Overall the accommodation of both grades is very good value for money.

I am somewhat baffled by the negative reviews based on the presence of Fluffy the hotel cat and guests dogs'. The animals are kept away from food preparation areas and the formal dining room and in my experience were very well behaved. They add to the ambiance of the venue and whilst it may be unusual, I believe it to be charming. All-in-all we loved our wedding day and would like to say a big thank you again to all of the staff who worked so hard on our behalf.

5 of 5 stars Reviewed September 22, 2013
After visiting the castle 2.5 years ago, where we fell in love with Craig Y Nos, I decided to have my wedding there. The staff cannot do enough for you, even after an 18 hour shift at 1 in the morning! The building is beautiful, set in the picturesque Brecon Beacons National Park, where views are spectacular! The food is fantastic and there is loads of it! The building itself is steeped in history, has so much character and is a perfect mix of old and new, with rooms perfect for families or couples! A special Thanks must go to our Wedding Planner Melissa, who answered every question I had, put my mind at ease and carried out all my requests. All in all the Castle and staff completely surpassed my expectations and whether you are going for a weekend away, a meal out or planning one of the biggest days of your life, I would recommend Craig Y Nos Castle to anyone!
5 of 5 stars Reviewed September 1, 2013
The Castle is a wonderful wedding venue, where you can do everything in one place. The staff are wonderful and without exception, made sure that our special day went perfectly well. Donna, our wedding planner was so helpful and gave good advice, and she worked quietly behind the scenes all day (and a long one it was), making sure that everything was in the right place at the right time.
We had a fantastic day. The food was also excellent (thank you chef) and they catered well for vegans, vegetarians and nut allergies. The tables were laid out to perfection, and I just want to say a huge thank you to everyone who worked so hard.
4 of 5 stars Reviewed August 27, 2013
I stayed here after a wedding there during the day. I would say the setting for a wedding is perfect. The meal was in conservatory, which is more like a large sun room. The view from the window was second to none, lush green scenery on a mountain. The setting of the castle (which I would say is more like a grand house) is beautiful.
The bar for the evening had a great variety of drinks at a decent price. The staff were friendly and welcoming throughout the day. They were also very helpful the night before while we were there dressing the tables for the wedding.
I think the prices for the room are slightly above what I would expect to pay for a room of that standard. However I guess that you are paying for the fact you are paying to stay in a 'castle'. The breakfast in the morning was lovely with a good variety of cereals, fruit, welsh cakes and then a lovely cooked breakfast.
Overall a stunning setting and lovely surroundings
Our wedding day, happy couple, happy family, happy hotel guests, great food, friendly staff
5 of 5 stars Reviewed August 10, 2013 via mobile
Amazing wedding venue. Old building with character don't expect Hilton / ikea modern living Amazing medieval feel, very rich and grand. Beautiful venue for a wedding. Family stayed in many if the rooms and were very happy, comfy beds, clean large rooms Friendly and efficient staff, great food for both dinner and breakfast Lovely wedding day Highly recommend.
5 of 5 stars Reviewed August 3, 2013
My family and I recently went to a family wedding at this wonderful venue. We had a family suite which was very spacious and comfortable. The staff were excellent and the food great. As for the views these were stunning despite the weather. Am seriously thinking about going back just for a weekend break.

Perfect venue for a perfect wedding day

5 of 5 stars Reviewed July 4, 2013
My husband and I had our wedding here on May 25th 2013 and it could not have been more perfect. From the first time we saw the castle we knew this would be where we got married. The theater was a wonderful place for the ceremony, and the music room was the perfect backdrop for our vintage glam theme. The conservatory provided a wonderful view of the mountains for our evening reception and the fading sunlight in there created a gorgeous light for us to party in. The history of the castle alone makes it an exciting place to be but it also has the added bonus of amazingly helping staff, beautiful rooms, lovely food and a lovely relaxing atmosphere. The grounds that surround the castle are also stunning, and great for photo opportunities. Melissa was our wedding co-ordinator and we really couldn't have wished for better, she was so helpful and really went out of her way to make our day amazing. All the staff at the castle were friendly and helpful and gave all our guest a warm welcome and helped in any way they could. If you are reading this and are looking to find the most romantic place to get married - book Craig y nos now! Will definitely return and will treasure the memories that we have there.


Perfect wedding location

5 of 5 stars Reviewed June 10, 2013 via mobile
My friend had his wedding here at the start of June 2013. It was a perfect setting and the staff worked incredibly hard to keep us all happy. My room and bathroom was huge as well. Anne-Marie, Michelle and the blonde receptionist were especially helpful and welcoming. The food served for dinner was also very nice and the portions were massive. Cheap for a pint as well considering it is a hotel.


My daughters wedding

5 of 5 stars Reviewed May 17, 2013
the staff at craig y nos worked extremely hard to ensure the wedding was a perfect day.even the sun shone for the photographs..Many of the guests stayed overnight all thoroughly enjoying the whole weekend. Compliments to the chef for a superb wedding breakfast and freshly cooked full english breakfast the following morning. A speicial thanks to the reception staff who gave their help & support to a friend who was unfortunately taken ill during the wedding. I Highly reccomend this historical castle and beautiful location. My dauhter had her hen night at the castle booking the fright night which was also briliant.

Wonderful wedding day
5 of 5 stars Reviewed March 30, 2013
We got married on 17th march in the beautiful theatre at Craig y nos castle. We organised our wedding in just three weeks but Donna and the staff of craig y nos helped us to achieve everything we wanted even at such short notice
To say the staff were helpful would be a understatement.
Reception, food service and bar staff where all helpful beyond the call of duty and I'm sure even the cat helped out in its own little way. We wanted a very informal day and the staff ensured we had everything as we wanted it, even a cheese and pineapple hedgehog. The food was amazing with everyone who attended paying compliments to what they had eaten.
This is a stunning venue, the theatre is beautiful and the conservatory an ideal room for the reception being bright and airy. The smaller rooms between the bar and the conservatory are comfy and warm (everyone loves a good log burner). The bridal suite was lovely complete with the biggest bath we had ever seen. I would recommend this venue to anyone. Having our wedding at Craig Y Nos meant we got an out of this world wedding at down to earth prices
Thank you to all concerned.
5 of 5 stars Reviewed March 18, 2013
We got married here on the 9th March, and had an absolutely fantastic day, nothing was too much trouble for the staff (special thanks to Donna!), food was superb, and our little boy loved the long-suffering castle cat, who had to resort to hiding on a mantlepiece to escape from him.
The venue is truly magical, Honeymoon suite was gorgeous, and it was definitely an unforgettable day! We hope to return for an anniversary stay!
Wonderful weekend.
4 of 5 stars Reviewed March 10, 2013
Have just returned from attending a friends wedding at the Castle and had booked to stay over. Have to say the whole experience was wonderful, from a beautiful wedding in the theatre, excellent food, warm comfortable and spotlessly clean room (35) to the faultless service from all of the staff. The Castle is amazing and combined with the most wonderful grounds, it was a weekend to remember.
5 of 5 starsReviewed February 22, 2013
We had our wedding at Craig y Nos on 15th December and we had the most amazing day. The staff were so helpfully and our wedding planner Melissa worked above and beyond. Nothing we asked was too much trouble. The Venue is such a beautiful setting and was cosy warm despite it being a freezing day. The food was wonderful and the rooms, particularly the bridal suite were all charming. We would highly recommend this venue for a wedding, function, weekend stay or just a meal. Well worth a visit and we will definitely be coming back.
Stayed December 2012, traveled as a couple


The best day of my life!!

5 of 5 starsReviewed January 27, 2013
We got married at Craig Y Nos Castle on 9th November 2012 and it was truly the most amazing day!! Melissa, Beth and the rest of the team are absolutely wonderful and went out of their way to make everything perfect! We booked out the whole castle and for two nights, the rooms were great and the food was brilliant the night before and on the day. All of my guests commented on how stunning a venue it was, especially the Theatre and the Conservatory which really have the wow factor. On the day it rained non-stop but because the venue is so wonderful and so big it really didn't make any difference. I honestly can't praise Craig Y Nos enough, anyone would be extremely lucky to have their wedding here!!


Wonderful Wedding!

5 of 5 stars Reviewed January 4, 2013
We were very lucky to be able to hold our wedding at Criag y Nos back in October 2012. We cannot speak highly enough of the staff and facilities. From the first visit the Wedding Planner (Melissa) was so helpful and knowledgeable, there wasn't a question she couldnt answer for us. We had our ceremony in the magnificent Adelina Pattie Theatre (what a backdrop!). The photos were amazing. We then had our wedding breakfast in the Conservatory which had magnificent views over the country park and out towards the Black Mountains. Our evening reception was also held here and we had full and exclusive use. The majority of our guests stayed over and from what we heard the rooms were very comfortable. The food options were varied and not one of our guests had anything negative to say about the food (except that there was A LOT! But thats not neccessarily a bad thing!). The waiting staff were very professional and everything went according to my well laid out plans. Melissa was there to help on the day and ensured that everything went smoothly (she deserves a medal!). They offer very good deals for weddings and so we found that we didn't have to fork out nearly as much as we thought we would, to be able to get married in such a magnificent setting. There is a stunning country park right next door which allowed for some stunning photographs by the lake with the mountains in the background. If it's dramatic and different you want then this is the place for you. We would definitely recommend Craig y Nos for a wedding, as I say I do not have one negative to say about the place!!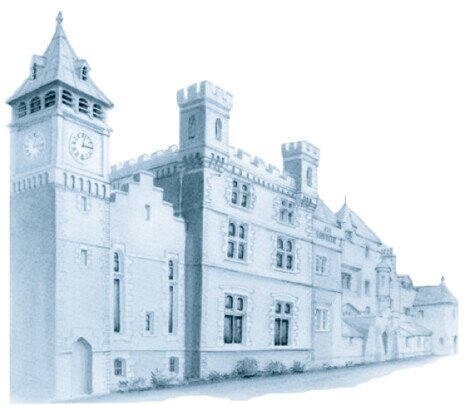 Enjoy a Homely Welcome and Friendly Service at Craig y Nos Castle