Wedding Reviews Craig y Nos Castle 2016
Wedding Packages > Read Brides Reviews
Craig y Nos Castle Wedding Venue
"Wedding Review"
Reviewed 31 December 2016 via mobile - 5 stars
My husband and I got married at the castle just after Christmas this year and we had the most magical day. The staff were excellent and could not be more helpful and accommodating.
It's a stunning venue and all my guests had a wonderful time. The food was delicious and everything went according to plan.
Thank you to everyone who helped it run so smoothly.
Stayed December 2016, travelled with family
"We needed a couple's break!"
Reviewed 30 December 2016
We went to Craig Y Nos for my husband's birthday and for our 6th wedding anniversary (consecutively). We got married at the castle and this was our first visit since the big day. What an amazing time we had. The staff were great and friendly, and there was a lovely atmosphere. Since I am not allowed a dog myself, I really enjoyed that other guests had their well behaved dogs with them. It was lovely to reminisce about our wedding day and have a night away as a couple (which doesn't happen often once you have a child!)
The food was great, and the waitress and kitchen staff were very accommodating for my fussiness. There were four ladies working on the bar/kitchen that night, and we can not fault them for anything. The service was brilliant, they were very friendly and worked very hard to ensure the other guests were catered for and not just the wedding party that were also staying. I would really like o emphasise that the staff were great and really contributed towards the wonderful time we had.
The room was clean and comfortable, with great views. Tea and coffee provided in the rooms. Breakfast in the morning was a nice cooked breakfast and cereals. Didn't have to wait long to replenish food and the staff were very good at keeping on top of things considering it was busy in the morning.
Another positive is the beautiful scenery surrounding the venue. There was frost everywhere and it was breathtaking. Lovely walks around the area.
Stayed December 2016, travelled as a couple
"Wedding"
Reviewed 11 December 2016 - 5 stars
Wow where do we start,we had our wedding 9th Dec,we are familiar with Craig Y Nos and we are familiar with some of the staff working there but to get 50 plus adults and children staying there for a wedding?Nicola the wedding planner was absolutely awesome in the build up to the wedding and on the day,every little detail any little worries she was there to sort it out,she was amazing.What of the venue,what can i say,everything was perfect,the food at the wedding breakfast was amazing,piping hot,plenty of it and amazing staff cooking and serving it,everyone was happy with the rooms,checking in and out no problem,the evening buffet was brilliant,it was all organised brilliantly and anyone thinking of using Craig Y Nos castle for a wedding then i definately give it a massive thumbs up
Stayed December 2016, travelled with family
"Wedding"
Reviewed 21 November 2016 - 5 stars
We recently had our wedding at Craig Y Nos Nov 11th its a place we are familiar with.We booked our wedding back in July.Although we did all the decorating ourselves the staff were amazing at all the little things we've forgotten like turning on all the tea lights and fairy lights.They set up and decorated two wedding cakes for us too.Melissa our wedding planner was fab on the day she made sure everything ran like clock work.The food was fantastic, all our guests commented on the great food for wedding breakfast and evening buffet.The rooms were clean most of our guest s managed to have their room keys early.Great venue friendly hard working staff, oh and our dogs had a great time too.
Stayed November 2016, travelled on business
"Wedded Bliss"
Reviewed 21 November 2016 via mobile - 5 stars
Stayed at this wonderful hotel this weekend for a wedding. What a setting!! Truly amazing. You can see that the current owners are painstakingly trying to return it to its former glory and so far so good.
The bedroom was very spacious and comfortable as was the en suite. Breakfast was delicious and plentiful- just right to soak up the d fesses of the previous night.
Stopped in a local pub (Ancient Britton) on the way home for lunch - top draw food.
Would thoroughly recommend.
Stayed November 2016, travelled with family
"Lovely wedding. Needs changes"
Reviewed 13 November 2016 via mobile - 3 out of 5 stars
Visited craig y nos for two evenings for a family wedding. From the outside its very impressive. I like how most of the inside is still traditional but i feel some changes are needed.
The dining area could do with more interior to seem more welcoming. Some broken chairs. Bits of scattered furniture. Bit empty.
Living room area is very traditional and cosy.
Conserverty wedding breakfast area is lovely with fantastic views.
Bedrooms are dated to say the least. I think you can still have traditional classic furniture in keeping with the tone, rather than 70 year old creaky wardrobes/chairs/desks/tvs that only add to the already creaky floorboards. Seemed like my great great great grandmas bedroom.
Lovely bathroom suites that seem more modern but still in keeping with the tone.
Food is average.
You'll find random broken chairs, stair cases, doors etc. Which is to be expected in an old place but still attention to detail is key.
The staff organising the weekend asked the bride the night before the 20 of us arrived what wed like to eat the night before the wedding, adding to the bride's stress, something that could have been done much earlier.
There was a mix up with orders resulting in my partner not receiving food for quite some time but I think a genuine mistake and they were very apologetic.
The ceremony was held in a theatre which was stunning. Would look to improve somehow with lighting.
Staff all in all were great. Fab weekend with family and we were left to our own devices and didn't feel pressured into being quiet or conservative, in other words we had a lot to drink and wernt judged.
However for a £200 stay would expect better food and bedrooms.
Stayed November 2016, travelled with family
MichaelLudwig, Manager at Craig-y-Nos Castle, responded to this review;
Thank you for your feedback. I am sorry that it seems you felt that 2 nights accommodation not worth £200 however it does represent good value for money compared to our standard tariff.
The Castle as you found does try to give a historic turn of the century feel and to that degree some of the furniture does have an antique feel to it. I am not sure we have 70 year old furniture though.
We are also about to embark on a routine off peak maintenance program.
The large function room is split mainly into a dining area and a wooden floor dance floor and depending on guest numbers some choose to dine in the bar occasionally making the function room look and feel big and empty.
We have recently purchased 200 more chairs and old ones are being removed once we notice them.
Its great you liked the lounge and conservatory.
I'm at a loss as to the broken doors and staircases though and will have our maintenance team seek these out.
I'm not sure of the date you stayed but when we are advised of a large party dining we do look to have dinner orders in prior to the event however if we have short notice or are advised that guests will choose sometimes this is not possible - in your case it would have been appropriate to get orders asap.
I am sorry of there was a delay in the food being served though.
I am glad the staff were good – we try to ensure our guests have a great time and those well behaved guests are more than welcome!
I will pass your food comments to our kitchen, as it is rare to have comments about wedding food being just average. B
est Wishes
Michael
Owner adds: Function room and dining room completely redecorated since in warmer colours so looks less vast and cold. It was a light blue colour before which made it feel 'cold'. It is a function room designed to seat 150, so is a large space. We are considering putting dividing doors in the middle to reduce the size of the room, but for evening parties it is the right size. £200 for 2 nights B&B is actually a good rate, being £50 per person per night B&B. The rate for one night is £150 for two sharing an en-suite. The chairs are re-cycled continuously with about 200 in the upper areas going through a continual sanding and re-spraying process, work which is done on 'rainy days' (plenty of those in Wales). The meal referred to I presume was for the guests staying and dining the night before the wedding (as the Wedding Breakfast meal on the day of the wedding is always pre-ordered by the Bride, many months before the wedding); it is customary to pre-order evening meals to speed up service if a large group is planning to dine off the a la carte menu all at once.
"Our Wonderful Wedding"
Reviewed 27 October 2016 - 5 stars
I got married at Craig-y-Nos castle at the end of July 2016 and the day could not have been any more wonderful. The setting of the castle is beautiful and unique, although areas of the castle are being refurbished we were happy to have our wedding here for the stunning views and features (I would much rather know my money is spent on supporting this historical castle's up keep, than some big chain venue).
The staff were fantastic! Right from the first visit Donna explained everything well and even responded to our needs and requests positively, nothing was a problem. I was able to set up the venue the day before my wedding, which was important to me. The day before some of my family also came to stay and the castle staff accommodated 18 of us in the dining room at short notice with no problems. On the day of the wedding Donna was everywhere and made sure everything ran smoothly, even keeping me calm! The rest of the staff were very professional and made the day run without any hitches, even keeping me and the bridal party dry during a mini rain shower. The bar staff also ran the bar smoothly and were very friendly during the evening reception.
I would like to especially thank Dave, Kath and Vicky for their friendly service and bending over backwards for us the day before and the day of the wedding. And of cause cannot thank Donna enough for everything she did for us.
The food was brilliant and special care was taken for those with food allergies. This was greatly appreciated and many of our guests have commented on how lovely the food was.
Craig-y-Nos Castle gave us a fantastic day to remember, with many special memories and we cannot thank them enough.
Stayed July 2016, travelled with family
"Wedding "
Reviewed 18 October 2016 via mobile - 4 out of 5 stars
We first visited Craig y Nos in March 2016 when my daughter announced she would be getting married there.
1st visit was distressing to say the least. The place was filthy dirty, the "lounge" chairs were all torn, with stuffing hanging out,the guest rooms were damp and severely needing some TLC. Very worrying, considering my daughter stated they had already committed to hiring the venue.
Several visits over the ensuing months with many complaints and suggestions all of which were acknowledged as valid.
1st October....the big day!
My god, they pulled it off! 99% of our concerns were dealt with, no complaints from anyone.
Rooms were clean, food was excellent, staff were brilliant.
Everybody enjoyed and agreed it was "up there, amongst the best weddings they had attended"
Don't be put off Craig y Nos, if not as you would expect, then make your feelings known to management who will do their best to accommodate your wishes.
All in all an excellent venue and experience.
Thanks to all involved in making this a special day
Stayed October 2016, travelled with family
Owner Comment: We did have a problem in Summer 2016 with the Conservatory fibreglass roof leaking and water staining in the main function room. Both roofs had never been satisfactory and we had been maintaining them by re-coating the fibreglass with a special paste. This was done annually for each season, but in 2016 the re-coating did not 'take'. Water damage caused staining to the White Canopy in the Conservatory after a rainy August this was noticeable. Priority was given to re-covering the Conservatory roof, which now has a new Firestone Rubber roof in place of the original fibreglass, guaranteed for 20 years. Also the Function room far end had developed leaks and it too has been re-roofed by the same Roofing Company in Firestone Rubber - with 20 yr guarantee. Inside, there has been a complete refurb which took about 6 weeks, with 3 - 4 of our team working on it, re-buiilding internal walls to damp-proof them and repainting the Music Room and Function room in a new colour scheme. The result is now back to how it shuold be - freshly painted and well appointed. The lounge chairs had been scheduled for a make-over as the springing had given way, and some of the leather cushions were worn and needed replacing, so we had a specialist firm in from Somerset to re-furbish all our Chesterfields in an intensive 4 days of work.
"Wedding"
Reviewed 28 September 2016 via mobile - 4 out of 5 stars
Had my wedding here in September. It really is a beautiful place, everything went to plan and I had no complaints from my guests apart from everyone commented on how poorly dressed the waiting staff were. This really needs to be looked at as it was mentioned on previous wedding reviews. They looked scruffy and not professional at all, most of them looked like they were 16 years old. I would recommend a wedding here!! (Management adds: waitresses are asked to wear white tops and black trousers and are managed by the Wedding Planner / Front of House; they are over 18 but we do top up with some part-timers at weekends and will re-affirm the dress code!)
Stayed September 2016, travelled as a couple
"Wedding Guest - an amazing slice of history thrown in."
Reviewed 10 September 2016 via mobile - 5 stars
We attended as wedding guests yesterday, and whilst we did not stay at the castle; I wanted to drop a review to say how amazing our experience was. The food, organisation and venue for the wedding was fantastic; and we found all staff to be professional and friendly.
Taking in the castle tour provided us with loads of history nuggets, which we were completely unaware of; even living in the near by area. Our guide was extremely knowledgable and obviously very passionate about the castle and the stories surrounding its former inhabitants.
Dog friendly and lovely to see someone taking the time out to restore such an amazing slice of history. Yes parts of the castle are worn, but this all adds to the charm; and I sincerely hope that you get it back to its original splendour.
Will definitely be returning.
Stayed September 2016, travelled as a couple
"Wedding "
Reviewed 7 September 2016 via mobile - 5 stars
Had my wedding at the castle the 3rd sep
We had an amazing day the food was amazing,staff were so helpfull and took control of everything there was nothing i had to do on the day just enjoy,guests said the canopies were amazing and evening buffet(pork) was stunning.lots of children attended the wedding and loved being able to have free run of the castle.staff are amazing and mellisa was an angel in making sure eveything ran like clockwork.room (bridal suite) was stunning with breakfast brought to our room in the morning.me and my patner and guests had the most amazing day x
Stayed September 2016, travelled with family
"Absolutely Stunning"
Reviewed 9 August 2016 - 5 stars
Myself and my now husband got married at Craig Y Nos on 1st August. We had a lovely day as did all of guests. The entire went very smoothly in the lovely grounds. Donna and all staff were very friendly and helped us with the entire process of planning a wedding and arranging for our guests to stay overnight. The food served for the wedding breakfast was very tasty and everyone enjoyed it. Breakfast was also delicious.there were 28 of us staying for a second night at the Castle and all enjoyed our evening meal, all meals were brought out very quickly and were enjoyed by all. The grounds of the Castle are beautiful, there are many walks, bridges and a lake perfect for our wedding photos - even though It rained the photos went spoiled. The rooms of the Castle are all beautifully layed out , everyone agreed their rooms were perfect. We plan to visit the Castle many time in the future.
Room Tip: Good access to rooms, rooms on ground floor for easy access and there are disabled rooms.
Stayed August 2016, travelled with family
"Our daughters wedding was held at this romantic,magical venue"
Reviewed 6 August 2016 - 5 stars
We were at Craig y Nos castle for our daughters wedding at the end of July. We would like to say what a wonderful place Craig y Nos Castle is to hold a wedding it is so magical and romantic. The conservatory has amazing views and the theatre was a beautiful room to hold the ceremony in.
Many of our guests stayed overnight, the rooms are lovely and so individual in their design. The option of the suites was a real advantage to guests staying with young children. (This also worked well for the bride and bridesmaids to spend the enening together prior to the wedding). The rooms add to the uniqueness of the castle - it is certainly not boring and corporate!
The staff were friendly and helpful. We would like to mention Cath, who was on duty on the Thursday evening when we arrived. She coped with my extended family choosing to join us for an evening meal, which created a group of 17 people. The dining room was set for us to sit as a large group, which was lovely as we do not get to spend much time together. Cath dealt with this big group with patience and good humour- everyone agreed the food was delicious, so Thankyou to the chef and his team.
Donna the wedding planner has been marvellous throughout the planning and on the day making sure everything ran smoothly.
We all had a wonderful and happy day, Thankyou for helping make our daughter and her husbands day so magical in your amazing castle.
Andrea & Donald Shearer
Room Tip: Some of the rooms have amazing ensuites with roll top baths
Stayed July 2016, travelled with family
"Marvellous location for a wedding"
Reviewed 5 August 2016 - 5 stars
We attended a family Wedding on the bride's side at Craig y Nos Castle. We are a large family and aged 76 I still have 20 cousins of my generation, having lost 4, so it was a wonderful reunion. There were about 100 guests. In reviewing a hotel it is necessary to separate the pleasures of a family reunion from the pluses and minuses of the venue, and most of the photos we take are of family and guests, and so not suitable for a review. But so mingled in our memories were the pleasure of the day with the attractions of Craig y Nos, that it is difficult to segregate them. Certainly it is a wonderful location for an event such as this.
It is situated in the beautiful Upper Tawe valley which was never despoiled by the Industrial revolution, and since coal mining, tin plate manufacture and steel works disappeared from the lower valley 30 years ago, the lower river is now so clean that Salmon and Sea Trout have returned to the river. There always were Brown Trout in the Upper valley.
Technically the building is Victorian Gothic, with towers, turrets, huge public rooms including the splendid Adelina Patti theatre where this wedding occured.
Our own room was spacious with a large en suite bath room and a view over the old stables and the mountain side. We had tea making facilities a large TV, dressing table and ward robe. No Wifi or safe. Our post wedding dinner was served in a large conservatory overlooking the River Tawe and the woods and mountains. Service, presentation and quality of the meal were excellent. The grounds are very large with opportunities to sit and relax in the sun or take walks through the woods and gardens. Neighbouring attractions include the Dan yr Ogoff show caves, less than a mile away, the beautiful Henryd Falls about 3 miles away, and although Craig y nos is a Victorian construction it is about 20 miles or less from 4 medieval castles, Neath, Carreg Cennen, LLandovery and Dinefwr, all worth a visit. Their are two three real ale pubs within a couple of miles. Craig y Nos is highly recommended.
Room Tip: Take what you get
"Amazing wedding , couldn't have asked for more !!"
Reviewed 3 August 2016 via mobile - 5 stars
Recently had my wedding here in July and it was amazing. Everything went to plan thanks to Donna the wedding organiser , and was just what I wanted and asked for. Such a lovely setting , food was great and everyone was extremely helpful and friendly. Would definitely recommend for a wedding or even a nice stay with your dog as lovely grounds aswell. Can't praise it enough ! Thanks again , Anna and Luke
Stayed July 2016, travelled as a couple
"Amazing Wedding venue ! or just a fantastic place to stay"
Reviewed 2 August 2016 - 5 stars
we visited the venue for some friend's of ours wedding and what can i say amazing !
this stunning venue says it all situated on the edge of the Brecon beacons a castle looking fit for a king ! its nothing short of charming with a theatre as the back drop for the wedding ceramony and the conservatory for a stunning sit down meal a beautiful drawing room for photo opportunity and all set in about 100 acres of stunning grounds with a reviver running through the back this place has it all the rooms are charming the food is excellent and i mean excellent !and the staff have a fantastic can do attitude if your looking for a place for a wedding go have a look you will not be disappointed
because this place is situated on the edge of the brecon bacons its also a fantastic place to bace your self for a walking holiday and the best part of that is BRING YOUR DOG ! they love um !
all in all this old charming castle hotel has it all
we had an amazing time at the wedding there can't thank the staff enough.
Room Tip: rooms are great try room 31 in the stable yard we loved it upstairs and down
"A wonderful experience"
Reviewed 3 June 2016 - 4 out of 5 stars
We were checking out the castle as a wedding venue so were really keen to get a proper feel for the place. Our first impressions as we pulled up in the pouring rain was of an impressive building that certainly lived up to our expectations. The first impression was marred ever so slightly by the bucket under the skylight in the reception hall but having grown up in an old farmhouse I understand that old building sometimes leek. Looking around the lounge and moving straight into the bar I fell in love with the building almost instantly - even in the pouring rain the view from the windows are amazing and the staff (especially Vicki) where just so helpful and genuinely lovely as well as being knowledgeable about the castle and the area. Our room was extremely comfortable and well set out and the shower was great.
The grounds of the building are tranquil and back onto the national park and we took a number of short walks around them just absorbing the atmosphere. Arriving late on the Friday they had stopped serving food but we enjoyed eating in the restaurant on the Saturday night - the food was good and plentiful. The breakfast was likewise very enjoyable without being gourmet.
On the Saturday morning we enjoyed the complimentary tour of the building learning about Adeline Patti and about the history of the castle - an amazing experience that made me fall in love with the building even more and the lady leading the tour clearly loved the building and its history. Following an afternoon exploring the area we returned to the castle and spent a very relaxed hour in the hot tub admiring the incredible view from the glass conservatory that it is housed in. I was also very impressed with the quality and range of fitness equipment they have in their gym (although I did not use it at least I know it is there for next time).
There are a few faults and the occasional damp patch or leek and the food is not gourmet but the staff are lovely, helpful and can't do enough for you and our bedroom was everything I could have asked for. We will certainly be back in the future - hopefully for a wedding!
Stayed May 2016 travelled as a couple
"Truly Wonderful Setting"
Reviewed 9 May 2016 - 4 out of 5 stars
I was invited to a wedding at his establishment and although first thoughts were it was a little dated in areas after reading the owners struggles in the hotel room information folder to maintain update and keep the place open for the good of the community I was quick to change my views.
The hotel in a castle which is given over to the wedding of that day provides an excellent space in a wonderful setting has great staff willing to go that extra mile. The food was excellent and the huge area allowed for the wedding guests is fairly remarkable and great for the kids to explore.
I would recommend this place to anybody that can see threw the minor faults
Stayed April 2016, travelled with family
"Hannah and Dan's Wedding "
Reviewed 31 March 2016 via mobile
What a beautiful venue for a wedding! All the staff were so welcoming. The wedding went so well. The food was lovely. Our room was gorgeous with an amazing bathroom. We came here for lunch on Mother's Day too and that was great. We will be back!
"Magical"
Reviewed 27 March 2016
Spent an excellent day, evening and night at the Craig y Nos Castle for the wedding of my daughter and her fiancé.
The Castle is a superb venue and I wasn't surprised to be told that every Saturday for the rest of 2016 was booked for weddings.
It's set in the lovely Swansea valley near Abercrave and the famous Dan Yr Ogof Caves are just a short journey away.
First appearances are impressive and this continues inside with 2 quaint and peaceful sitting rooms.
The theatre is ideal for the wedding ceremony where the bride and groom stand on the stage for the marriage ritual so every guest can see and hear them clearly. Then on to the large conservatory for the reception, another area very well suited for the purpose.
The evening entertainment, being a disco and a 5 piece band, was in the large dining room where there was plenty of room left for dancing.
The service and attentiveness from the hotel staff in all areas was faultless. Melissa Cook who organises the wedding day was on hand constantly to ensure things went smoothly and another person who deserves mention was one of the bar staff (annoyed that I can't remember her name)
who must have been running on Duracell. She was there when we got there mid-morning and was still going strong at 2 o clock as she directed the last of the band members out of the car park. She was also on duty at 7:30am the next morning to organise breakfast,
Having the grandchildren for the night, we had room 31, a split-level room with 2 single and 1 double bed upstairs and 2 single sofa beds in the living room. The upper level looked fairly new and the kids loved it, the lower level, with a decent shower room was in need of redecoration but was comfortable and warm.
Breakfast was plentiful and very enjoyable with a self-serve selection of cereals and all the hot items required for a full cooked. The aforementioned Duracell lady was on hand to replenish any items running short.
The Castle runs a membership scheme which allows you to book B&B and various other events at greatly reduced prices. We would now be part of that membership if only they had at least 1 weekend this year when they didn't have a wedding! Maybe next year. Either way, we will definitely be visiting Craig Y Nos Castle again.
Stayed March 2016, travelled with family
Reviewed 14 March 2016 via mobile
We had the most amazing weekend for our wedding.
Donna the wedding planner was wonderful, from beginning to end and the prep and day run perfectly.
We had a lovely meal the night before and Vicky catered to our every need.
The bridal suite is gorgeous with a fabulous roll top bath and plenty of room that accommodated myself 3bridesmaids flower girl and mum to have hair and makeup done.
The wedding breakfast was perfect and served and cleared efficiently with glasses constantly filled.
Everyone has commented how much they enjoyed the day, my only complaint would be I wish it could have lasted longer.
Would highly recommend it and cannot wait to visit again.
Thank you all at the Castle X
Stayed March 2016, travelled with family
"A relatives wedding"
Reviewed 10 January 2016 via mobile - 5 out of 5 stars.
Beautiful place,stunning features,the whole wedding was truly magical. All the staff we're very polite and helpful. We had a beautiful room with a living room and bedroom downstairs and a bathroom,double bedroom upstairs and another two beds in a Side room upstairs. The shower was lush,and the breakfast in the morning was the best fry up ever,sausages we're bloody gorgeous,and a huge choice of cereal,Welsh cakes croissants and plenty more,definatley want to stay at Craig y Nos again. No complaints.
Stayed November 2015, travelled with family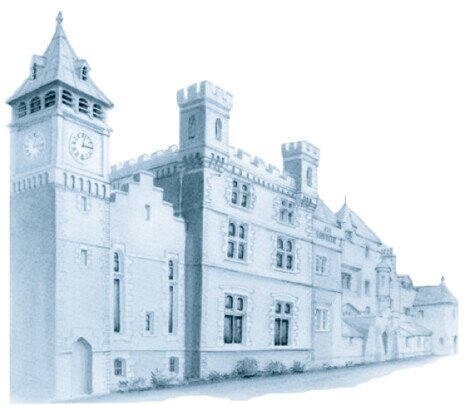 Enjoy a Homely Welcome and Friendly Service at Craig y Nos Castle