Craig Y Nos Castle Wedding Reviews in 2012
Wedding Packages > Read Brides Reviews
Craig y Nos Castle Wedding Venue
Wedding July 27th 2012
5 of 5 stars Reviewed October 19, 2012
Myself and wife booked Craig y nos as our wedding venue back in 2012. This venue being somewhere where I had I dreamt to have got married from a child.
When we first booked myself and my wife were very excited THEN a dark grey cloud rolled in above us!! This being having 1 wedding planner then another and another then eventually coming across mallisa who has worked at Craig y nos for many years over seeing the wedding function team. Then the thunder storms rolled, Sitting down tea one evening watching the welsh evening news HISTORIC CASTLE IN THE BRECON BEACONS HAS PUT UP FOR SALE,FORMER HOME OF MADAME PATTI......................wels as you could imagine my jaw dropped to my plate in horror!!! A little panic setting in, the following morning I was immediately on the phone during my conversation mallisa was very informative of what was happening and what the plans were. Panic not totally gone though. Me being me I thought I would try and do some research myself online to see if I could anymore info. If I'm honest didn't find much. How ever when I went food hygiene scoring on line I came across that Craig y nos only had a one star rating which concerned me even more. The following we had a meet up with mallisa and I just mentioned the food hygiene scoring, which mallisa had no knowledge of but said this will be chased up. I think with in a fortnight the rating had gone up from a 1 to a 5!!! Which I was chuffed about. As time I got closer a lot of improvements/upgrades were being done at the castle during the winter months which were brilliant really improved the appearance of the castle (saying that we loved the look when booked, otherwise we would not have booked). Mallisa at all times was readily available to help by email, phone or in persons which was first class. The month of the wedding as everyone knows is manic again mallisa had everything under control along with my wife to be lol!! Day before the wedding was even more manic runs in the car up and down the valley to drops things of at craig y nos castle. I even made unthinkable mistake of forgetting to do something but not to worry mallisa stepped in said leave that to me and she'll sort it out before the morning which she did!
THE WEDDING DAY
Oh my word where do I start absolutely incredible, staff were first class the food was fit for the queen absolutely mouth watering the day went like clock work the lager was flowing well along with the jäger bombs would love to know how many bottles of that we went through lol!!
Only one bad point the party finished at 1 which I wished would have lasted longer!!! The accommodation is lovely and Comfortable and breakfast again was excellent especially with a hangover that a lot of us in the party had!!
I have read quite a lot of the previous comments on here, I feel some are quite harsh! People need or should under stand the condition that the castle was in when selclean bought the building in the 90's it was in dires. The owner I think the name of Mr Gower should be congratulated on the work and preservation work on the castle, costing well over six figures I would say. Their advertising is very truthful in giving detail on the hotel saying its very quirky and tastefully furnished with antique furniture which it is and fits to the environment of Craig y nos castle.
All our guests from the day to the 170 guests in the evening all said that venue was absolutely fantastic and all enjoyed. So hat of to the staff of Craig y nos castle for making our day the most magical day that we'll ever have and I can fully understand why bookings are booming with the team work that you all put in. A BIG THANK YOU TO YOU ALL
5 of 5 stars Reviewed October 19, 2012
I recently got married at Craig Y Nos Castle and I can honestly say it was the most wonderful day of my whole life. Donna was brilliant in the run up to the wedding, and Melissa the wedding planner was absolutely amazing on the day and was on point at all times.
I was extremely lucky with the weather and it was a glorious sunny day, the day of our wedding.
We had our welcome drinks in the courtyard and they were truly amazing. We had pink champagne and strawberries (which I recommend)
The grounds and how beautiful they are speaks for itself. We have absolutely amazing photos and our photographer (Andrew Jenkins - Pontardulais) who I highly recommend was very knowledgeable and knew all the amazing spots where to get that picture perfect moment.
The Wedding Breakfast was amazing and I will never forget that initial feeling that I felt when I saw how the conservatory had been transformed. It was more than what I had imagined. The attention to detail was second to none and the backdrop in the conservatory is incredible. The food itself was lovely and tasty and all of the guests that I have spoken with completely agree. The waiting staff were really good and were on hand at all times during the meal.
They gave us the PERFECT wedding!
5 of 5 stars Reviewed September 16, 2012
Upon taking my then "Husband to be" to see the castle I had loved since a little girl, we were both very excited. As we pulled up to the venue, it took our breath away, it really is a statement in the mountains. We didn't have to discuss long before deciding this was where we wanted our wedding, blowing our other venues out of the water!
The run-up to the wedding, all staff were extremely helpful. I took planning very seriously, there were lots of phonecalls, but nothing was too much trouble for them. Luckily as our wedding was on a Friday, I had the 2 days prior to set up the conservatory for our reception, allowing to make it just erfect down to the tiniest detail. We had an Italian themed wedding and again, this was no problem when we wanted to adjust the menu to fit this theme, Simon (the chef) was fantastic with the planning, and even more incredible with the delivery of the food. Not one person had anything negative to say, it was all wonderful (all 5 courses!!)
Donna was an angel with helping us prepare everything and getting everyone organised. Beth was wonderful with helping set up the room and explaining to me how things would work, so I could get my head around everything.
It is absolutely stunning, the grounds gave us the most beautiful wedding photos. Our family and friends can't stop talking about what such a fantastic location it was. They made our wedding dreams come true, and we can't thank them enough. We have now made a promise to each other to come and stay at the castle for every anniversary. So see you in the future!
24/08/2012
Absolutely amazing day.............Melissa deserves a gold medal for all of her hard work. She puts in so much from helping you organise to ensuring the day goes perfectly. I think she could run this place better than the owners to be fair.

Simon is a top quality chef and our meal was honestly one of the best dinners I've had (from a really fussy eater)! He is also not only a fantastic chef but also a very lovely guy who was a pleasure to have a conversation with. Beth is also fantastic and she was a huge help to us. Beth also is a pleasure to talk to.

All in all a wonderful experience and we would strongly recommend people look at this venue for a wedding.

We can't wait to come on a ghostly weekend around Halloween as I know so do some of our guests. All of our family and friends enjoyed the day and night and said what amazing food, surroundings and atmosphere it was.

Big hooray to Melissa, Simon, Beth and all of the staff at Craig y nos for making our wedding so truly amazing xx

Danny and Kim Nash

02/09/2012
We found this castle online when looking for potential (affordable) wedding venues in Wales. We had a good feeling about it based on the website so saved it until last during our venue visiting roadtrip. There were some local contenders for our venue... until we began to drive through the Brecon Beacons towards Craig Y Nos- the scenery was breathtaking and our excitement just grew and grew until we arrived. Walking into the grounds we were amazed by the beauty of the building and we both knew it was the place, before we'd even stepped inside. (I remember we both had goosebumps!).

Inside there is a cosy, homely feeling, especially in winter with the open fires burning and the comfy leather sofas in the hotel bar and lounge. It reminds me of a mix between an old English country pub and a stately home. The staff were all bubbly and friendly and it feels family run. The slightly eccentric manager was kind enough to give us a tour of the castle and all the rooms along with an insight into the history and unique stories about each room. We loved the fact that each room was different, with its own architectural features or quirks. Going around the castle, we were already mentally assigning our guests to rooms we thought they would particularly like! (I thought I'd treat my mum to the bathroom with the gorgeous Victorian stand alone bath whilst my bridesmaids and I shared a little cottage house).

Some areas of the castle were being refurbished when we visited, but we were assured it would all be ready for when it reopened in Spring and it was. After seeing many modern hotels in our venue search, it was refreshing to see somewhere with some character rather than 100 identikit rooms and a boring hall for the ceremony /wedding breakfast. Instead we were able to have our ceremony in a beautiful little theatre, wedding breakfast in the jaw dropping conservatory and after party in the stately reception room, with access to the lounges and bars for our guests to relax and mingle in. The conservatory was a particular selling point- we'd seen the pictures online, but no photos can prepare you for the beautiful backdrop when walking into the room. It is truly captivating, and if you're on a budget, with views of such stunning natural beauty like that, flowers etc inside really aren't necessary. There is also a national park a short walk away which is perfect for photos.

Unfortunately, on our wedding day in April, the Welsh weather was predictably wet, so we had to go to plan B and take our photos in and around the castle. But this didn't put a dampener on our day as the rooms and grounds still gave us a wonderful backdrop for our photos.

We also loved the fact that all 50 of our friends and family were able to stay in the castle with us. We basically had a castle to ourselves! How many people can say that? It meant that our celebrations could include time catching up with friends and family and enabling guests to meet each other while relaxing in the bar during the evening before the big day and at breakfast the day after.

We treasured this time as it meant we got to spend quality time with all of our guests and they got to enjoy a lovely weekend away.

The wedding planner was on hand the whole weekend to keep things running smoothly, and she did an amazing job. We didn't have to worry about a thing, everything ran to schedule and was well organised. We had a few last minute room swaps and these were handled well by the staff.

This photo of
Craig-y-Nos Castle
is courtesy of TripAdvisor
Unfortunately my father in law's room had a leak from the roof, but he was moved when he realised. They had also kept a few spare rooms open in case we needed them. The only downside was that the phones didn't work in all rooms and the mobile reception is poor, but I think this has been rectified now.

The cottage was perfect for the wedding morning as there was room for four of us to get ready, with storage for our dresses etc and room for my hairdresser and photographers. The cottage had a lounge downstairs where we were able to relax and prepare. However the downstairs bedroom was too cold for my bridesmaids to sleep in so they had to move. The staff brought champagne and our breakfasts to us and the location was perfect as we only had to walk across the courtyard to the theatre for the ceremony so there was no danger of me being late! The beds were very comfy too and we had plenty of towels etc to meet our needs.

The theatre was an amazing setting. When it is empty, it looks a little small and feels a little cold. But once it is full of your loved ones you don't notice this and it's beauty shines through. The welcome drinks were lovely and the staff had layed out the glasses to spell the word 'love' which was a cute touch. But it was the food that really stood out. As a vegetarian the options at weddings are often bland and unadventurous, however the tomato and red pepper soup was delightful and the Mushroom Wellington was delicious (so much so that my meat loving husband was tempted to choose it)! Our guests all enjoyed their food and the portions meant no one was left hungry. We didn't try the desserts as we had wedding cake (for 3rd course) but I'm sure I will try the Bailey's cheesecake when we visit for our anniversary!

The honeymoon suite was lovely. It was previously a prayer room for the owner so it still had its original chapel features in the style of windows and the woodwork, which made it unique. The bathroom was lovely too with a lovely Victorian bath!

Overall I would definitely recommend visiting Craig Y Nos. The setting is magical and the staff are so flexible and accommodating that it can address most people's budgets and enable you to feel completely in control of the type of wedding you want. We can't wait to go back and enjoy the lovely service, food and comforts at the castle. I am also keen to explore more of the local area, and, if I'm feeling brave, I might even do the ghost tour!


18/07/2012
I had my wedding here July 14th and the venue really created the wow factor of the wedding. The rooms are clean, comfortable and very well kept. Everyone commented on how lovely the venue was and their room was excellent.

The food is absolutely delicious! A big topic of conversation amongst guests. The staff are extremely attentive and friendly. A true hidden gem that not many people know about.

Everyone, including myself were amazed by the castle and the grounds it is set in, it made for wonderful walks and photos.
I would have no hesitation in recommending the castle for a wedding venue, the attention to detail was excellent, the food and staff amazing and grounds/rooms outstanding. An absolute five star venue and service!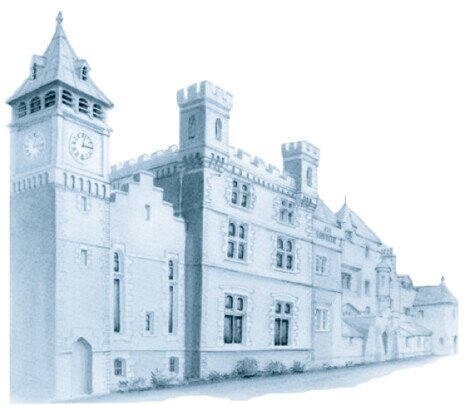 Enjoy a Homely Welcome and Friendly Service at Craig y Nos Castle