Table Decor and Settings at Craig y Nos Castle
Castle in Pictures > Slideshows, photos
This is the Conservatory Wedding Breakfast Table Settings Page. To see other slideshows go to the Slideshows Index or scroll to the bottom of this page.
Here we feature a number of different table settings.
With over 100 weddings a year it is impossible to feature all the different table settings but there are plenty of ideas here which may inspire you. Table decor can be provided by a number of wedding suppliers - see table decor suppliers here.
Click on any picture to enlarge it to full size and to see caption.

Wedding Tips: Simple Centrepieces
Simple centrepieces: There is no need go overboard with a huge, expensive centrepiece that take up half of the table. Keep your centrepieces simple and cheap, like a pretty bowl filled with water and floating candles.
Wedding Tips: Candles for Table Display
Candles can usually be purchased for less than flowers, so use them to your advantage. Use fewer flowers, then put the spotlight on them with candles.
Or incorporate Candles into the table's central floral display for more 'wow' factor.
Candles on tables are sensible for Winter Weddings where the evenings are shorter. While your Wedding Breakfast may start in daylight, it will tend to last about three hours, with speeches. As the evening draws in, your candles can be lit to good effect in the evening light, flickering in the mirrored windows of the Conservatory.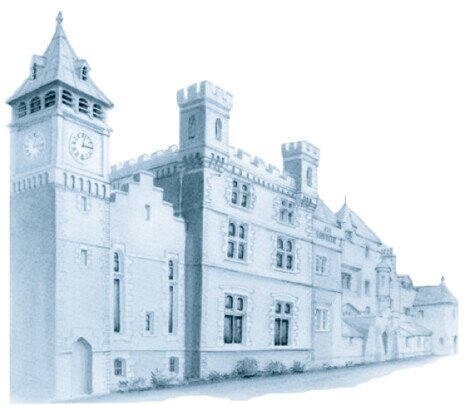 Enjoy a Homely Welcome and Friendly Service at Craig y Nos Castle