Welsh Castle Wedding Venue Viewing Offer D,B&B Break
Viewing & Dining
Wine & Dine Offer for Two
Dine & Stay overnight for £149
Our Wine & Dine Deal with Overnight Stay includes:
B&B in an en-suite
for one night for two people
Two Course Evening Meal & a free glass of champagne

each
(worth £60 or more, for two)
Wedding Planning Meeting & Viewing
40 acres of Country Park & Lakes etc., for walks (we are dog friendly too)
Our fantastic Wine & Dine offer, with B&B, is just £149 for two people sharing an en-suite, instead of £200 on the Dog Friendly Wales Dinner, B&B deal - saving you £50
on the one night D,B&B stay, plus a free glass of champagne each!
Book your
Champagne Dinner with
en-suite B&B,
Wedding Viewing
& optional History Tour
Only Available on
Consider staying on night of a
'Wedding Menu Taster Dinner'
If you wish to stay over on one of these nights, complete the form below and you will automatically be added to the wedding taster dinner list.
*When you book a Wine and Dine deal on one of our
Dinner B&B Dates
, you can arrange a viewing during your stay outside the viewing times shown above, but please do book a time to view so a planner is made available.
What to do,
where to go &
what's to see,
while you are here
See also our Dog Friendly website with more walks. Includes lakes, reservoirs, beaches, ancient ruins, roman ruins, castles, waterfalls, canal paths, mountain tracks, mountain views and scenery, remote villages and cathedrals off the beaten track.
See loads of Places you can visit with dogs starting with Claerwen and Elan Village and scroll through all the other Grand Touring options when visiting Wales.
Enjoy mountain views & walks over Brecon Beacons National Park.
Who can use this offer
1. Our Wine & Dine and Stay Offer is for people travelling long distance to the castle for FIRST VIEWINGS. The Wine and Dine deal is not reallly intended for people who live locally; this offer is to help Couples who live some distance away to feel encouraged to make the journey to view the castle. We make it worth your time and effort getting here.
2. This offer is not for second viewings or viewings / meetings / event discussions after a wedding is already booked. The

Wine & Dine B&B Offer applies only to your FIRST wedding viewing, using the viewing request form on this page.
3. Accommodation may only be booked on one of the Selected Opening Dates shown here (as we are now only open on these dates for general D,B&B). This offer is generally not available at weekends due to weddings.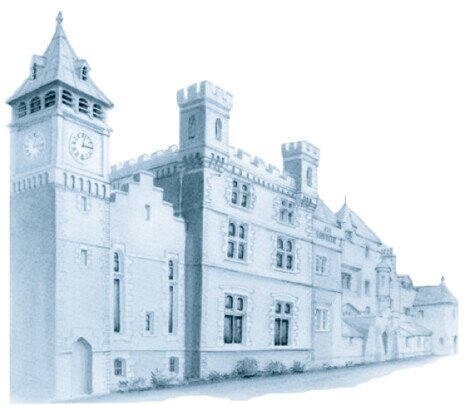 Enjoy a Homely Welcome and Friendly Service at Craig y Nos Castle