Hen / Fright Night - for Hen Parties with a difference
Wedding Planning > Wedding Ideas & Tips
Staffing and Pricing for Our Hen Parties package is currently under review. Details of what is available will change from those advertised below due to changes in staff at Ghost Tour Company.
You can stay the night before your wedding as shown below, and organise your own party in the Nurses Block, or have a pre-wedding dinner etc at the Castle, subject to the date before yours not having another event booking.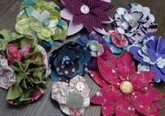 Looking for an activity for your Hen Party which will also give you some decorations for your wedding? Get everyone in your party involved! See 'The Crafty Hen' on our Table Decorations and wedding favours page.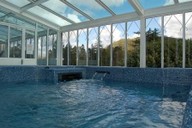 Many Brides invite close friends to help set up in the Conservatory the evening before the wedding. Staying the night before saves you and your guests traveling to the venue on the wedding day itself. Guests can get ready for your wedding day at their leisure, having made the journey the night before.

Relax in the Hot Tub and sleep over in the Nurses Block the night before your wedding (the en-suites won't be available except for weekday or Friday weddings). Or enjoy a hen party / fright night tour.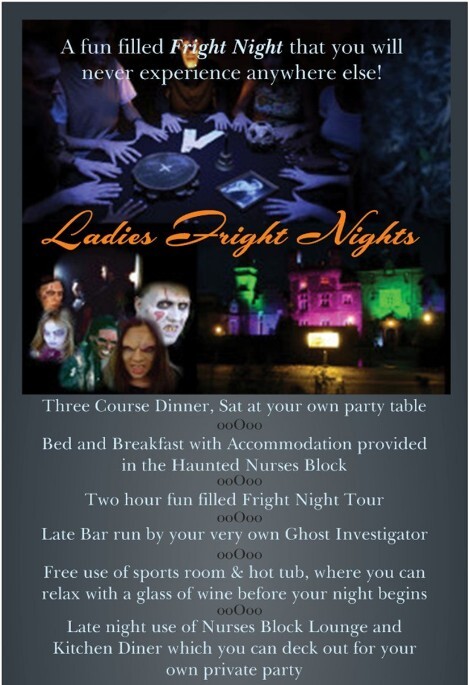 Seriously Scary Schedule

Our Ladies Fright Night is a light hearted fun filled tour - Ladies Fright Nights are all about having Fun.

You and your guests check-in at reception and are shown to your rooms in the "Nurses Block". You have your own communal lounge in the Nurses Block.

Pop along to the bar to buy a couple bottles of wine or bubbly and get in the spa (you can ask for plastic glasses for the Spa area). Pamper yourselves and relax.

Go through to your Dining Room for Dinner, before the Fright Night.

Tour starts around 9.00 pm and lasts two hours.

Retire to the Haunted Cross Room Bar in the derelict upper levels of the castle afterwards. This you may deck out with "L" plates and balloons for your hen night party. Here Steve will regale you with ghostly tales and may even join you on the Karoake machine!

Haunted Bar stays open as long as you wish - party through the early hours in the derelict upper levels of the Castle.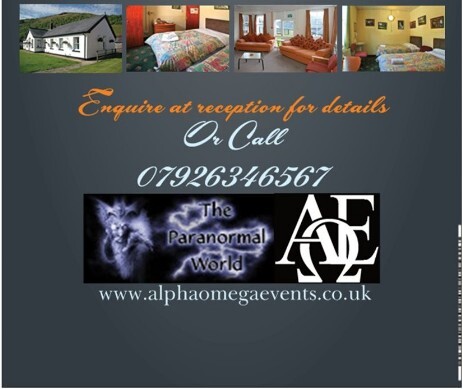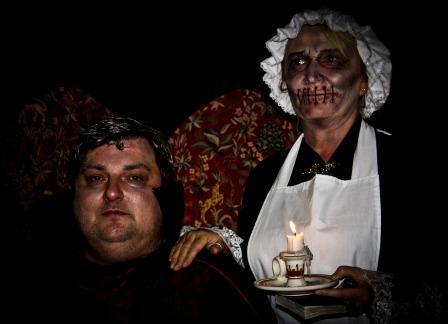 The Ladies' Fright Night!

Steve Graham of the 'The Paranormal World' is your Host for this extraordinary Ladies' Fright Night and Hen Party. This is a Hen Party unlike anything you will experience anywhere else! It is a light hearted fun filled Fright Night and does not include proper séances, table tipping, energy circles etc.

Curtains will twitch, objects will move, boards will creak, doors will move, all without explanation.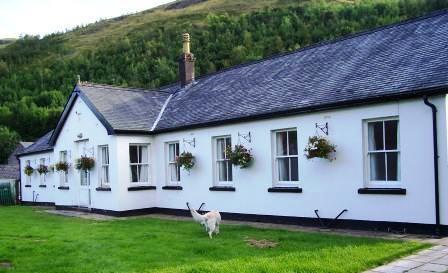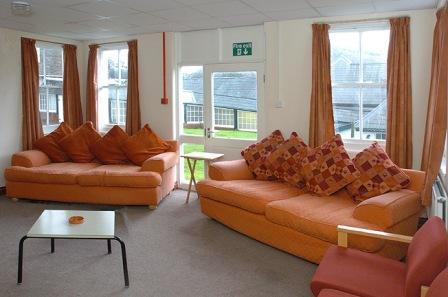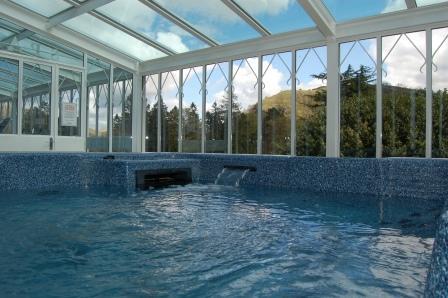 Here is what I recommend we do. Our Hen Party Fright Night is conducted by candlelight, the darker and spookier the better! As your sensations are heightened, you'll find collectively as a group, a genuine psychic tension, a heightening of your sixth sense. Together the fear will come upon you. You'll begin to wonder.... what lurks behind you in the unseen depths of darkness all around?

You and your fellow hens will huddle together for warmth and reassurance, all around the low glow of a single flickering yellow candle. Behind your huddled backs, surrounded by the blackness of the unlit, cold derelict levels of this old castle, you will sense the emptiness of the darkened space all around. But you can't help wondering, as you hear footsteps and sounds, creaks and flutters around you, how 'empty' is the room, really? Are you truly alone?


It's OK to scream. You will....
Whether or not you decide to book your wedding at Craig y Nos,
come to the
Castle for something completely different -
dare
your friends to
accompany you to
our spooky castle's upper floors for your Hen Party!


Our new Haunted Bar
makes a fantastic venue for fun Hen Parties.

Deposit
(non-refundable)
payable on booking, £64.00 per head to Craig y Nos Castle. Cash payable to Investigator on Arrival, £20.00 per head. Minimum group size is 10. Ideal party size is 15. Maximum group size is 20.
Ladies Fright Night is £84.00 per person for a minimum of 10 persons. This includes:


Two Course Dinner, sat at your own party table

Late Bar run by your very own Ghost Investigator, Steve, who doubles as Investigator of Spirits from The Beyond and Purveyor of Spirits from The Bar. Haunted Bar stays open as long as you can stand up.
Also included is use of spa and hot tub

*Note that ghostly make-up and body tans etc cannot be used in the hot tub as it comes off in the water. Best to use hot tub either before you get ready for the night, OR the next morning, after a shower.
Private use of Nurses Block Lounge and Kitchen Diner subject to there being no other occupants of the Nurses Block.



Hire the Nurses Block the Night before Your Wedding!


We have a hot tub and sports room which you may care to relax in on the night before your wedding. Because there will likely be a wedding the day before yours, you may wish to book our Nurses Block budget rooms. You can offer this to any of your wedding guests wishing to stay the night before the wedding day.

As you may be travelling some distance to stay at the castle, and may wish to set up your Reception room and get ready the day before, the Nurses Block makes a useful self catering block where close family or bridesmaids can gather privately.

Exclusive hire of this block is £700 B&B for the night. It has a lounge and kitchen diner, so you can party away independently of any other bookings in the castle. Included in the deal is exclusive use of the spa / hot tub for your Hen Party for any two hour period; you choose the times and we notify other guests it is reserved for you for that period.

We can open a private bar for your pre-wedding get-together. Nurses Block rooms can also be booked on an individual B&B basis at £35 per head, based on two sharing provided you have a minimum of ten in the block. These rooms are small and basic, somewhere you can just let your hair down and not disturb anyone else!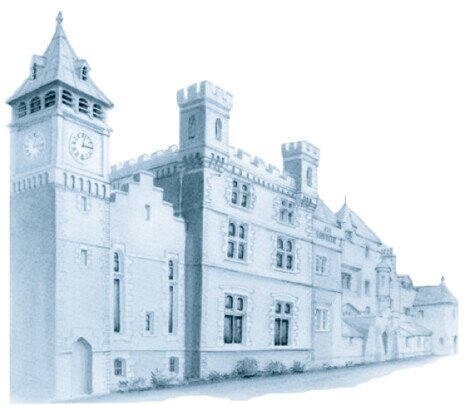 Enjoy a Homely Welcome and Friendly Service at Craig y Nos Castle