Corkage on large & small bottle sizes & spirits
Wedding Packages > See Our Tariffs
_____________
Corkage
We now charge varying levels of Corkage according to size of bottle and alcohol content etc, to link corkage as much as possible to the margin we would otherwise make on the standard Hotel mark-up on its own direct sales of all beverages.
Advice given by Tanners Wine Merchants on bottle sizes:
1. A ¼ bottle is called a 'split', but that's a term more recognisable with minerals (split = 200ml).
2. A ¼ bottle is a Quarter or 'Single Serve's. These are 187ml or 18.75cl for still wines and 20cl/200ml for sparkling wine.
3. Port you can by in 5cl miniature bottles.

4. Melchior is larger than Nebuchadnezzar, equivalent to 18 litres/24 bottles, versus 15/20 for the Nebuchadnezzar.

5. Imperials: some bottle names change depending on where they come from, there can be overlap too. Imperials are usually 6ltr in Bordeaux, but can be 4.5 litres from elsewhere (4.5L is Rehoboam in champagne). Corkage rate by negotiation on Imperials.
6. Any unusual sized bottle, refer to Wedding Planner who will cross reference with our own sale prices and margins to come up with a bespoke corkage rate depending on the lost mark-up to the castle.
Favours and Fountains
Small Bottle Alcoholic Favours on tables will be charged corkage at a reduced 'small bottle size' corkage rate.
Also alcoholic fountains, champagne fountains etc will carry a corkage charge. Please consult your wedding planner about your plans for favours and fountains.
The Legal Apsects on Favours
All food brought on the premises must adhere to Food, Health and Safety Regulations and Licencing Laws – clearly being labelled as 'home made', with a date and address of manufacture.
Where we are able to supply such a product, a charge will be applied.
Any commercially purchased alcohol, whether re-packaged or otherwise, must indicate the original manufacturer's label and an appropriate corkage fee be charged.
The above does not apply to food and drink consumed when accommodation is booked on a self catering basis and such food is eaten or consumed within the self catering area - e.g. self catering use of the Theatre First Floor Flat, Green Room when Kitchen used, and Nurses Block kitchen/ lounge area when let out on a self catering basis.
__________________________
in Conservatory for Evening Parties
held in Conservatory - must be prepaid bar*
__________________________
* Due to changes in the licensing we are now only able to 'sell drinks' from the main bar. If you are using the portable bar in the Conservatory it now has to be a 'free' bar for your guests, meaning you will pre-pay for all the drinks to be consumed, in advance.
We can set up a dedicated spirit and bottle bar* in the conservatory for you for the evening of the wedding if you wish. There is a £100.00 charge for this to set it all up and to staff it.
* Under the licensing regulations we are only allowed to 'sell' alcohol at the main bar (Patti Bar), but we can 'serve' alcohol paid for in advance to any location within the building. We cannot take payment from guests for drinks served in the Conservatory. Use of the Portable Bar is conditional on it being a pre-paid bar. Please decide how much you would like to put behind the bar for your guests, so it becomes a pre-paid bar.
You could use the portable bar as a Gin Bar, Specials Bar, Soft drinks bar, or Wine Bar - again with the drinks pre-paid by you as the wedding client. Guests who wish to buy other beverages, such as ales and lagers, would then go to the main Patti bar and buy their own choice of drinks there. However this is not always popular with guests due to the long distance carrying drinks.
Ideally your guests should move to the main bar and function room for the evening. Most Evening Parties are held in the Function Room, not the Conservatory.
For a smaller more intimate wedding party you may strongly favour the Conservatory for both Day and Evening. However you still do not want your guests migrating from the Conservatory to the main bar, each time they want a drink, as this will split the wedding party up over different rooms on the ground floor (as they may stand in the main bar rather than come back for the dances in the Conservatory).
A full move into the function room for all weddings overcomes this problem. Guests find it more convenient having the bar close to the evening event, rather than walking the length of the building from the conservatory to the main bar every time they want a drink.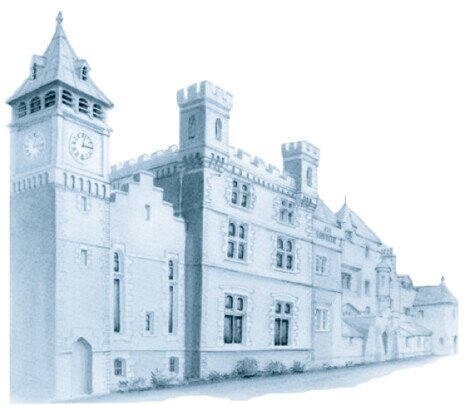 Enjoy a Homely Welcome and Friendly Service at Craig y Nos Castle