11e. Wedding Breakfast & Wedding Evening Buffet
Wedding Planning > Wedding Planning Guide > Wedding Day Schedule
This is our Wedding Planner 'Wedding Breakfast and Evening Buffet Planning' Page. For more wedding planning help, click on Wedding Planner Guide Index or scroll down to the bottom of this page.
This will include the Wedding Breakfast (the first meal of the day after you are married is known as the Wedding Breakfast).
Normally this is a sit-down three course meal in the late afternoon, around 3.00 to 5.00 pm.
Consider who is to offer the Toasts? What is the approximate timing of the cake-cutting ceremony? The dinner should not be held to a rigid set of times but be aware of the order of events during the dinner and your approximate times.

Allow about three hours for the 'Wedding Breakfast', from start to finish. So if you start at 3.00 pm, do not expect to be finished until 6.00 pm or even 7.00 pm.

Consider which guests will get along with whom. As the Wedding Breakfast can last some 3 hours, including speeches and toasts, you will want to 'match' the guests to each other on the table plans, according to who will best get along with each other. You may want to separate some guests from each other by not seating certain people on the same table together.

Deciding who will sit with who, and which guests you must avoid sitting next to each other, considerations such as where to seat fidgety children, or couples who are separated/ divorced, will make planning who sits with who quite an art-form. To avoid missing something pretty fundamental on protocols and best practice for seating your guests at the right tables and with the right guests, see further Seating Plan Advisory notes here.
The number of guests you plan to have at your wedding guests will determine the layout of the wedding banqueting room and how your tables will be set up.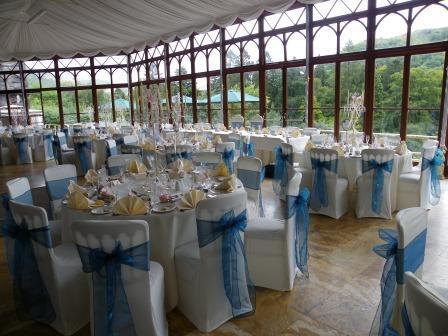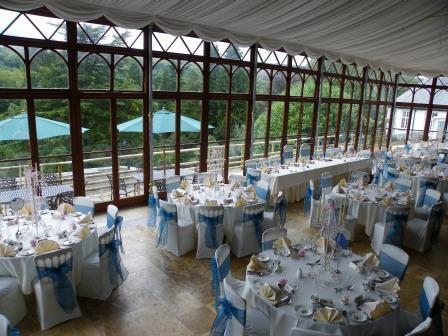 ____________________

Your guests upon completing the Wedding Breakfast, will be encouraged to drift into the bars, allowing the staff to clear the tables ready for your evening entertainment. The DJ or band will be setting up at this time.

You will need to decide what time your evening entertainment is to commence. It should begin around 8.00 pm.
_____________________

This should ideally be at least three to four hours after the finish of the Wedding Breakfast. Sometimes we have found the Wedding Breakfast carries on longer than expected. The Buffet follows on too closely and your guests are full from the generous Wedding Breakfast.

The minimum time gap between the end of the Breaklfast and the Buffet going out should be two and a half hours, especially as the evening will finish late anyway.

Even with three hours gap between the two meals, this means starting the Buffet as late as 9.00 pm if your Wedding Breakfast finished at 6.00 pm.

This is less of a problem if you are having two sets of guests, with a fresh, larger and hungry group arriving in the evening.

Your evening guests should be scheduled to arrive around 7.00 to 8.00 pm.
The Evening Buffet can then go out any time between 8.00 pm to 9.30 pm, depending when you finished your Wedding Breakfast.

Coaches
Coaches generally arrive to collect guests between 11.30 - 12.30. Midnight is a good general time to organise your coaches. Overnight guests will eventually be moved into the Patti Bar, permitting the staff to clear the function room ready for the following day's event / wedding. Craig Y Nos does not operate a Bar Tab system for wedding guest residents at this time.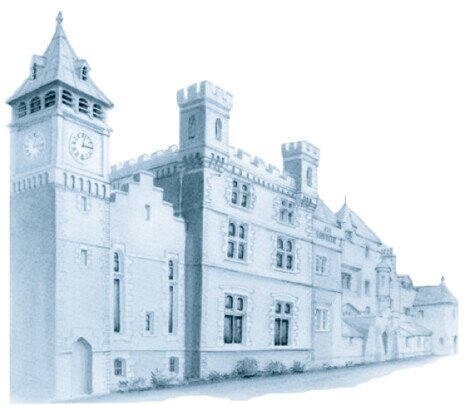 Enjoy a Homely Welcome and Friendly Service at Craig y Nos Castle