Ceremony room and opera house
Castle in Pictures > Slideshows, photos
This is the Wedding Ceremony Room Slideshow Page. To see other slideshows go to the Slideshows Index or scroll to the bottom of this page.
The opera house at Craig y Nos Castle is the main Wedding Ceremony room at the Castle. It seats 150 but can have the chairs removed as necessary to match the size of your wedding.
The floor can be raised to stage level, so it is flat, or 'dropped' at the front, so it descends as you approach the stage, to enable an audience see actors on the stage level. This dates back 150 years, to when the opera singer Adelina Patti would have the floor sloping so her audience could see her clearly on the stage when she sang for her private guests. After her performance, her invited guests would have dinner, while her servants would raise the floor in line with the stage so it was flat.
After dinner Patti and her guests returned to the opera house, now with the floor flat and the room converted for a night of ballroom dancing.
When the floor is sloped, this is known as 'raked'. In its 'raked' position, the audience at the back can better see over the heads of the people in the rows at the front and see the actors on the stage.
We used to give weddings the option of having the floor raised (flat) or sloping down to the stage (raked). Due to too much raising and lowering of the floor over the last two decades of weddings, the winching mechanism has started to drop, meaning that we need to reduce the number of occasions the floor is raised or lowered. For all future weddings, we will be keeping the floor in its raked (sloping) position as this seems to be the most popular with Couples. This enables your guests to see you both taking part in your Wedding Ceremony on the stage.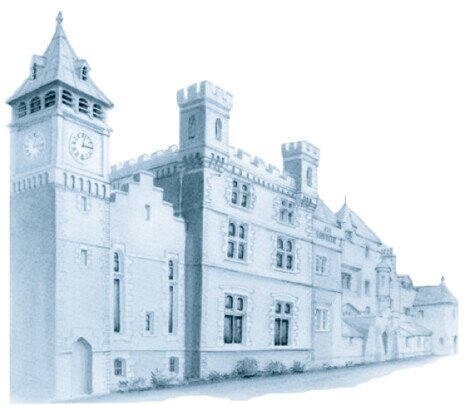 Enjoy a Homely Welcome and Friendly Service at Craig y Nos Castle