Wedding Reviews Craig y Nos Castle 2014
Wedding Packages > Read Brides Reviews
Craig y Nos Castle Wedding Venue
"Wedding December 2014"
5 of 5 starsReviewed 28 December 2014
My husband and I booked our wedding here on the 12th December. I had always dreamt of a fairy tale christmas wedding at a castle and wow this lived up to all expectations. It was Truely magical! and perfect from start to end. The staff were very helpful, the food was lovely, the rooms clean and tidy and the venue was magical. Perfect for a christmas wedding with the roaring open log fires and christmas decorations. The photographs are amazing!
What appealed to us the most about this venue, was that we had exclusive use of all the communal rooms with plenty of room for guests. We got married in the theatre, had our wedding breakfast in the conservatory and the evening disco in the function room with use of the bar and ancillary rooms. I can honestly say that we enjoyed every minute of our day and looking back I would not have changed anything. We have also booked the farmhouse to return in the summer. I would definitely recommend this venue for anyone that is looking for that extra special magical wedding.
Stayed December 2014.
"Stunning."

5 of 5 starsReviewed 17 December 2014
Quirky & authentic.
Dog friendly with stunning 380° scenery bang smack in the heart of Brecons.
A wonderful labour of love in progress. Stayed here for a family wedding so unable to comment on restaurant, however the wedding catering was lovely.
Just hoping that the renovations dont sanitise the character out of the hotel. The theatre is intriguing.
Had been eyeing this hotel for some time and was delighted that it lived up to expectation.
Stayed October 2014
"Great location for a romantic wedding."
3 of 5 starsReviewed 15 December 2014
We have just returned from a over night stay and wedding held at the castle. We enjoyed the drive to the castle as it is in a picturesque part of the welsh countryside.
We received a warm welcome from reception and had a short wait before the 1pm wedding started. The wedding was held in the theatre which is a lovely room but it was as cold in there as it was outside, I was literally shivering. After the ceremony we went back through the hotel to a large sitting room where we could warm up and buy drinks from the bar and get to know the other guests. We were then shown through to the conservatory for the wedding breakfast, wow what a lovely impressive room! The decoration was gorgeous and the food was amazing. Service was quick and efficient and everything went smoothly and without a hitch. After this we were able to go and check in between the two functions. The evening party was held in the conservatory, this was very enjoyable including the live band and buffet.
We were booked into room 14 which is across the courtyard, this backs onto the road and we had a disturbed night with traffic noise. The room was really comfortable, clean and of a good size. I was worried when we booked and read that dogs were welcome at the hotel that the room would smell doggy but there was no trace of any previous occupants! The ensuite was great and the shower one of the best I have experienced in a hotel.
Breakfast was average. No vegetarian option for the hot food so I ended up just having hash browns, egg, beans and mushrooms. The welsh cakes and croissants were hard although toast and tea was plentiful. The breakfast room was rather cold and chilly.
On the whole the castle has lots of lovely features although a lot of renovation is needed. The cost of £123 for bed and breakfast was overpriced. I understand that money is needed for the renovation and I wouldn't have minded paying over the odds if the breakfast was better and some of the rooms warmer. Unfortunately mobile phone signal is non-existant here and I was unable to access the internet via data on my phone. This is not the castles fault and blame lies with the mobile service provider.
We hope to return one day when more renovations have been completed and to see more of the great countryside.........
"Wedding"
5 of 5 starsReviewed 12 December 2014
We had a fantastic two days due to a wedding in this beautiful part of Wales.
The weather was cold but the staff and welcome nice and warm ...the staff are an asset to the owners.
The historic value of this romantic mystical place needa to be cherished and experienced by all who visit.
We stayed two nights in room14 a nice sized room with our family pet Corto he two shared the wonders of this castle and enjoyed.
Breakfast was lovely freshly cooked and lots of it but breakfast room was cold but could be made more welcoming if heated from about 6 am with the log burners in this area.
The wedding was amazing and one could not wish for a more romantic place for the ceremony. .The wedding meal was out of this world tables dressed beautifully and everybody enjoyed.
The prices for alcoholic drinks was relatively cheap priced just right so one wasnt taked advantage of due to venue very good value for money.
The owners have worked wonders bringing different parts back to habital life due to tightness of the powers to be who wont offer and assistance to funding to one of Waleses marvels and historical homes which we should be gardians off well done to the owners..
A big thankyou to all who made our visit memorable the staff and chefs for being approachable and friendly we look forward to coming back to explore further.
Thank you Wills n Bev
Wedding Guest says, "Excellent stay at a great venue"
Aug 2014:
I attended a family wedding last weekend at this venue and have never been there before this visit but had heard lots of good things. O
n arriving car parking was ample and a short walk through to check in,staff were very helpful and allowed us to check in early as our room was ready.
The theatre at the castle was a lovely room for a wedding and gave a lovely intimate atmosphere.
The photos were amazing in the grounds as the views certainly lived up to their reputation.
Lunch was in the conservatory which was beautiful and again a lovely atmosphere and being able to stand outside on the decking inbetween courses with the awesome views was a bonus.the food was lovely hot and tasty and the staff professional and eager to help.
The kids were able to watch TV in the adjoining room if they got bored which again was great.
The bar staff were friendly helpful and fast to serve keeping waiting times to a minimum.
The buffet in the evening was plentiful and tasty and HOT which was nice and again the staff helpful with any requests.
We used outside just as much as inside during the day and night and it was very pleasant with enough seating and great views.very quiet and peaceful.
The room I stayed in was very clean smelt nice and the fixture and fittings in keeping with the castle, here comes my only negative for the whole stay - the bed was only a double (which I guess we knew on booking)but the mattress was very hard, the bedding clean and fresh however, it is only a small thing but we maybe expected a bit of luxury for the price we paid for the room.the upkeep must be massive for a place that size but I'm hopeful they will take that onboard as it is important to people. B
reakfast the next morning was hot & tasty especially the sausages!!and plentiful thankfully as I went back again for seconds. O
verall the wedding, the stay, the staff, the venue and the whole experience was excellent and i would certainly recommend this venue.what a great stay!!
Stayed August 2014.

"Stunning setting!"
4 of 5 starsReviewed 8 December 2014
Recently stayed two nights for a wedding. Stunning castle and surroundings. Staff were very helpful and friendly, food was lovely, room was clean, however no refresh of towels provided. Some rooms suffer from a little damp by windows, nothing out of control, but the place is a work in progress. It's clear a lot of money has already been spent, the place is hundreds of years old after all!
Would definitely recommend and stay again.
"Lovely Wedding Venue"
August 2014:
We recently visited the castle for a family wedding with our 8 month old daughter. We stated in the 'loft' room which was cosy and had a very posh shower room. The view from the room was lovely. We really enjoyed the cooked breakfasts and found the staff to be really helpful and friendly. We had a lovely stay and enjoyed a stroll in the country park next to the castle too. Really enjoyable stay.
"Made our wedding day - November 2014"
5 of 5 starsReviewed 1 December 2014
Really helpful, friendly and kind staff. They all made everything go smoothly. Our guests were very impressed and I know some plan to visit the castle again soon. What a venue! Highly recommended for a romantic stay and wedding venue.
"Amazing Wedding Venue"
August 2014:
My daughter and her partner were married at Craig-y Nos castle last weekend. On the Saturday, we stayed with family and friends in the nurses block and so the party began.
We had amazing weekend and I cannot fault the service,the food, the staff or the accomodation. The atomsphere was relaxed and this was largely due to the organisation and friendliness of the staff. My grand daughters made me promise that I would return with them later in the year, no hardship there! The grounds are beautiful and the castle made a dramatic back ground for the photos. The castle is an old building and renovations are obviously on going. It was a magical wedding day. Many thanks to Donna our wedding planner and all the staff.
"Wedding and accommodation amazing"
August 2014: I
got married here 3.8.14, we had been planning our wedding for over 3 years and i honestly cant fault Donna nothing was to much trouble for her, the wedding was so calm & relaxed throughout the whole day. everything was perfect the whole staff were so friendly and were absolutely amazing with my 2 daughters, also ive never met such a friendly chef ever. the rooms were perfect and our guests from the wedding had nothing but praise for the food and staff. H
onestly cant thank you all enough for our perfect amazing wedding.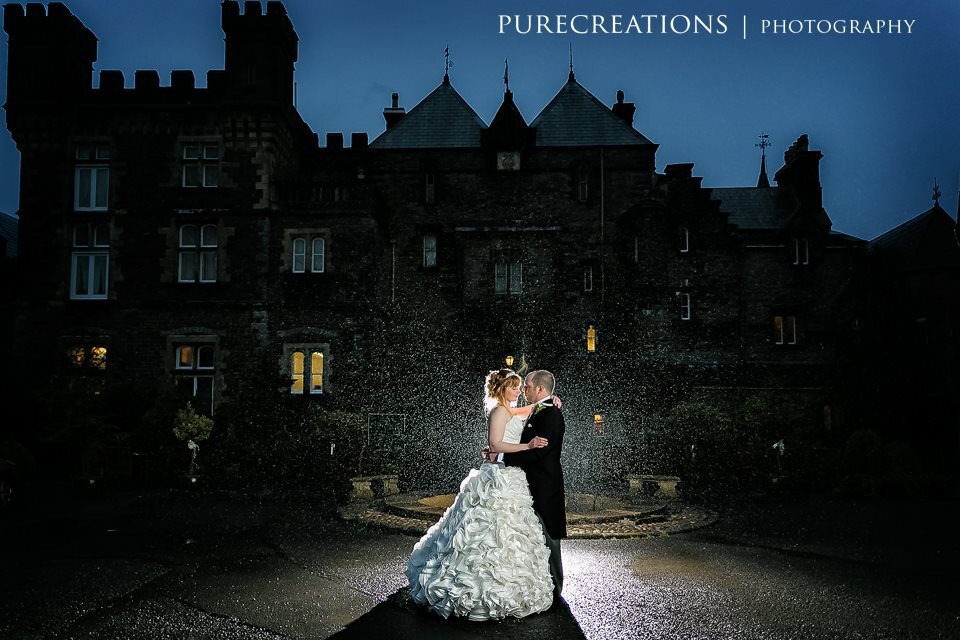 "A Wonderful Wedding Venue"

July 2014:
My brother and his wife were married as Craig-y-Nos Castle in April 2014 and it was brilliant. The staff were friendly, helpful and couldn't do enough for you. The public reception rooms were beautiful. The conservatory reception room was fantastic; such a gorgeous view and a great setting for a wedding breakfast. The decor was also beautiful; very tasteful. The ceremony room is in need of a little TLC - some bulbs needed replacing and some chairs were damaged for example; it was the only area where there slight lack of attention.
The food is the best I have ever had at a wedding. The quality of the meat was exceptional and the portions were very generous; we really didn't need the evening buffet, but it was lovely so I still ate it!
The grounds are very nicely maintained and make a wonderful setting for photos. There is a nice mix of formal gardens and wild countryside too.
I really can't praise the service enough. It makes such a difference to the whole day and the staff were fantastic on both days that we were there. My family and all the guests echo these comments; everybody was really impressed.
"Perfect wedding and the best day of our lives"
July 2014:
My husband and I got married at Craig y nos castle on 28 June, so just a few days ago and we had the best day of our lives. The venue was absolutely perfect and many of our guests commented on what an amazing venue it was. Donna and Beth were absolutely fantastic on both the Friday and Saturday, catering to my every whim and demand. The wedding breakfast, buffet and breakfast were of the highest quality and we couldn't have been happier with it all.
We chose the venue because my husband's family are from South Wales and we had lots of guests coming from further afield so it was important to is to find a venue where our guests stayed. I've seen that a few people have complained about the price of the rooms, however, we decided that we would subsidise our guests' stays so that no one had to pay above £50. Perhaps those complaints came from people whose bride and groom did not do the same!! Given that there is no venue charge it definitely made sense for us to pay a little towards our guests' stays.
We could not have wished for a better day, everything ran so smoothly and I was left to feel relaxed all day!
We would definitely recommend this beautiful venue and its professional wedding coordinator, Donna and her team!
I'm now trying to convince my husband for us to make a trip there next year for our one year anniversary!
Wedding May 2014
June 2014:
I have nothing but praise for Craig y Nos castle. Myself and my husband got married here on 25th May and the day was absolutely perfect.
Donna was fantastic from the moment we first arrived to look around up until the very wedding day. Anytime we had a question she would answer it straight away, or If she wasn't working, we would have a phone call back as soon as she was back in work.
Although it is clear she is very experienced at her job she still made our wedding feel personal to her and not just another wedding she was helping to organise.
We had to take a few things down one or two nights before which wasn't a problem with Donna or the venue at all. They kept it all safe for us and she also laid everything out perfectly for the wedding breakfast on the wedding morning. Neither me nor my husband were even nervous about not seeing it until the actual day as we had every trust in Donna.
The day ran really smoothly and all of our guests commented what an amazing venue it was.
We really couldn't recommended Craig y Nos enough - we are so glad we chose it for our special day.
"Wedding perfection: mind-blowing scenery at a spectacular venue"
June 2014:
Craig Y Nos was the first place we visited(since childhood I had always wanted to get married at a castle.) As soon as I entered the doors, and saw the beautiful traditional decor of the late Madame Patti's history I became excited!However it was when we entered the newly built conservatory with its marble flooring and huge glass paned windows onlooking the spectacular scenery of the mountains behind, It was sold! I absolutely adored the place and couldn't stop taking the 30minute drive in the run up to the wedding to meet the wedding planning or just have a drink!
Our wedding planner Donna was second to none-she planned everything down to the finest detail and made us feel completely at ease!I loved it so much I decided to stay there the night before with my mum, mum in law to be and two of my bridesmaids! On the day it was amazingly organised and planned. Donna checked I was running to schedule, led me to the theatre, told us what was happening each step along the way, ushered guests to their seats and served the food quickly (which was a beautifully cooked beef dinner). Donna checked everything was fine before she left us to it! It was the most amazing day and it will always be a place that we will regularly visit on anniversaries and special occasions with our families! All our guests agreed that it was a fantastic choice of venue!
"Craig Y Nos Wedding"
May 2014:
This place is not only an amazing venue for a wedding but a lovely place to stay - all rooms are unique! The staff are very friendly and accommodating and the food was great too! Such a beautiful place and would definitely stay there again.
Disabled Guest Feedback section
"Wheel meet again - not very likely"
Management Note: This review from a disabled person is informative (if you are using a wheelchair) as it most comprehensively explains what is required to get around the castle, for a disabled person.
A disabled person can get pretty well anywhere, but for the person pushing the wheelchair, the diversions involved means there is a lot of wheeling about!
The castle is a long building on different levels. You can get into the lower levels down ramps (e.g. the Theatre and the Conservatory are ramped invidually) but to get into the main building you need to use the main entrance and to get into any of the lower rooms from the main building, a disabled person has to go out of the main entrance again, and enter via separate ramps into the lower rooms, from the courtyards.
To simplify things and reduce the wheeling about, if you have guests using wheelchairs, please allocate room AB11 in preference to any other, as it is (a) very large, (b) right outside the Banqueting room, so the disabled person can use their own room's loo at least during the Wedding Breakfast (c) it has separate double door access so you can easily get in and out of it (the below guest may not have realised this). Guests using this room only have about 4 yards to walk from the Conservatory to the disabled loo in their room. There is a neighbouring disabled room, AB12; this should only be used as a second preference as it is much smaller.
This guest actually had AB11 and for easier access, could have gone in and out via the separate double door entrance to the room to avoid the need to go via the hallway as described below.
Due to Grade Two Star and Grade One listings on parts of the building, we have not been allowed to put a permanent disabled ramp near the front entrance. So we use a purpose built ramp that we erect when required. We do have to leave the front doors open to accommodate its size. Provided the disabled guest stays in AB11 (or AB12) the amount of wheeling about can be reduced - they certainly do not need to use the spa loo!
3 of 5 stars Reviewed 8 December 2014
Well quite a lot to say on this one and a mixed bag of points to raise. This review is from a disabled person point of view so please receive it as such and rely on other reviews for able bodied persons.
This is LONG so get a coffee and read on.
This was a family wedding at a Welsh Castle – as about as romantic as they come! My wife being wheelchair bound (and this being a Castle) our first question was 'do they cater for disabled' – yes came the reply, there were two adapted rooms both on the ground floor! Brilliant!
Now first the good points – the wedding was fantastic – the Castle itself is wonderful, the ceremony took place in an integral Theatre with oodles of history, the wedding breakfast was in a HUGE conservatory, the food wonderful, the atmosphere great, cake unbeatable and everything about the wedding was first class! Nothing to moan about in THAT department.
Now the not so great bits.
We arrived at the Castle to find a quite small Car Park outside the entrance, but if there were disabled bays then we either couldn't find them or they were not very well marked. So we just parked in front of a Fountain and out came the wheelchair.
1st problem, there were 2 small steps up to the front door – not that bad, I can get the wheelchair up two steps and through the front door. Trouble was after 3 or 4 feet of flat ground inside the door there were another 8 steps or so up to reception.
Leaving my wife downstairs in her chair I went up to find a queue of people checking in and no-one in reception. One of the people moaned that there was only 1 person serving and after she checked in a room in she then had to show them to their room leaving the reception unattended. Now to be fair, we were booking in earlier than we were supposed to so perhaps under manning wasn't really their fault
When the receptionist returned I quickly asked if there was another route that we should use to get to reception with a wheelchair – answer was no, but 'she'll get the boys to get the ramp out'. I couldn't believe the contraption that was assembled before our eyes. We were expecting a pair of ramps up the 8 steps but noooo. What appeared – almost like a scaffolding project was something like an agility set at a dog show – The 1st couple of steps into the front had its own pair of ramps, this joined to a flat platform across the level bit inside the door and then another pair of ramps completed the 'set' to the tops of the stairs! So this arrangement started on the outside of the building and went up, across and up again to the 1st floor reception level! It stuck out the front door so they couldn't be closed and was so wide as to block any pedestrian access so just about every able bodied person had to use it as well!
Now as well as reception, the lounge, bar area, and breakfast dining room (where the evening reception was held) were all on this level so there was no avoiding having to use the ramp to get in! Pushing a fully laden wheelchair up a long steep ramp was no easy task but I was man for the job!
We booked in. Payment on check in rather than check out – a bit unusual but we paid up as instructed. £150 for B & B, very expensive for Wales but this was an historic Castle so we'll skip a debate on the cost!
Our room on the ground floor proved to be back down the ramp, across the courtyard, under an arch and in one of a collection of buildings outside the castle. Now apart from being very cold it was a nice room once you managed to get through the front door which served as access to our room and a staircase to another room upstairs. It was a squeeze to get in the door, allow it to shut and then open the door to our actual room! It was a well equipped room with a double and a single bed, large adapted bathroom, loads of tea/coffee supplies, 2 phones and a decent TV. The wardrobe was tiny which was fine a staying a night or two but useless for a longer stay. We unpacked and got dressed for the wedding! Then it was back UP the ramp to the lounge where we gathered until the ceremony (in the Theatre). Ok – next problem, the theatre is along the corridor, through the bar area, past the dining area and down a load of stairs, but for us it was back down the ramp through the car park where they opened some fire doors and it was down a ramp into the theatre for us!.
The ceremony was wonderful. The Theatre was cold but again – old and historic etc., bite your tongue!
After the ceremony it was back to the lounge for welcome drinks and yes you guessed it, out through the doors of the Theatre and back up the ramp into the Lounge and welcome drinks.
Then came the time for the Wedding breakfast – I checked it out and it seemed to be down 3 small stairs from the lounge, through an ante room and then through a door (which was locked) so I thought I'd better check with reception – suspicions were well founded, through the door was a long staircase DOWN to the ground floor so WE had to go back DOWN the ramp, across the courtyard, through the arch – wave at our room on the way past - through another set of doors which was a fire exit (actually it is the main entrance from the inner courtyard to the room! - Ed) to the Conservatory and the Wedding Breakfast which was a wonderful affair!
Now after all this time a trip to the loo was needed – where is the disabled loo? We found the mens and the ladies but no disabled loo – most of the staff were there just for the waiting of tables so no-one knew. Eventually someone did and asked us to wait while they obtained the keys! (Why was the disabled loo locked you may ask?) Well as it turned out the loo WASN'T locked! Read on….
"Follow me" she said and took us back out the fire door into the courtyard – along a path – waved at our room as we passed it - and then through a door which she unlocked – she then had to move a load of tables stored on end in a long corridor and we faithfully followed her round a long path – knocking a few tables as they reduced the width of the corridor to barely enough room to get past – and then we entered the GYM where the disabled toilet was located! ????? I have no idea why anyone though the best position for a disabled toilet was at the far end of a gym!
Anyway we did what we came for and found our way back to the conservatory for dessert!
After the wedding breakfast everyone went back up the stairs to the lounge so for US it was back out through the fire exit, back under the arch (quick wave to our room), back through the courtyard and UP THE RAMP into the lounge! Lovely roaring fire with an endless supply of logs.
We chatted, drank coffee and whiled away a couple of hours before the evening disco.
Loo time again, so back out to reception and asked then where the disabled loo was in THIS part of the castle – answer – you guessed it, there wasn't one, in fact the one in the gym was the ONLY one this big, huge, massive castle had. So it was back down the ramp and we didn't bother waving at our room this time – we went in and used our own one – it was much nearer than the gym!
..and so it went on, you MUST get the picture by now. After we went back UP the ramp and enjoyed the evening disco it was back DOWN the ramp to go to bed, back UP the ramp for breakfast and back DOWN the ramp to pack the car.
Finally I left my wife in the car and WALKED up the ramp without having to push anything, handed the keys back and told them that we would no longer be needing this ramp which was in place for JUST my wife's wheelchair and inconvenienced every other guest in the Castle!
So in summary, if you are planning a wedding in this Castle it will be amazing for all your able bodied guests but not for the infirm (loads of stairs to most rooms) or disabled. Also, book in warmer weather as cold and inclement doesn't mix well with many trips in the Castle grounds just to go to and from your rooms. (There are rooms INSIDE but my brother moaned his was 4 flights up!.
Room Tip: Ask for a room IN the Castle itself.
Stayed December 2014
Management Comment: While not specific to a wedding, and the next two reviews were not wedding guests, I felt it might be useful to put in another disabled person's review for this section:
"First impressions aren't always right"
5 of 5 starsReviewed 11 September 2014
We arrived at the castle weary after our journey and were horrified to see all the steps up to reception. My husband needs a wheelchair to get about. Wevwerevshown our room in the Antrim block. A big comfortable room with a fully disabled bathroom. I had trouble negotiating the Chair through the two doors and was ready to cut our losses and come home. We went across to the bar for a drink and struggled up the steps. I complained to the young waitress and within minutes she had alerted the correct person who immediately put ramps over the steps and cut door jams to keep the doors open for easy action.
The attentention to our every need was exceptional. Whenever we wanted to go up into the hotel there was always someone there to push and likewise coming down. The food was delicious and had we been more mobile the walks were superb. Dogs were treated as one of the guests and as such all behaved well. We only wish we had discovered Craig y Nos earlier when we were younger and more mobile. A definite for a return visit.
Room Tip: Be open minded but if disabled in any way room 11 in the Antrim is good.
See more room tips
Stayed September 2014
"A dog and wheelchair friendly gem!!!"
5 of 5 starsReviewed 24 October 2015
So many plus points, above all, finding a hotel that took both dogs and disability in its stride, so welcoming and obvious attention to detail. Historic buildings inevitably have access issues, so main entrance to a castle, flight of stone steps ( I fully expected to be entering through a service door at the back) but no, there appeared the most impressive ramp we have seen which remained throughout our stay giving me easy, independent access at all times. The same standard of design applied to our room with easy manoeuvrability between the furniture,and an excellent wet room. Charming and attentive staff, good food and a friendly atmosphere made it special. Not forgetting our dogs, two retrievers, father and son, the 10month old in training to be my third Assistance Dog!! Their reward for good behaviour in the dining area was the adjacent Country Park which was 'doggy heaven!!' Clear, fast- flowing stream, acres of woodland to explore and surfaced paths so we enjoyed long walks altogether, surrounded by wonderful scenery, skyline of sunlit mountains with all the Autumn colours. We will definitely return!
"Wedding Day"
May 2014: The castle staff were extremely accommodating of all our requests for our wedding and handled with ease the coachload of 40 people arriving from Leicester, showing them all to their rooms in order to get ready for the wedding. we had such a fantastic day with 100 of our family and friends. Everyone said how lovely the venue and food was and the photographer said it was one of the most organised and well run venues he's ever been to.
Couldn't have asked for anything more from the staff. Would have been 5 stars but we appreciate as this is a historical property there are some parts that need work but that's part and parcel of the charm that attracted us in the first place.
"Made our Wedding Day!"
May 2014: We really could not fault Craig-Y-Nos Castle as our Wedding venue, the Castle itself was stunning all the communal rooms were so cosy especially the Bar/Breakfast room. The bedrooms were really comfortable and clean, and as for the Bridal Suite Wow!!
I would really like to give a special mention to the staff at the hotel, especially Donna our Wedding Planner, and Beth who was always at hand on our Wedding Day and the day before. Nothing was ever too much to ask even with us putting place cards on the tables of our reception room at 10.30pm the night before our Wedding. The staff truly went above and beyond to make are day special and we are really grateful for all of their help.
All of our guests commented on the wonderful picturesque views, the great staff and the lovely food. I would definitely recommend Craig-Y-Nos as a Wedding venue to anyone planning their Wedding. Thank you so much for an amazing unforgettable day!! Mr & Mrs Ryan.
"Wedding"
February 2014: We had our wedding held at Craig y Nos Castle on Feb 22nd. I can only say what a pleasurable experience it was from our first viewing through to checking out the day after the wedding. As it is an open castle I was free to visit the function rooms before the big day as many times as I liked with little or no notice and as many vendors as I liked. Donna and the team were continuously attentive and made all our guests feel extremely welcome. The food was superb-all of our guests commented on this especially seeing as most wedding venues have the generic bland dinners, it was a pleasant surprise to have a delicious meal during the celebration. After staying the night before the wedding myself and my bridesmaids were brought breakfast to our room whilst getting prepared which ensured we had enough energy to get through the big day. Added to all this was the unique, stunning backdrop to our reception, nowhere else could you get those views!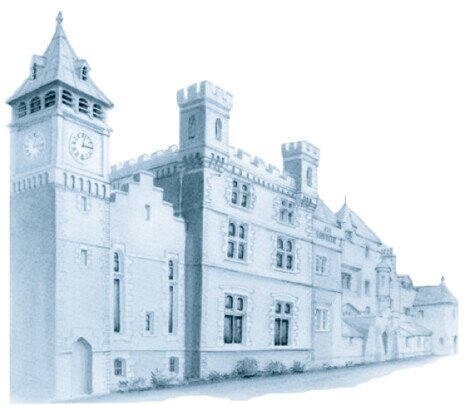 Enjoy a Homely Welcome and Friendly Service at Craig y Nos Castle