Hog Roasts at Craig y Nos Castle Weddings
Wedding Planning > Our Suppliers > Wedding Essentials & Extras
With Pig:
Outside Hog Roasts provided by external providers were once popular. However, we do charge our own mark-up on external caterers to cover our lost income from not providing the Evening Buffet ourselves.
Consequently, all bookings for Hog Roasts are made by reception via our General Manager Ian Bloom, who has an arrangement with local firms to provide a Hog Roast. There is a minimum of 120 persons for this service and the charge when this service was last used was £22.00 per person (2013 rates), so there was in 2013 a minimum cost of circa £2,640. 2020 rates circa £25/ 26.00 per head. There is no firm rate as we are now finding the demand for an outside full-on Hog Roast has fallen off in favour of the 'Pigless' option below.
We do not allow independent suppliers arranged by the Wedding Couple to provide this service at Craig y Nos as it is classed as 'in-house catering'.
Hog roasts outside can have a number of disadvantages:
1. Weather dependent, so if it is winter, an external Hog Roast is inadvisable as you are asking your guests to go out in cold conditions and potentially in bad weather. While the castle has good external lighting, it is still night time which means some of the visual effect of a Hog roasting on the spit is lost (unless the Hog Roast Company have the Hog flood-lit).
2. If it is summer, it can still rain heavily, and rain tends to fall more in the evenings we find. So consider your guests all going outside possibly in the rain, to collect their Hog Roast meal. A Hog Roast is not undercover because it is cooking and the cooking fumes need to go out into the open air. The Pig itself may be under a mini-awning provided by the Hog Roast Company, for the benefit of the Hog Roast company staff also, and to keep the rain off the Pig so it is dry while it is cooking. But there is no under-cover walkway provided for the queuing guests. I recall one Hog Roast Company that did not bring its own cover/ tent, and it rained heavily, so they put the hog in the arch between the main Courtyard and the En-suites area. The Hog and Hog Roast staff were dry, but the guests had to go out in heavy rain to then all squeeze under the arch to collect their Hog Roast, crackling and side salad.
So you are taking a chance on the weather at any time of the year.
2. At certain times in the summer, normally as the light is fading, midges can become an irritation outside, particularly if attracted by food. Midges come out more around dusk, in the summer, and are in some years worse than other years. You never can tell whether it will be a high-midge year or if the midges will be absent! The midges are worse down in the Country Park due to the two lakes, but can come up as high as the Castle gardens in the hour or so of dusk / half-light before night sets in.
Pigless:
We offer in-house Hog Roast Buffets without the hog. We buy part of a pig and make it up into baguettes with a side salad, so it's the same as the hog roast but without seeing an actual pig cooking in a roasting oven outside.
The cost of this is very reasonable, being the same as a Standard Wedding Buffet - £17.00 per head (2017-2020), which also includes a number of other dishes selected from the Buffet Menu. Very reasonable and a way of achieving the taste of a hog roast at a much lower cost, though you lose the visual effect of everyone gathering around the pig as it is cooked.
Next Page: Slimming Supplements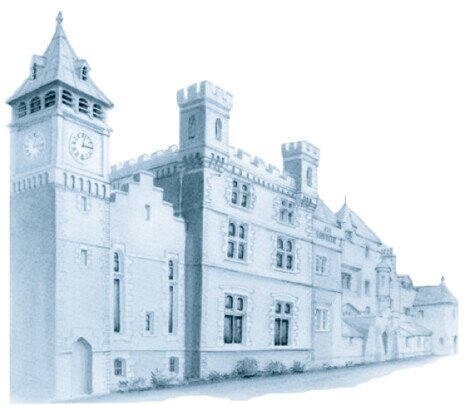 Enjoy a Homely Welcome and Friendly Service at Craig y Nos Castle