Availability Calendar Colour chart and notes
Wedding Packages > Availability
Coronavirus resulted in many 2020 weddings skipping a year into 2021/2 in accordance with our Coronavirus Policy. Many 2021 weddings postponed two or three times, into 2022.
Yellow shade
d dates with black font are 'new weddings' that have reserved but not yet 'booked'. Dates with
red font and yellow shading
(mostly now gone) were 'pencilled in' dates for wedding clients who provisionally reserved a new date ahead of officially moving their original date.
Most weddings are now settled in on their new dates and hopefully we will not have to postpone weddings in 2022.
None
No event booked
Available
Date unbooked and available

Reserved
Wedding Date Reserved

'Reservation fee' paid by a NEW wedding client

Reserved

Pencilled in forward date

This is a second date Reserved in case COVID regs prevent original wedding date going ahead

SWP
Special Weekend Wedding
Exclusive
Ensuites only for wedding guests
Weekend Excusive Deal
Exclusive
UWP
Ultimate Wedding
Exclusive
Fewer rooms may be used by wedding guests on these packages. This means m

ore rooms may be available for guests of the next day's wedding.



LMWP
Last Minute Weddings
Cons/ Nici
AFESWP
Armed Forces Wedding
Exclusive
MWP/WWP

Midweek Weddings
Cons/ Nici
IWP
Intimate Wedding Package
Cons/ Nici

COW
Ceremony Only Wedding
Available
One room ceremony only; so other events can be booked
SWEEP
Evening Entertainment
Function Rm

B&B may not be much used by event, so B&B may be available for non event guests

PROM
Students Prom
Function Rm

G.H.O.S.T

Castle run Ghost Tour (and some external organisers)
Available

B&B open to non event guests & Eve Meals served.




On grey shaded dates we are able to offer weddings with

no or very low

B&B use.

B&B full
Bedrooms fullybooked by next day's wedding
Available
Events
Conferences, Luncheons Group Ghost Tours, teas
Partly Booked
Any unshaded date is available to book.
The

light green shaded dates are Ceremony Only Weddings

so we could accommodate a full wedding package on light green dates.
Grey shaded dates are where all the bedrooms are booked;

we could possibly accommodate a wedding not using accommodation on some Grey shaded dates.
18/05/2021: If you are interested in a small marquee wedding, please complete an enquiry form / viewing request and discuss dates with the wedding planners.
Marquee weddings can only be offered in summer, as weather conditions in Winter will be too windy and cold for an open sided marquee.
Below are some pictures of our first COVID compliant 'Small Marquee' Wedding.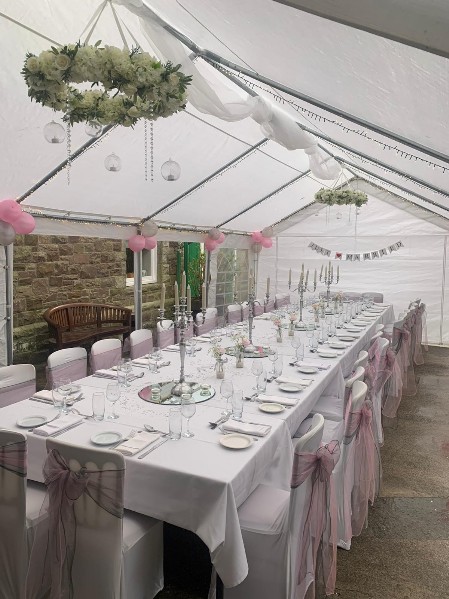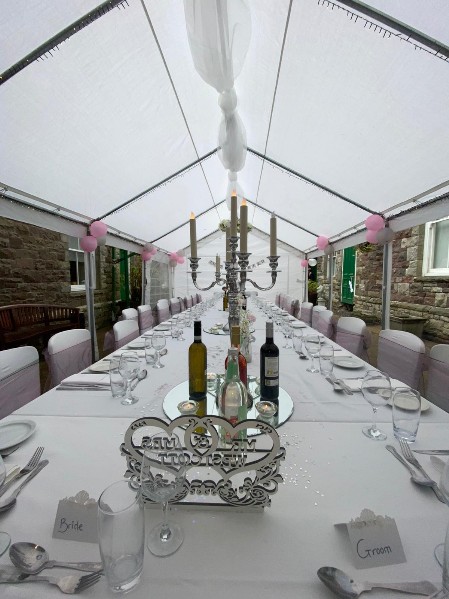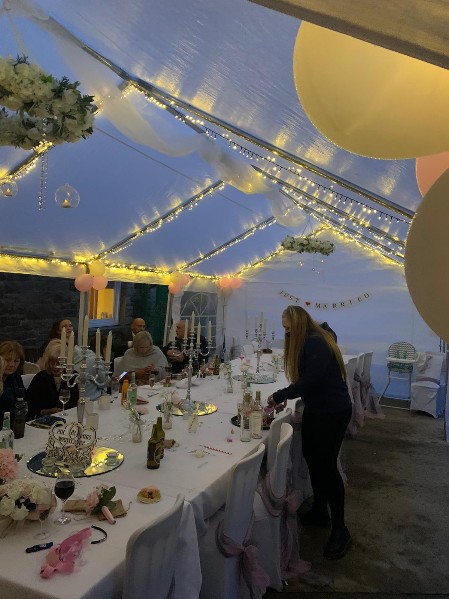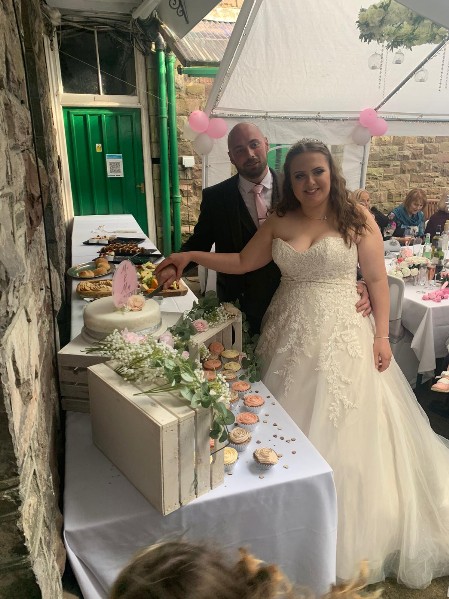 ______________________________

View Virtually and Reserve Remotely
Secure Your Wedding Date this month
______________________________
Over 100 2020 year Couples postponed into 2021/22 only for many 2021 weddings to have to postpone again into 2022.
This made the calendar a bit complicated. A FEW weekend dates are left in 2022 mainly in November and December.

"
Wonderful wedding in unusual setting and staff that gave more than 100%.
The castle is quirky and full of character with amazing views and walks. The wedding breakfast and buffet delivered much
....
" Read more