Ceremony Only 2020 weddings in Opera House at Craig y Nos
Wedding Packages > Wedding Packages
A Wedding Ceremony in the Opera House
with Welcome Drinks in Castle Courtyard after Ceremony
During continued Social Distancing restrictions due to COVID-19, a full wedding reception may be neither practical nor allowed during the Summer, with restrictions likely to continue in some form into later months.
It is currently possible to get married with a handful of socially distanced guests, but not possible (at time of writing) to have a full wedding reception, party and disco, nor any loud music. You cannot have everyone close together in a dining room for a normal wedding reception, nor is it possible to offer a self-service buffet in the evening. But you can at least get married!
For Couples who just wish to get married (subject to availability and subject to Welsh Assembly Guidelines) a Castle Wedding Ceremony & Outside Welcome Drinks mini-package is £500, based on what is currently anticipated to be 'allowed'.

For just £500, Your Wedding Ceremony at Craig y Nos Castle includes:
Use of the Opera House for your wedding Ceremony, set up with a nice floral display (worth £100) on the table and on pedestals as shown in picture above.

Tables and chairs for the Registrar and for the Wedding Couple's signing of Register plus suitably spaced-apart seating for a maximum 20 guests*.

Blue aisle carpet with blue seated and silver painted Cheltenham Gilt chairs.

Welcome Drinks for up to 30 guests in the Courtyard after Ceremony (current regulations such as serving in bottles only, may still apply).

You will also need to check the Registrar's availability and give the Registrar at least a month's notice.

Daytime use of one En-Suite room for Bride & Bridesmaids to get ready in before the Ceremony (and to change again after the Ceremony if required) is also included.



* Guest number upper capacity limit will change with any new social distancing requirements. Without any 'social distancing' the limit is 150. Guest numbers allowed for Weddings in Wales are subject to changing regulations and may on some dates be lower than the room's 'socially distanced' capacity.
We are licensed for civil ceremonies - please check the up to date situation with the Registrar before booking your date.

1. Add White Chair Covers and Bows for £1.50 a chair - minimum price £15.00 for minimum of 10 chairs.
2. Additional daytime use of rooms for guests to change in - £50 per en-suite (to allow for thorough cleaning before and after each use).
3. Add £150 for exclusive use for up to 2 hours of the Conservatory - only if weather is bad. You may need this internal space within the Castle for Welcome Drinks if the weather is inclement on the day. Kindly note that the bar will not be open and COVID-19 regulations may prevent the serving of welcome drinks other than in bottles. Only the Conservatory can be made available as an extra, not the rest of the Castle.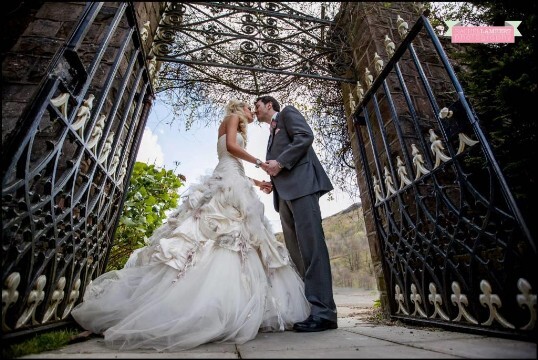 Please note that our Ceremony Only Wedding only allows for the use of the Theatre, which you enter via the Theatre glass doors, and the Courtyard or Theatre Gardens for welcome drinks served outside. You may also use the Castle's Lower Gardens for special photos. Access to the Castle proper will not be permitted for your guests nor for the public generally, while COVID-19 restrictions persist. At time of writing, it remains necessary to minimise traffic through the internal areas of the Castle to clients having wedding viewings only, to ensure guests' safety.
Upgrade to any Full Wedding Package in 2021/22....
...and you have your Wedding Ceremony now, for free*
* If you book a Full Wedding Event in 2021, as well as your Ceremony Only Wedding in 2020, you may deduct the full cost of your Ceremony Only 2020 from your wedding deposit on any 2021 or 2022 wedding package.
This means the £500 cost of your 2020 Ceremony in the Theatre, together with any of the extras listed above on this page that you booked, can be entirely offset from the cost of any of our Wedding Packages on this site.
This offer allows you to get married for free* during COVID retrictions, when you also book a full wedding package in 2021/2.
(*You will still need to pay the Registrar their fee for marrying you though).
To take up this offer you simply book both your 'Ceremony only' date now, and also book a full Wedding Reception and Event date in 2021/2. You then pay the same £500 for your Ceremony, but this is deducted from the standard deposit (£2,000) to book your wedding package later in 2021/2.
This leaves you only 6 further instalments of £250 (to make up the balance of £1500) towards your full £2,000 deposit on any 2021 or 2022 full wedding package.
This Upgrade
Offer can be taken at the time of booking your Ceremony Only 2020 wedding. You can also upgrade at any time up to the actual date of your 2020 Wedding Ceremony, or within a 30 day period after your Ceremony.
Any wedding package you book will in turn be transferable free of charge, to any later date (up to end March 2022) if it is necessary to postpone due to the Coronavirus pandemic. (We recommend you ask for similar terms from any wedding suppliers where possible.)
Free postponements of all weddings booked have been our policy for all existing clients and we will continue to offer free transfer forward of any wedding date if the date has to be postponed due to Coronavirus.
***
To book a viewing of Craig y Nos Castle
Coronavirus Guarantee: Should any subsequent revision of Coronavirus Restrictions prevent a Ceremony Only Wedding from taking place on your chosen date, we will offer you a full refund of your £500 Ceremony Only fee, or the option to postpone free of charge to a later date, whichever you prefer.

Hiring your Wedding Celebrant in 2021/22
If you get married under our Ceremony Only offer in 2020, you can still book a Wedding Package for next year. You would then repeat the Wedding Ceremony on your Wedding Reception Date with all guests present, once social distancing measures are fully lifted, in either late 2021 or 2022.

As you will already be legally married, you do not need to re-hire the Registrar (indeed you would not be able to). Instead you will have a beautiful personalised wedding ceremony created for you by a Wedding Celebrant.
This means you can still have your everything-you-dreamed-of Wedding Day, with a full Wedding Ceremony, Wedding Photographs, Welcome Drinks, Wedding Breakfast and Evening Party in 2021/22.
Under this system you have the Legal part of the wedding only, in 2020, and the main Wedding Celebrations, Ceremony, Wedding Photographs and Reception, Wedding Breakfast and Evening Party in 2021/22 - with a Celebrant creating your perfect "Wedding Ceremony".
Uniquely you will be a Couple who married first, and celebrated your wedding again in 2021!
Here is a celebrant: Helen Williams / Wedding & Family Celebrant - contact her on info@treasuredceremonies.co.uk / 07986 526732.